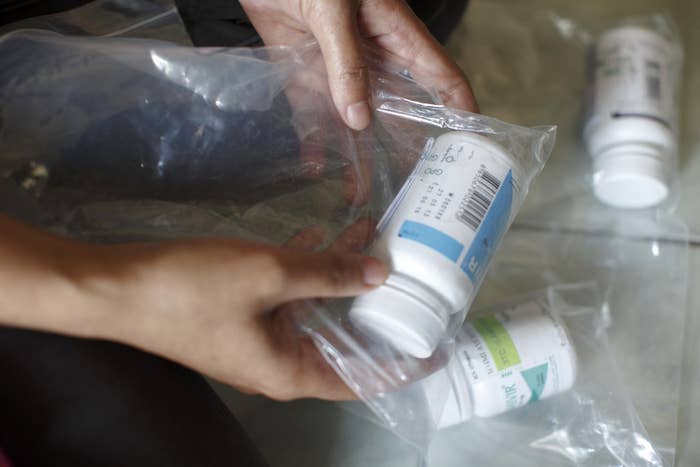 A promising HIV therapy that involves a patient's own stem cells has won approval to be tested in people. It's one of several experimental treatments that are trying to quash the virus.
The U.S. Food and Drug Administration has given the green light to a very small, early-stage clinical trial for a treatment that focuses on a protein found on cells in the immune system, researchers involved with the trial said Tuesday. That protein's role in the spread of the AIDS-causing virus became apparent in the case of the first person believed to be cured of HIV, famously known as "the Berlin patient."
Timothy Brown, a Seattle native living in Berlin, had both HIV and a rare blood cancer and underwent two transplants of donated stem cells starting in 2007. The treatment was standard, but doctors purposefully picked a donor who was immune to HIV. The donor's cells didn't have CCR5, a protein that allows HIV to enter blood cells — and Brown was cured of both lethal diseases.
In the latest of many attempts to reverse-engineer that effect, researchers plan to take blood stem cells from HIV-infected people and use gene-editing techniques to disrupt the CCR5 gene in those cells. The modified cells will then be put back into patients in the hope that the cells will be resistant to HIV and create a new, AIDS-resistant immune system.
The idea is "it's erasing the gene, and once it's erased, it never can reappear," Dr. John Zaia, principle investigator of the trial and chairman of virology at the Beckman Research Institute of City of Hope, told BuzzFeed News.
The therapy was developed by Sangamo BioSciences, a biotechnology company in Richmond, California, with $14.5 million from California's stem cell agency. It is being tested by researchers at Sangamo, the City of Hope National Medical Center in Southern California, and the University of Southern California.
The treatment was promising when tested in mice, but since this is the first time it's being tested in humans, it has years to go before it makes it to market. This initial trial, which will determine whether the therapy is safe, will be small — about 12 patients — and will involve HIV/AIDS patients who have responded poorly to standard therapies, Zaia said. He added that it would only apply to about 20% of HIV patients who have a certain kind of disease history.
But one potential advantage of Sangamo's approach, Zaia said, is that the stem cells would need to be reintroduced into the patient just once, and the cells would propagate on their own.
Sangamo has another experimental HIV therapy that targets the CCR5 receptor, but that involves reprogramming a type of immune cell that is the primary target of HIV.
The therapy now entering clinical trials isn't the only one out there that involves stem cells. Another biotech company, Calimmune, is undergoing its second group of tests in humans with therapy that also disables the CCR5 receptor, but in a slightly different way. And there are many other researchers who are searching for an HIV cure.
But this trial could be a significant first step in eliminating the virus — not just treating it on a day-to-day basis.