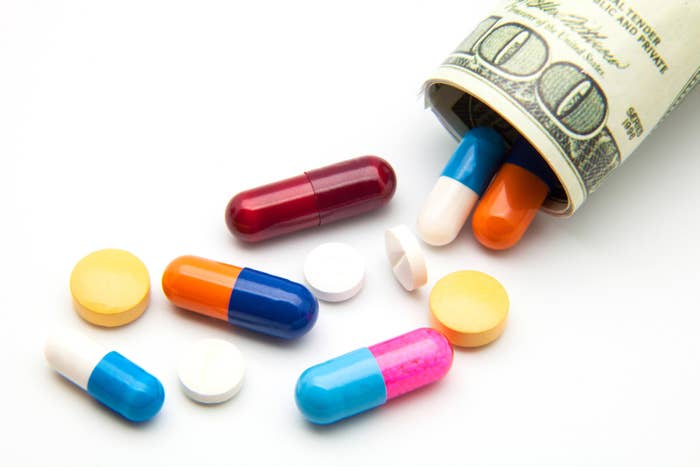 Mallinckrodt Pharmaceuticals has agreed to pay $100 million to settle federal and state allegations that it illegally bought rights to a competitor's drug in order to protect a monopoly and raise its drug's price by 85,000%, the Federal Trade Commission said on Wednesday.

Mallinckrodt and its division Questcor Pharmaceuticals sell H.P. Acthar Gel, a drug that treats infantile spasms — rare seizures that afflict infants — as well as a kidney disorder called nephrotic syndrome. The FTC's complaint alleges that Questcor violated antitrust laws by acquiring the drug in 2001, and went on to raise its price from $40 per vial to more than $34,000 today. A course of treatment, which requires multiple vials, costs more than $100,000, the agency says.
The investigation comes at a time when pharmaceutical price hikes are drawing scrutiny from politicians and the public, and shows how companies — allegedly — can suppress competition in order to charge more for their products.
"We are pleased with the agreement reached to resolve this legacy matter, although we continue to strongly disagree with allegations outlined in the FTC's complaint, believing that key claims are unsupported and even contradicted by scientific data and market facts, and appear to be inconsistent with the views of the FDA," the United Kingdom company said in a statement. The agreement was made "without admission of wrongdoing," according to the firm.
In 2013, Questcor paid Novartis $135 million for the rights to develop a drug, known as Synacthen, that could have competed with Acthar in the United States, according to the FTC.
Ironically, Questcor outbid Retrophin — then run by none other than Martin Shkreli, who is now notorious for hiking the price of another drug, Daraprim. And in 2014, Retrophin sued Questcor, saying the purchase was illegal because it shut down a drug that could compete with Acthar. (That lawsuit settled for $15.5 million.)
Acthar generated more than $1 billion in US revenue in 2015, according to the FTC.

"We charge that, to maintain its monopoly pricing, it acquired the rights to its greatest competitive threat, a synthetic version of Acthar, to forestall future competition," FTC Chairwoman Edith Ramirez said in a statement. "This is precisely the kind of conduct the antitrust laws prohibit."
As part of the settlement, Questcor must also grant a license to develop Synacthen to treat infantile spasms and nephrotic syndrome to a licensee approved by the FTC. The states of Alaska, Maryland, New York, Texas, and Washington joined the FTC's complaint.
Mallinckrodt's stock was temporarily halted before the FTC settlement was announced, and ended the day down about 6%.

"The monopoly power of the pharmaceutical industry is the single greatest reason prices are high and Americans can't afford their medicine," Peter Maybarduk, Access to Medicines director at the consumer rights advocacy group Public Citizen, told BuzzFeed News. "It's a critical issue and it's good to see the FTC pushing on it."
From 1991 through 2015, the pharmaceutical industry paid state and federal agencies a total of $35.7 billion to settle allegations of violations like illegally marketing drugs for off-label uses and overcharging taxpayer-funded health programs like Medicare and Medicaid, according to a Public Citizen analysis.
"Americans see the government moving to stop price abuse as a very important deal for this next government, and there's some potential bipartisan support for it," Maybarduk said, referring to how President-elect Donald Trump has pledged to crack down on drug prices. "The problem, like always, is the power and influence of the pharmaceutical lobby, and we have to see if our government is willing to stand up to it."