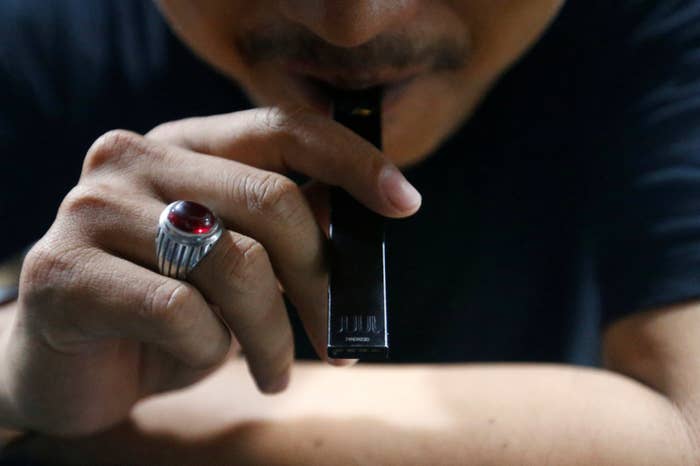 In the latest sign of Juul's struggles to gain traction overseas, the e-cigarette giant is scaling back its staff in Singapore and has forced out two top executives who oversaw its operations in Europe and southern Asia, BuzzFeed News has learned.
Grant Winterton, who since 2018 had been Juul's president of Europe, the Middle East, and Africa (internally referred to as EMEA), resigned, according to a Tuesday staff memo obtained by BuzzFeed News.
"It's with a heavy heart that I announce that I have decided to step away from my role as President of EMEA here at JUUL Labs," Winterton wrote.
Ken Bishop, Juul's president of Asia-Pacific (or APAC) South, a former Facebook executive who had been with the company since June 2018, also stepped down on Monday, according to two employees familiar with the situation who were granted anonymity because they are not authorized to speak to the press.
Chief Commercial Officer Jared Fix will be taking over international operations, according to a company-wide memo sent on Tuesday.
And in another staff memo sent this week and obtained by BuzzFeed News, Juul said that it was undertaking a "reduction in employee headcount in Singapore" and making other "significant cost reductions operationally."
Juul doesn't sell in Singapore due to a nationwide e-cigarette ban, but it has an office there dedicated to the Asia-Pacific region that consists of about 80 staffers, according to an employee familiar with the situation. It's not clear how many will be laid off. According to the memo, sent from CEO K.C. Crosthwaite and two other executives, affected employees will start being notified this week.
In the follow-up company-wide memo on Tuesday, Crosthwaite said, "Needless to say, we thank both Ken Bishop and Grant Winterton for their considerable contributions to getting us where we are today in their respective markets."
In a statement, Juul spokesperson Austin Finan said, "As we continue to reset the vapor category, we are taking a methodical approach to our overseas presence and are working to centralize oversight of our overseas operations." Winterton and Bishop did not immediately return requests for comment.
Are you a current or former Juul employee? You can reach this reporter on a non-work device at stephanie.lee@buzzfeed.com or stephaniemlee@protonmail.com.
After two years of breakneck international expansion, Juul is now retreating from some markets due to various factors that include regulatory restrictions, lackluster sales, and a plan to cut $1 billion in costs from the company's yearly budget. Such cutbacks have led Altria, the tobacco giant that bought a one-third stake in Juul in late 2018, to cut its valuation of the San Francisco startup from $38 billion to $12 billion.

In 2019, Winterton's department generated approximately $107 million in revenue, falling far short of its roughly $600 million goal, three employees confirmed.
Winterton, whose company biography says that he spent more than 25 years in consumer goods management for companies like Coca-Cola and Red Bull, also had a reputation internally for throwing high-profile, expensive events on the company's dime. Among them was a conference in Berlin last May, attended by 1,500 employees, and a meeting for his direct reports in Cannes, France, in July, according to two employees.
In the staff memo sent this week, Crosthwaite and two executives said they were "turning our lens to our international markets and reviewing how best to reset locally and position the company for long-term growth and stability." They also said they "need to run our business in a way that helps us earn a license to operate in the U.S. and around the world."
Juul is also pulling out of Indonesia just seven months after launching there, Reuters reported on Monday, out of concern that it can't stop retailers from selling to young people.
Juul is still selling in the Philippines and South Korea. It may withdraw from the latter, however, and has postponed its launch in New Zealand, the Wall Street Journal reported last month. Last year, it was kicked out of China and banned in India — two of its biggest potential new markets.

The company has also struggled in Europe, where its devices are available in countries that include the United Kingdom, Germany, France, Belgium, and Russia. One of Juul's main hurdles is that the European Union restricts the amount of nicotine in e-cigarette fluids to 20 milligrams per milliliter. In contrast, Juul's highest-dose pods in the US contain 59 mg/mL.
A similar regulation crippled Juul's 2018 launch in Israel. It started out selling 59 mg/mL pods but, under regulations later introduced by Israel's government, had to cut back the amount to 20 mg/mL and heavily restrict its product marketing.
In the United States and Canada, Juul has halted sales of its sweet, fruity flavors.
UPDATE
This story has been updated to include information from a Tuesday staff memo from Juul CEO K.C. Crosthwaite.
UPDATE
This story has been updated to include a statement from a Juul spokesperson.