Jawbone Sues Fitbit For Stealing Employees And Trade Secrets
As the wearable activity tracker market becomes increasingly crowded, Jawbone says Fitbit is out to "decimate" it.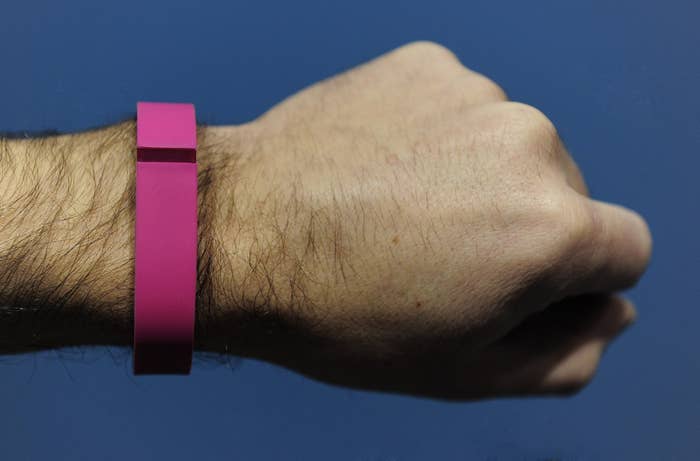 In a lawsuit filed today, Jawbone has accused Fitbit — its main rival and the world's leading activity tracker company — of plundering its employees and trade secrets as Fitbit prepares to go public.
The suit, filed in California Superior Court in San Francisco, alleges that this year alone, Fitbit recruiters tried to poach about 30% of Jawbone's employees and hired at least five of them. According to the suit, these workers deliberately gathered confidential information about Jawbone and brought it to Fitbit, violating Jawbone's policies. An unnamed Fitbit recruiter is quoted in the lawsuit as saying, "Fitbit's objective is to decimate Jawbone."
The "stolen files," the lawsuit alleges, "are the informational equivalent of a gold mine for Fitbit, as they provide an intricate roadmap into the core of Jawbone's business." Jawbone is accusing Fitbit of stealing information about product updates and new technologies rather than investing in building new features itself.
Jawbone is seeking unspecified compensatory, punitive, exemplary, and other damages from Fitbit and the five employees, as well as injunctive relief to prevent the employees from disclosing any additional Jawbone trade secrets and Fitbit from using them.
One accused employee is Ana Rosario, who started in Jawbone's design and user researcher/customer experience department in May 2014. She interviewed for a position as a senior user experience researcher at Fitbit on April 16, 2015, the lawsuit alleges, and four days later, before announcing that she planned to leave, met with co-workers to discuss Jawbone's direction and product designs and prototypes. Rosario then downloaded onto her personal computer a confidential presentation about Jawbone's current and future products — the company's so-called "Playbook for the Future" — in violation of company policy, the lawsuit alleges, before giving notice April 22.
Rosario is said to have been poached by Katherine Mogal, who began at Jawbone in August 2013 as director of marketing and customer experience insights before joining Fitbit in March 2015 as head of user experience research. She is also named in the suit, as are Patrick Narron, Patricio Romano, and Rong Zhang.
Narron, a staff audio engineer, allegedly sent confidential company information to his personal email less than a week before he left Jawbone for Fitbit. Romano, a product design engineer, allegedly saved Jawbone files onto a USB drive, sent them to a personal email, and wiped the footprints of his activity from his computer, all before he gave notice at Jawbone to take a job at Fitbit. Zhang, a cost accounting manager and supply chain manager, allegedly saved information onto a USB drive, resigned from Jawbone the next day, and joined Fitbit in April.
The lawsuit comes just weeks after Fitbit filed for an initial public offering, and it is unclear how it will affect those plans. The company is the dominant player in the wireless activity tracker market, with $745 million in revenue and nearly 11 million devices sold last year. But it acknowledged in its IPO filing that it shares the market with a growing number of competitors, including Jawbone and Apple.
On the other hand, Jawbone, which has raised about $700 million and is reportedly valued at about $3 billion, has struggled with profitability, paying off its debts, and raising funding. Its newly released Up3, a wristband health tracker, has received mixed reviews. The global contract manufacturer Flextronics sued it last year for breach of contract, alleging that "Jawbone's financial condition is perilous and currently insufficient to pay its debts." (Fortune reported that the suit was quickly settled.) It took out a $300 million loan in February from BlackRock, a move that observers told Bloomberg View is a bit of a lifeline since the company has struggled to sell venture shares.
In response to the allegations, a Fitbit spokesperson said, "As the pioneer and leader in the connected health and fitness market, Fitbit has no need to take information from Jawbone or any other company. Since Fitbit's start in 2007, our employees have developed and delivered innovative product offerings to empower our customers to lead healthier, more active lives. We are unaware of any confidential or proprietary information of Jawbone in our possession and we intend to vigorously defend against these allegations."
Jawbone referred media inquiries to its attorneys.
This post has been updated to include Fitbit's response to the lawsuit.