OAKLAND — It was a Friday night in Oakland, California, and Laura Hobbs was on her way to a party that sounded too cool to pass up.
The 24-year-old policy analyst was hanging out with her boyfriend, Michael Rosen, and his friend Seung Lee during First Friday, which draws thousands of people to the Bay Area city's galleries and bars on the eve of the first weekend of every month.
Hobbs' roommate in Oakland, an artist, had told her about a party at a warehouse known as Ghost Ship. It was a chance to check out the artists collective who lived and worked there, as well as the Golden Donna, an electronic act from Wisconsin who would be playing at the party that night. It would be "the Oakland firestarter," as a friend of Joel Shanahan — the Golden Donna's real name — had written in a Facebook post a few days prior. "The Joel Shanahan reunion weekend," he wrote, "should be almost too lit."
Rosen and Lee, journalists who live in Oakland and Berkeley, told Hobbs that they were in. The trio left a beer garden and made their way to the warehouse in the city's Fruitvale district, where some 50 to 75 guests, by their best guess, were already inside.
The three friends noticed right away that the place was filled with stuff — wooden stuff. Hobbs saw stacks of chairs and perforated wood, pushed together to form spaces where people lounged on antique furniture. "Everything was just a maze of wood, a lot of wood, ceiling to floor, wall to wall," Lee said.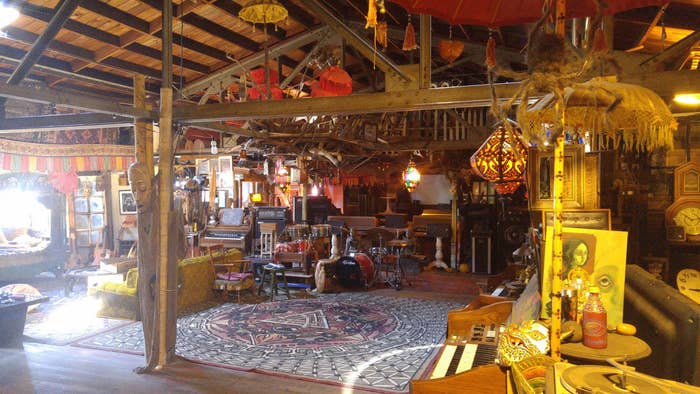 They bought their tickets at the front door, where Lee talked his way into a pre-11 p.m. discount, since, he recalled, it was just 10 minutes past the hour.
The group ventured upstairs, which took some effort due to the unconventional staircase: a wooden plank made of pallets that served as steps.
On the second floor, people were head-bobbing and dancing to trance and electronic music. Off to the side, guests were lounging on couches; a manicurist was painting partygoers' hands.
To Rosen, it was an intimate, low-key hangout among artists and their friends. And everyone, it seemed, was in their twenties.
"Wow, if I'm over 35, I'm going to stand out like a sore thumb," Lee, 24, recalled thinking.
He didn't notice anyone smoking.
After a few minutes, the group headed back downstairs; Lee tweaked his ankle, which had recently recovered from an injury, on the makeshift staircase. They wanted some booze in their systems, and their hosts didn't seem to have any.
So the group walked a few blocks to a corner store, where Lee bought a beer and Fireball whiskey, and turned to go back.
That's when they saw the smoke. Thick black plumes were spilling out of the front first-floor windows. Lee saw flames on the back of the second floor.
A few people were on the sidewalk, Hobbs recalled, some of whom had been smoking and talking outside minutes before. Now, they were yelling, "Fire!"
Inside, photographer and artist Bob Mule was trying to help a friend escape but had to leave when the fire escalated. "It was too hot, too much smoke, I had to get out of there," Mule, who lived at the building and suffered minor burns, told the East Bay Times. "I literally felt my skin peeling and my lungs being suffocated by smoke. I couldn't get the fire extinguisher to work."
Later, Lee looked at his phone records. He and his friends had entered the party around 11:10; at 11:24, he'd called 911.
"It happened within 15 minutes," he told BuzzFeed News. "For the last 12 hours, I've been trying to retrace that 15 minutes over and over and over."
"For some reason, we convinced ourselves we'd be OK; we were all kind of convinced that everyone got out," said Rosen, 23. "But evidently, that wasn't the case."
The next day, the friends — and everyone else — woke up to grim news reports about what had happened. Fire officials had said that at least nine people were dead and two dozen others were missing, although the death toll was expected to climb because the number of people inside was unknown. On Monday morning, the death toll jumped to at least 36.
The fire caused the roof and second floor to collapse, so it's not clear how much time guests upstairs had to escape down the flimsy, wooden staircase.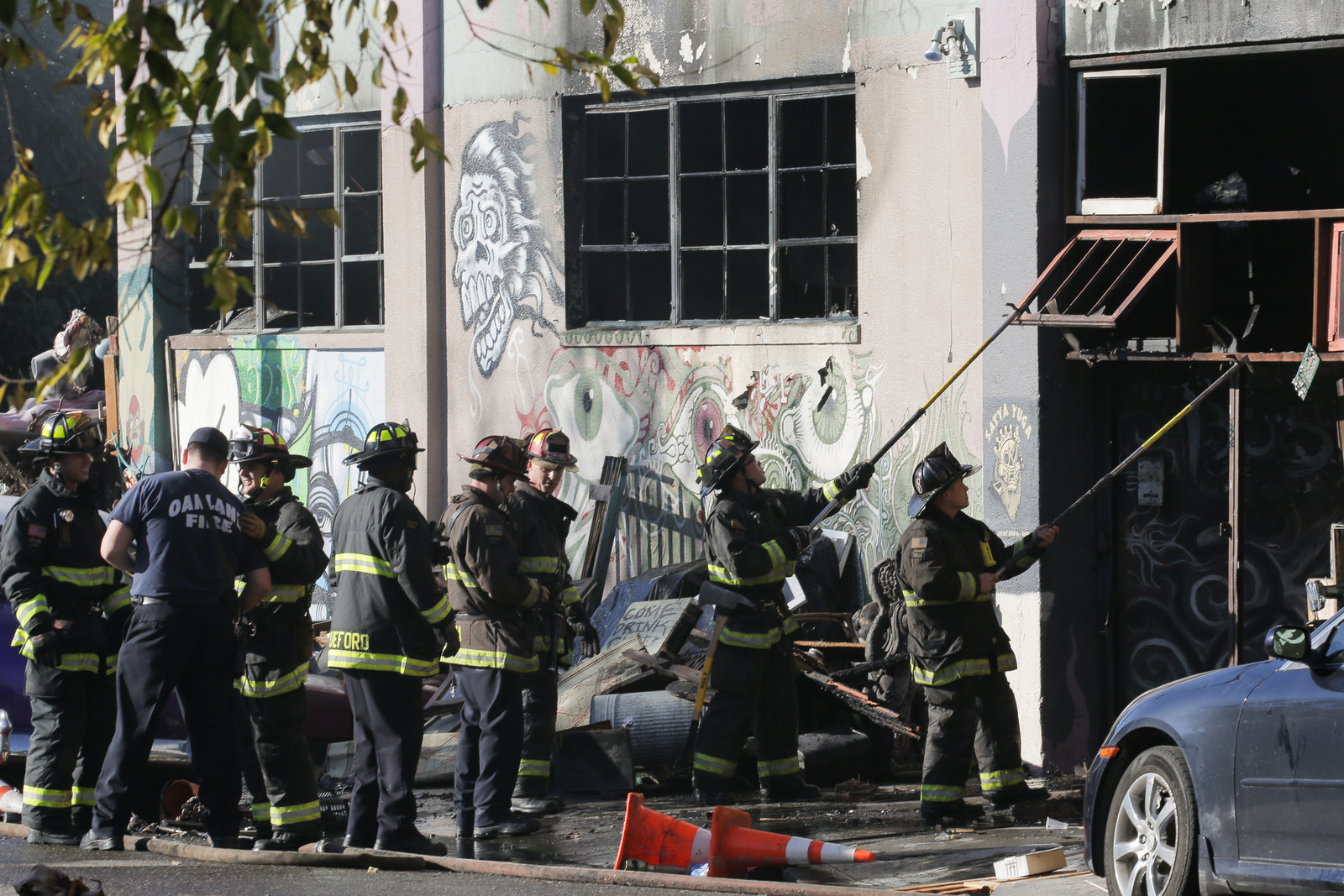 Libby Physh, a 25-year-old who lived there two years ago and helped construct portions of the building, said the upstairs had a back exit as well, though it was partially hidden. "It was kind of a maze," she said.
In the morning, Shanahan, aka the "Golden Donna," wrote on Facebook: "I'm safe. I don't have the words to describe the terror and heartbreak I feel right now."
Watching the news at home, David Gregory turned to his wife and asked, "Can you text Michela?" Their 20-year-old daughter, a third-year student at San Francisco State University, didn't reply. Later, a friend called to tell Michela's mother she thought her daughter had gone to the party.
By the afternoon, Gregory still hadn't heard whether Michela could be among the dead. He stood outside the Alameda County Sheriff's Office, where families and friends were told to wait for information while firefighters combed through the building's charred remains. "There's nine bodies in a morgue and they don't know who they are," Gregory said. "I'm hoping for a miracle."
Oakland's art scene has exploded in recent years as San Francisco's high rents and tech boom have driven many artists across the bay. At the same time, parts of Oakland have gentrified quickly, leaving artists scrambling to make ends meet with what they say is little financial support from the city.
Jenny Yang, 34, watched with anger as city officials at a televised press conference said the Ghost Ship warehouse hadn't had the proper fire permits. "We're underfunded artists that are being pushed out of our city," she said. "We can barely even pay rent."
By mid-Saturday, Yang and dozens of others had filled up Eli's Mile High Club in Oakland, a popular artist hangout spot that had transformed into a somber gathering place to wait for news. As TV reports about the fire aired in the back of the room, bargoers sipped drinks and stared into the distance — or they stared at their smartphones, constantly refreshing Facebook memorial pages and a Google Doc with names of the safe and missing. Whenever someone new showed up, friends embraced them and burst into tears, relieved they were alive.
"Nothing was like that place," said Lisa Aurora, a 35-year-old Oakland native who runs the Naming Gallery, of Ghost Ship. "It had wood fucking everywhere. It was a wick."
Still, Aurora said, with tears in her eyes, it was one of many artists collectives that make Oakland special. "There's so many beautiful people in Oakland and what they do for the world is, like, 10 times what anyone anywhere else does. … Those people that passed away, they were the ones that were doing all of that energetic work."
There was still a chance, the artists tried to reassure each other, that the unaccounted-for guests had made it out. But their hopes dwindled with every passing hour.
"I don't even want to admit," Yang said, "that my friends are probably dead."