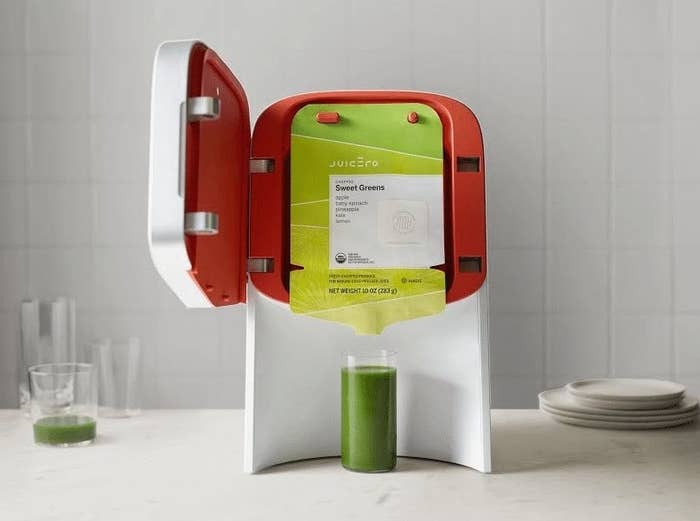 There's nothing left to squeeze out of Juicero.
On Friday, the lavishly funded Silicon Valley startup said it was going down the drain, suspending sales of its Juicero Press and Produce Packs immediately. No longer will it sell its $400 (originally $700) machine that spat out eight-ounce glasses of juice as long as your Wi-Fi was working. Instead, it will search for an acquirer to "carry forward the Juicero mission."
Juicero's announcement that it was seeking a buyer was a disappointment to everyone who believed the future of nutrition lay in five flavors of individual juice packs, delivered weekly. It was also a blow to those who lacked the strength to squeeze them with their bare hands.
"Not all juice is equal. How do you measure life force? How do you measure chi?"
Juicero's supporters included some of the valley's highest-profile venture capital firms, from Kleiner Perkins Caufield Byers, to Joshua Kushner's Thrive Capital, to GV (formerly Google Ventures), as well as big companies like Campbell Soup and other investors, who poured nearly $120 million into the enterprise before it launched in March 2016. They believed that it would tap into time-pressed consumers' obsession with wellness and fresh produce.

It was a strategy that won over some high-profile fans, like Ivanka Trump.
Juicero's most fervent believer was its CEO, Doug Evans, who came up with the idea after finding flaws with every juicer on the market. "It didn't have the magic that I was accustomed to," he has said of them. "Not all juice is equal," he has also said. "How do you measure life force? How do you measure chi?"

In the past, Evans, who's currently attending Burning Man with his fire-breathing bike, likened his product development process to that of Steve Jobs. "I said, 'I'm going to do what Steve did,'" he recounted to Recode. "'I'm going to take the mainframe computer and create a personal computer. I'm going to take a mainframe juice press and I'm going to create a personal juice press,' and my original design was supposed to be easy to clean."
Sadly, Juicero's lifespan — without an acquirer — seems to be slightly shorter than Apple's. The company says it will offer refunds for the next 90 days.

So long, Juicero.