Vic Salerno always puts his left shoe on first. He does not carry $50 bills. To avoid jinxing a team — his favorite being whichever is on a winning streak — he watches their games on the same television and drives the same route to work. He believes in rules, and that if you follow them, no matter how seemingly arbitrary, you'll get the outcome you want.
All gamblers have their superstitions. But Salerno, an amiable 72-year-old with a raspy voice and a cleft chin, isn't just an ordinary gambler. The Los Angeles native, who now makes his home just outside Las Vegas, is a sports-betting legend who almost single-handedly brought his industry into the wired era.
He computerized betting tickets. Helped usher in the era of over-the-phone bookmaking. And made sure that when it came to sports betting, there was an app for that. He is "one of sports gaming's great innovators," according to the American Gaming Association, which named him to its hall of fame last year. His longtime friend Michael Knapp calls him "the godfather of the industry," adding, jokingly, that "it has nothing to do with the fact that he has a vowel at the end of his name."
But now he's taking on a pair of tech titans in a fight that pits his rule-following philosophy against the move-fast-and-break-laws ethos of Silicon Valley. It's a fight with hundreds of millions of dollars at stake, money that the established gaming industry in Nevada largely missed the boat on and may now want to capture.
On a hot August day, Salerno steered his 2011 Lexus convertible to an office park two-and-a-half miles south of the Strip. On a floor newly subleased from a real estate firm, in what he likes to call his "war room," flat-screen TVs streamed sporting events from everywhere in the world. In four other rooms, a handful of employees alternated between watching games out of the corners of their eyes and typing on laptops.
"Right now, I'm going crazy, to tell you the truth," Salerno said, laughing. "But I feel great." On this day, Salerno was in crunch mode on USFantasy Sports, a new daily and weekly fantasy sports startup that launched last week — at first only in Nevada sportsbooks and casinos, but, if all goes according to plan, nationwide and on smartphones by year's end.
It won't be easy. Salerno is up against many things — startup costs, consumer whims, a complicated and inefficient regulatory apparatus — but most immediately, he's up against FanDuel and DraftKings, behemoths that have dominated the industry for the past half-dozen years. You know them because you're one of the millions of customers who assemble football or baseball lineups on their sites, hoping to score payouts worth hundreds or thousands, maybe even millions. Or you know their ads, which swallowed your TV and phone last fall.
Or perhaps you've followed the regulatory crackdown that, since last October, has driven the industry to the brink of extinction. Like Uber, Lyft, and Airbnb, other self-described disruptors that operated in legal gray zones and got in trouble, daily fantasy sports companies are now at a major moment of reckoning.

Salerno thinks he's come up with a daily fantasy game that does right by everyone. In his model, customers wager in a style that resembles horse-race betting, one already legal in most of the country. If Salerno is successful, he'll have not only staked out profitable territory in the high-risk, legally ambiguous, crowded, and very, very lucrative world of daily fantasy sports, he'll have invented a fairer — and, crucially, more legal — way to play the game, showing two of the world's hottest startups that it pays to play by the rules.
Either that, or he'll have sacrificed time, money, and a hard-earned reputation for a product nobody wants to use.
Before Salerno was a Vegas legend, before he went up against FanDuel and DraftKings, he was a dentist.

After dental school in Wisconsin, he moved back to Southern California, where he'd grown up playing football, and into an eighth-floor office that overlooked the Marina del Rey harbor, where he made $200,000 a year working three and a half days a week. But he was bored, and soon channeled his energy into gambling. On a Friday, he might start the afternoon at the now-closed Hollywood Park racetrack, head to the evening horse races at Los Alamitos, and hop on an 11 p.m. flight to Vegas. "The sports-betting and sports entertainment business — once it gets in your blood, it's such a high," Salerno told me.
In 1978, Salerno took over the Vegas sportsbook Leroy's Horse and Sports Place from his then-father-in-law. The place offered smoke, 50-cent pickled eggs, a floor full of empty beer bottles and losing tickets, and unruly patrons nicknamed Dick the Pick and Bobby the Midget. Once, a camera crew was getting ready to film the crowd, and Salerno warned them to be careful: "Some of our customers might be on the lam."
"You can't be a dentist and then be a bookmaker," retired Vegas oddsmaker Michael "Roxy" Roxborough recalled thinking when Salerno showed up. "The professionals will just spit him out."
But Salerno, always an early adopter, made his mark. He was among the first operators to allow people to place bets over the phone. In 1984, he co-developed hardware and software that let patrons trade their betting slips for computer-generated tickets and cashiers instantly look up every bet and payout; the first-of-its-kind system became a virtual monopoly across Vegas when Nevada required all race and sports books to be computerized. In 2002, Salerno developed one of the first self-service kiosks where gamblers could place sports bets 24 hours a day. In 2010, he masterminded the first regulator-approved app to let people in Nevada put money on a game without getting off the toilet.
"The sports-betting and sports entertainment business — once it gets in your blood, it's such a high."
By then, a transformation was taking over fantasy sports. Traditionally, it had worked like this: You picked imaginary team lineups at the start of a season and "played" other teams each week. At the end of the season, whichever team racked up the most wins, based on how its players played in real life, won. But starting around 2007, a new kind of site let players enter dozens, even hundreds of contests every day and week, for entry fees from $1 to $1,000 and prizes as high as $2 million.
In 2009, FanDuel was founded; headquartered in New York City, it now has $360 million in funding from Google, Time Warner, Comcast, and NBC, and partners with 15 NFL teams and about as many NBA teams, plus the NBA at large, which also has an equity stake. Boston-based DraftKings, founded in 2012, has raised nearly $600 million from Major League Baseball, Major League Soccer, the National Hockey League, and, as of this month, a firm co-founded by the Washington Capitals and Wizards' owner. NASCAR, Major League Baseball, a dozen NFL teams, and nine basketball teams are just some of its partners. Both companies have been reportedly valued at more than $1 billion. More than 57 million people overall play fantasy sports.
During last year's NFL season, FanDuel and DraftKings muscled their war chests and connections to flood the world in videos of fist-pumping bros waving banner-sized checks. The brands spent a combined $208 million on nearly 38,000 TV ads, according to iSpot — more than half the $371 million spent by the pizza industry. For three weeks, an ad aired every 90 seconds.
"Even the novice can come in and spend one or two dollars and win ten, twenty thousand dollars," one commercial said. Another promised, "It's the simplest way of winning life-changing piles of cash."
And then in came the law.
On Oct. 5, 2015, the New York Times reported that a DraftKings employee had won $350,000 at FanDuel. The next day, New York Attorney General Eric Schneiderman was reportedly investigating whether the companies were letting staff use insider information to play each other's sites. (The initial DraftKings employee was later cleared of such charges.)

As Schneiderman dug into their businesses, he came to believe they were using "deceptive advertising" to lure customers into an "unregulated online gambling operation." By emphasizing instant gratification, rather than long-term strategy, they set up consumers for addiction, he argued. Moreover, whether they realize it or not, amateurs are facing off against a handful of "sharks" who employ deep research, deeper pockets, and, until recently, off-site computer scripts that automatically adjust hundreds of lineups. DraftKings data showed that nearly 90% of daily fantasy players had overall negative returns in 2013 and 2014, Schneiderman reported. And in the first half of last year's baseball season, McKinsey & Company estimated that just 1.3% of players won 91% of the profits. (Some in the industry dispute these figures.) The consistently top-ranked player, Saahil Sud, told Bloomberg in 2015 that he'd banked more than $2 million that year. Every day he spent eight to fifteen hours, and an average of $140,000, entering hundreds of baseball and football contests.
This activity has defied easy legal definition. "Fantasy sports" are federally allowed, thanks to a 2006 online gambling ban that excluded what was then viewed as a low-profile, season-long hobby among friends, not a big-jackpot daily contest. But "sports betting" is gambling, according to a 1992 law, and permitted in only four states. (Even though office pools happen every day, most are illegal.)
DraftKings CEO Jason Robins has described his service as "almost identical to a casino."
Several attorneys general argue that predicting which athletes will win, when their performance is beyond your control, is mostly a matter of chance. They note that DraftKings CEO Jason Robins has described his service on Reddit as "almost identical to a casino." FanDuel and DraftKings, for their part, insist daily fantasy is not gambling, but another breed of game altogether. If a tiny minority wins most of the jackpot, they argue, that's even more proof that picking successful lineups predominantly requires skill. "If it's chance-based," one industry veteran explained, "you should have winning percentages that look more like 50–50."
"You can't really drop an activity into a machine and it spits out a piece of ticker tape and it says it's 28% skill, 72% chance," said Chris Grove, publisher of Legal Sports Report, which tracks the industry. "Daily fantasy sports really reignited interest in that question of, 'What does it take to qualify for these exemptions from the definition of gambling?'"
Regulators began seeking answers last fall. Ten days after the New York investigation went public, Nevada's attorney general was the first of several to declare that daily fantasy sports were gambling. Blocked from operating without a license, FanDuel and DraftKings pulled out. And Salerno swooped in.
Two years earlier, in September 2013, Salerno met his friend Knapp, a gaming and race and sports books veteran, at Santa Anita Park in Arcadia, California, for a day of throwing back martinis and wagering on horses ("probably not very successfully," Knapp recalled). Salerno was basically retired, having folded Leroy's into a company called American Wagering and sold it for $18 million to William Hill, a British gambling corporation. The men got on the subject of FanDuel and DraftKings. Although the sites hadn't yet bubbled up into the mainstream, the duo were already wondering how far legislators were behind them.

FanDuel and DraftKings contests come in every size and style: one-on-ones, big tournaments, 50–50s that pay the top 50% of winners, "multipliers" that double your money, friends-only competitions. You assemble a team of athletes with assigned values (say $9,000 for a top quarterback) under a given "salary cap" (like $60,000); filling one slot can mean choosing from 100 athletes.
It's an impenetrably complex system, said Salerno, who rarely meets anyone who's "won money, or won one contest, or gotten money back ever." So at Santa Anita, Knapp proposed a simpler alternative based on the very track before them. Horse-race betting uses an accounting system called pari-mutuel wagering, conceived by a Frenchman in 1867. What if you were to bet on athletes like you bet on horses?
USFantasy's contests let you choose from 20 or so athletes according to position. Bet on Aaron Rodgers to "win" in a quarterback contest, and you collect if he gains more yards and scores more touchdowns than all other quarterbacks that week. For a "place" bet, you collect if Rodgers comes in first or second, and for "show," if he finishes first, second, or third. You could also make wagers like a "daily double," where you'd have to pick, for example, both the winning quarterback and running back. And for a $1 entry, a weekly $1 million jackpot rewards whoever picks the top performers in all the contests. Just like in horse-betting, all bets are pooled together before the games, taxes and the house's cut (in USFantasy, around 12%) removed, and the rest split among the winning tickets. Unlike FanDuel and DraftKings, USFantasy also shows odds changing in real time. If most people bet on Rodgers, their wagers won't pay as well as ones on much-maligned Mark Sanchez.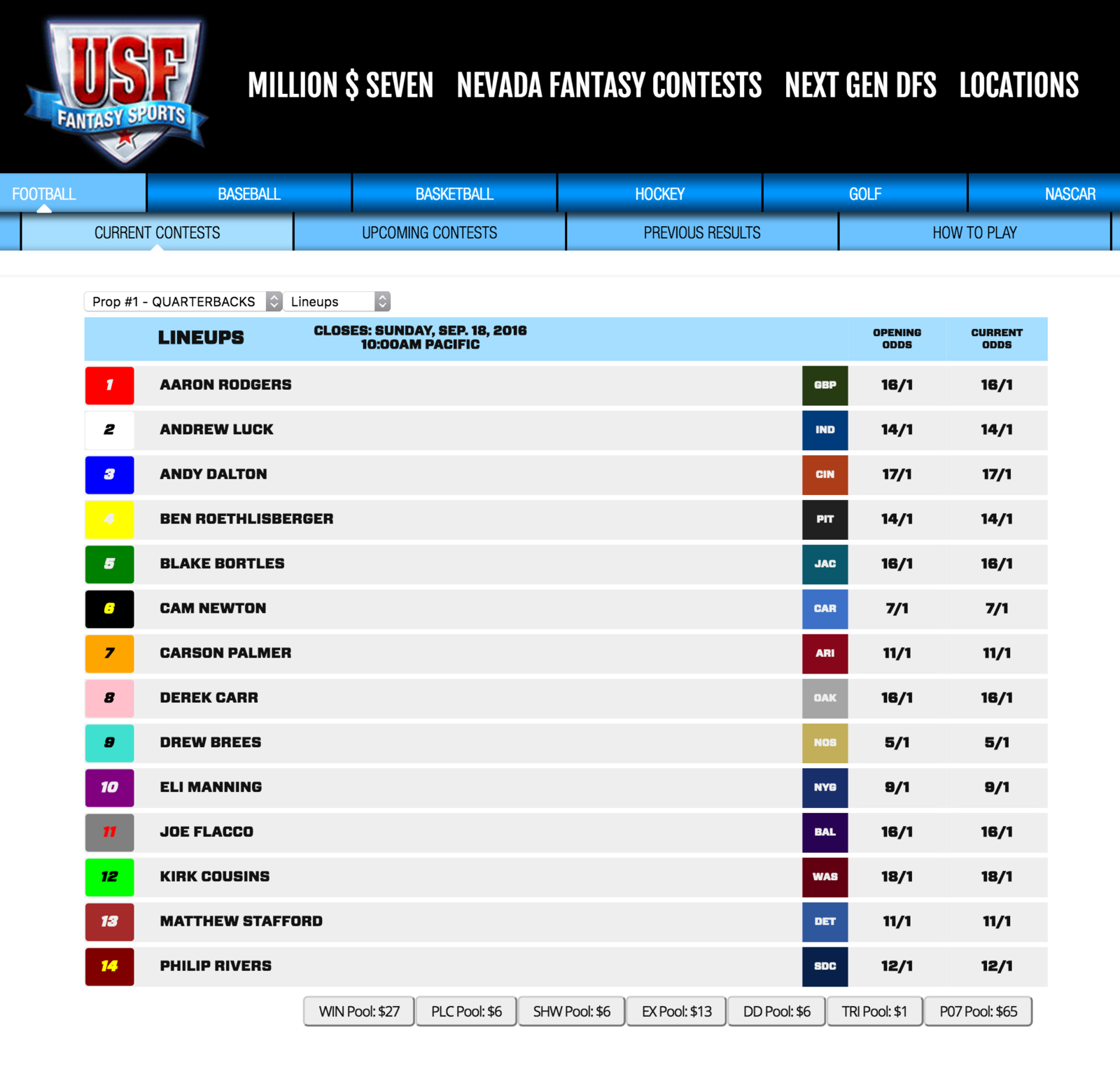 There was one more benefit to pari-mutuel wagering: It's legal in 43 states, due to its historic association with horse betting. A straightforward, familiar financial model would surely appeal to businesses and regulators, the men believed. "It's so simple," Salerno told the Las Vegas Review-Journal, "I can't understand why anyone didn't think of this before."
If FanDuel and DraftKings have a reputation among law enforcers of begging forgiveness instead of asking permission, Salerno prides himself on doing the opposite. USFantasy was built to appease the establishment: the brick-and-mortar race and sports books and casinos that want to license the game. It's a chance to finally profit from the daily fantasy gold rush, an old-school gaming style with crystal-clear rules and a millennial-friendly twist. "I think all of our industry is curious about it, because it's nothing that's been offered before," said Peter Schoenke, chair of the Fantasy Sports Trade Association.
In November, Schneiderman issued cease-and-desist letters to FanDuel and DraftKings. In December, the Illinois attorney general also concluded that the sites were gambling — and Salerno applied for a Nevada license for the just-incorporated USFantasy.
In June, USFantasy won the endorsement of a key agency, the Gaming Control Board. It was especially meaningful since its chair, A.G. Burnett, had urged the attorney general to clamp down on daily fantasy in the first place. "Today," Burnett announced, "the [board] licensed Vic Salerno, a long-time well-known sports book operator and licensee to do what I have indicated is legal all along: That is, create a form of daily fantasy sports wagering that can be conducted legally in a regulated fashion within Nevada."
Ten days later, the license came. Playing by the rules was working. But the rules were changing fast.
By the time FanDuel and DraftKings came under scrutiny last fall, almost all state legislatures had finished meeting for 2015. "A lot of pundits were saying, 'These guys are done,' but they had no recourse at the time," said Marc La Vorgna, a FanDuel spokesperson. In January, the industry kicked into gear. More than 70 lobbyists, up from four last year, have been put to work in more than 40 states, on a reported budget of $5 million to $10 million.
In 12 states — nine in 2016 alone — attorneys general have declared that daily fantasy is illegal gambling or requires a license. But eight states, including New York, have regulated or legalized it this year, and it's not over yet. "It's difficult to overstate how impressive their legislative achievement was," Grove said. "You just don't get products like this carving out that kind of exception from state gambling laws in that many states in that short period of time."
Salerno had entered the game, only to find his opponents eight moves ahead. "To perhaps our detriment," said Knapp, USFantasy's chief operating officer, "we weren't out trying to fight these battles as we were going through licensing requirements in Nevada."
Meanwhile, Salerno is seeking permission one state at a time, each with their own complicated preferences. Some race and sports books want to offer the game solely in person; others want apps in the mix. Some states, like New York and Indiana, say prizes can't be shaped by the number of participants or what they pay to enter, which are core tenets of USFantasy. Some states will consider Salerno's game a non-gambling skill-based contest, while others may consider it gambling in accordance with federal law. But since the government hasn't prosecuted daily fantasy operators, Salerno is assuming it's safe to proceed.
Confused? You're not alone. Even the companies themselves are. "It sure as hell doesn't make any sense to me," Knapp told me.
"You're saying, 'Let's take this game that caught on with young people and put it in front of old people and dumb it down.'"
Salerno is making a risky long-term bet: Daily fantasy in its current form will go the way of online poker — illegal almost everywhere — once regulators realize just how disproportionately the sharks continue to dominate. "I think they might be winning a couple little battles, but they're not going to win the war," said Salerno, noting that bills have also died or stalled in 20 states this year.
Even if USFantasy is the legal victor, however, it must win something else to succeed: players, lots of them. Before launch, I described the game to Jay Carter, 27, who was visiting Caesars Palace's sportsbook from Tampa, Florida. The FanDuel and DraftKings player was receptive: "If it looks interesting, if it looks like you can make money, I don't see why not."
Others are skeptical. USFantasy's simplicity is the opposite of what many love about DraftKings and FanDuel. "They like the complexity of it," said Ed Miller, a poker pro who used to compete on DraftKings. "They think it's fun to sit there for an hour and play around with lists and they are reading the media, they're educated on players. They probably play leagues with friends, too."
A big question is whether USFantasy's passage through racebooks and casinos will capture the same people drawn to daily fantasy, mostly men 25 to 35. For casinos, holding onto this generation is a looming challenge. Gambling revenues haven't kept up with the economy, one investors' report said last year, partly because young people have so many more entertainment options online. The average horse-racing fan will be 57 by 2020.
"You're saying, 'Let's take this game that's caught on with young people and let's put it in front of old people and dumb it down,'" Miller said. "One thing I know for sure is people who play DraftKings are not going to find this interesting. If you're already a DraftKings customer, you're going to look at this and say no."
Given how unceremoniously FanDuel and DraftKings hightailed it out of Nevada, few expected them to hear from them again soon. But in mid-August, the companies proposed a law that'd let them re-enter. They'd staged many a comeback in the interim 10 months; next up was the Silver State.

Gambling, an $11 billion market, has been legal since 1931 in Nevada, the only state where full-on sports betting is legal and one of two where casinos are legal statewide. Hotels and casinos generate almost half the state's general fund revenues, more than any other industry, and wield massive political influence. Nevada is often a trailblazer in gaming technologies, having been the first state in the country to legalize online poker. And it holds high standards. "A Nevada approval gives the stamp of legitimization to the company, not just in every other gaming jurisdiction around the country but around the world," Burnett said. "Conversely, if you get a denial in Nevada, it's like a death sentence around the world in terms of suitability."
Since Nevada's legislature meets every other year, it can't consider the FanDuel and DraftKings bill until next February. So the warm-up audience, on a recent morning inside Las Vegas City Hall, was an advisory panel, the Gaming Policy Committee. There on the companies' behalf was Scott Ward of the law firm Orrick, Herrington & Sutcliffe. (DraftKings has also employed David Boies, the superstar lawyer who's defended blood-testing startup Theranos and ex-Yankees owner George Steinbrenner against Major League Baseball.)
Ward's pitch was distinctly Silicon Valley: Here, he said, were 21st-century innovators ahead of their time. "Daily and weekly fantasy sports is a quintessential example of innovation," he told the panel, "taking advantage of new technologies to provide exciting and new products for consumers, while at the same time outstripping the current regulatory framework."
In this narrative, DraftKings and FanDuel weren't so different from another tech unicorn that tangled with Nevada. "Not dissimilarly, Uber provided a wildly popular product that consumers loved, and they did not fit within the existing regulatory framework, and thus they were forced out of the state," the attorney went on. "But the state responded by creating a new framework that worked for Uber, its customers, and importantly, the state."
His clients' "attempts to strike a balance" — and not "stifle future innovation in this space" — would exclude daily fantasy from the state's gambling definition. And unlike sports-wagering operators, which pay taxes worth up to 6.75% of revenue every month, DraftKings and FanDuel wouldn't pay taxes at all, but annual license fees of 5% of their revenue or $10,000 — whichever amount was less.

These proposals did not seem to impress the governor, state senator, regulators, or casino and resort honchos in attendance. "If I'm selling a car for $10,000 and it's a highly wanted car and everyone wants my car and I say to somebody, 'Give me your best offer,' and he says, 'A dollar,' I walk away," Tony Alamo, who chairs the agency that approves licenses, told the attorney. "And this, what you present here today, is kind of like the dollar."
Burnett, too, was irked at the message's tone. "I get a little offended," he told me a day later, "when these innovative businesses come in and say, 'We're innovators, we're disruptors, nobody understands us because we're super unique with our technology, and these antiquated regulators don't know what we're doing.'"
"It's tough going against the big guys that have that type of money."
In the audience was Salerno, fuming: "$10,000 for a licensing, are you kidding me?" he'd told me. A Nevada gaming license is not cheap. For an initial $500 fee, regulators spend three months to a year vetting everything from a business's accounts to its owners' histories. Investigations cost $25,000 to $300,000 for a small US company, and as much as $1 million for a large, publicly traded, multinational corporation.
Salerno says he's put more than $1 million and countless hours into USFantasy. His six employees, including his son, have been hard at work since December, filing paperwork, meeting with officials, and trying to get casinos licensed to carry the game. They've also been pitching the idea to states that have legalized fantasy sports and others that have tried to.
Salerno's self-imposed sense of order means he only moves as fast as government bureaucrats. But lawmakers are embracing FanDuel and DraftKings without, he says, truly understanding their operations. "It's tough going against the big guys that have that type of money. What could we possibly give all these legislatures as even the minimal donations to campaigns?" he said. "You can't compare what we're doing here or what Nevada's doing, how it's regulating, versus these other states that are trying."
But it's unclear how long Nevada's tough stance on daily fantasy will last. As much as the committee members complained about the proposed legislation, they still encouraged the companies to try to make it work.
They also applauded their popularity. Daily fantasy, Alamo noted, "puts people in the seats, in these stadiums," and it "helps viewership." Post-recession, gambling revenue on the Strip plummeted. But sports betting statewide has grown 65% in the last five years, and a big daily fantasy sports presence could help boost business. Or before long, the committee acknowledged, Nevada could be among the few states missing out on FanDuel and DraftKings altogether.
Last Friday, USFantasy went live. Things went smoothly, albeit with a few hiccups: The launch was delayed a week, not every casino was licensed in time, some confusion abounded over where the game could be found. It started out in three sportsbooks, a number expected to grow to 60 by week three of football season. That morning, Salerno was high on energy. "I'm anxious, very anxious to get this on and get it going," he told me. "We're going to have to crawl before we walk."

As the first games flew by — the Lions trounced the Colts, the Giants squeaked past the Cowboys — FanDuel and DraftKings had a noticeably toned-down presence. In one ad, a man declared himself "sports-rich" but not necessarily cash-rich. ("I get as much fantasy football as I want, and I get it with FanDuel.")
On top of spending less on ads, FanDuel and DraftKings have also been taking steps to be more transparent. They've banned off-site scripts that instantaneously change lineups. They've forbidden employees from playing. They've labeled "experienced" players, imposed limits on entries, and introduced contests for novices and friends only. DraftKings players can block those they don't want to play. A spokesperson says DraftKings' "number-one goal is to ensure that our consumers are in complete control of how they enjoy our games," regardless of skill level, and a FanDuel spokesperson says the changes help "ensure a level playing field for all users of all levels." Perhaps this is the new, conciliatory face of daily fantasy sports, at least in public. "This last year has been a legal storm," Schoenke said, "but hopefully the worst is past and it'll be downhill from here for the industry."
Salerno still believes their core model remains rotten. "Every business in my life I've been in has always been regulated, and I welcome regulation," he said. "The ones that are regulated and want to be, and welcome regulation, are the ones that survive long-run."
Salerno's trust in the government to have his back may well be the right move. But his instinct could also be old-fashioned: He's sticking to an outdated code of conduct in an era where disruption is a badge of honor. As startups threaten to shake up existing industries, lawmakers and law enforcers face a choice over who they will reward: those who obey the rules — the Salernos of the world — or rule-challengers with big money and massive followings.
FanDuel and DraftKings almost certainly won't be back in Nevada in 2016. In 2017? That could be a different story — in Nevada, and the rest of the nation.
But for now, here in Las Vegas, Salerno has the only game in town. •