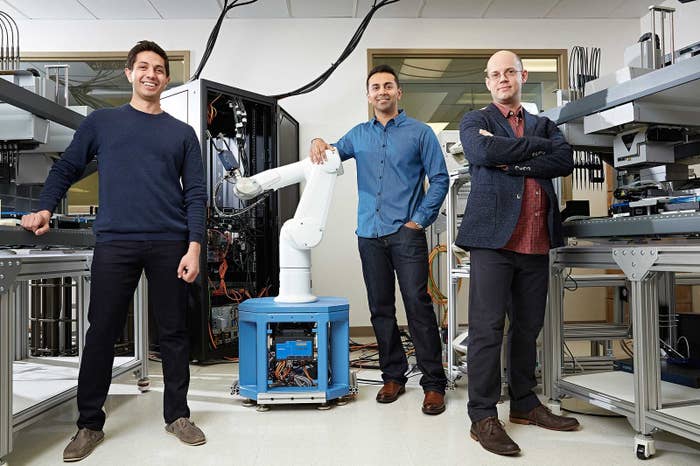 If you want to get your DNA tested, there's no shortage of companies happy to take your (or your insurer's) money and tell you about everything from your ancestry to your health — and even your dog's health.
But as the genetic-testing industry becomes more crowded, businesses are re-evaluating how to stand out among rivals and pull in new revenue and patients. And sometimes this means layoffs. Counsyl, a Silicon Valley startup that's raised more than $100 million from investors including Peter Thiel's fund, laid off about two dozen staffers last month, BuzzFeed News has learned.
The 27 employees worked in sales support, design, marketing, and engineering, CEO Ramji Srinivasan confirmed through a spokesperson by e-mail. They are a small portion of its more than 400-person workforce. Founded in 2006, Counsyl offers prenatal tests to people who are expecting or thinking about having a child, as well as tests that screen for inherited risk of breast, ovarian, colon, and other cancers. Last year, the MIT Technology Review reported that Counsyl was valued at $1 billion, but a spokesperson told BuzzFeed News this week that the company could not confirm that figure and did not have a valuation to share.
Srinivasan said that the layoffs would allow the company to "increase the efficiency of our operations" and focus more on building relationships with clinicians and medical providers. "This was a very difficult decision, but shifting our business focus to develop our clinical relationships is where we see the opportunity for our company to have the biggest impact on patient health," Srinivasan wrote in an email to BuzzFeed News.
A Counsyl test costs patients $349 without insurance, and less if covered by insurance; it includes access to a genetic counselor. Counsyl also requires customers to have a doctor's permission. That model is different from 23andMe, whose customers order its mail-home DNA test kits online and receive their results without having to go through an intermediary.
Counsyl had been focusing on marketing to patients as a way to bring in more doctors, but a person familiar with the situation told BuzzFeed News that the layoffs signaled this strategy is changing. "The idea is that if we go direct to the consumer and raise awareness, we'll get pull-through to the physicians," said the person, who would only speak on condition of anonymity. "That may be a valuable strategy in the future. But the amount of capital it would take to get us there, it's not the right time for the company."
Srinivasan said Counsyl's revenue increased by about 30% last year, thanks to "continued double-digit growth" in its family-planning tests and "rapid uptake" of its new prenatal and cancer-risk tests. Thirty-five percent of obstetricians and gynecologists who order Counsyl tests now offer more than one such test to their patients, and that number is growing, according to the CEO.
But another person familiar with Counsyl said that the layoffs were motivated by this thought: "We need to budget the head-count better, we need to figure out how we're going to move forward in this more competitive landscape, we're not quite seeing the growth we forecasted."
"The market as a whole has become saturated and commoditized," said the person, who would also only speak on condition of anonymity, referring to rivals like Invitae, Natera, Myriad Genetics, and Color Genomics. To gain patients, some companies bill patients low co-pays while charging insurers significantly more, the person said. That frustrated employees at Counsyl, which is committed to charging a relatively low, fixed price, the person said.
"When you're in tech, if you're number one, the market rewards you, you get that chunk of market share — whereas at Counsyl, we haven't seen that materialize. There's still the hope and expectation it might within the next few years."