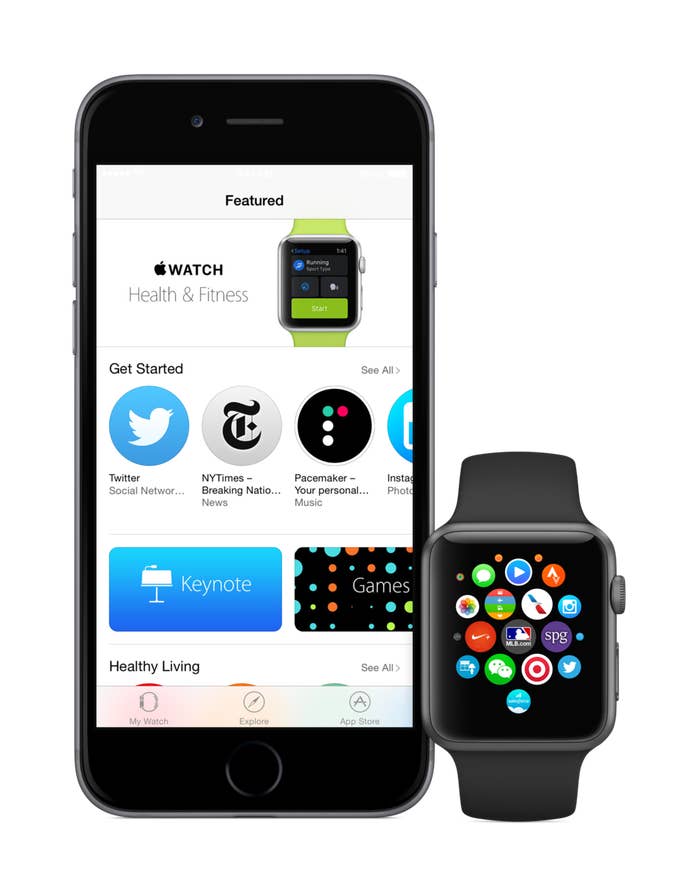 The Apple Watch hasn't yet shipped, but already developers have created thousands of apps to run on it. And ahead of the device's arrival at market tomorrow, Apple has crowned a handful of must-haves among the more than 3,000 that will become available when its App Store for the device goes live later today.
The company's picks, shared in advance with BuzzFeed News, reveal a wide range of uses and hint at just how broadly Apple hopes its Apple Watch will be used in daily life. The chosen few include the usual suspects: Twitter, the New York Times, Yelp, and Instagram (with support for emoji comments).
But others have been deemed equally noteworthy: Citymapper, which shows fastest available routes on public transit; weather app Dark Sky; music-playlist mixer Pacemaker; Elevate, a brain-training program; and Mint, the personal-finance tracker. Target also gets a nod for its app, which lets users build a shopping list and points them to the aisle with their items. (It will not, however, bring back the Lilly Pulitzer collection.)
For health-minded wearers, Apple's picked a suite that covers a wide variety of fitness and wellness uses. Fitstar Yoga guides users through Downward-Facing Dog and other poses. Runners can get real-time statistics on their distance, speed, and time through Strava, and golfers on the green can track their rounds with Golfshot. For nutrition- and meal-tracking, Apple recommends Lifesum, which aims to make calorie-counting less annoying. And if managing all this stuff gets too stressful, there's Centered for meditation.
Don't like any of these? There are plenty of others, which can be seen on WatchAware and the App Store, which will go live later today.