In August 2020, Mallory Whitmore started an Instagram account to advocate for parents who chose to formula feed. She never expected, nearly two years later, to be shipping formula from her home in Tennessee to a military mom stationed in Puerto Rico whom she had never met in real life.

Across the country, a severe shortage of infant formula has left parents scrambling to find enough supplies to fulfill their children's basic needs. With little governmental help forthcoming, many have turned to the internet — specifically, "formula feeding influencers" like Whitmore, who have taken on the mighty task of trying to help their thousands of followers across the country feed their babies.
Three of these influencers, who have more than 200,000 followers combined, told me that they started their platforms because they'd had a hard time finding advice and support when they first chose to feed their babies formula. They never expected that their advocacy for this underserved and often misunderstood population would catapult them to the front lines of a crisis, helping parents who are legitimately worried their babies could starve.
"Honestly, last night, I couldn't sleep because I was so worried about the formula shortage," Erin Moore, a 34-year-old Austin-based pediatric nurse practitioner who runs the account @babyfeeding.coach, told me.
"Truly, I've just been trying to work around the clock as much as I can with two kids of my own to try to provide people with strategies for what to do," Whitmore, who runs @theformulamom, said.
The influencers are using their platforms to connect parents who have extra formula or can purchase some with those who are running low. Whitmore has set up an online message board where parents can meet and arrange shipping. Allie Seckel of @theformulafairy has made a Facebook group to facilitate the same thing. They are creating infographics about how to find formula, which formula brands or types can be substituted for another, safety tips for accepting donations from other parents, and warning against misinformation like potentially dangerous homemade formula recipes floating around the internet. And they are sharing the realities of the shortage to try to bring awareness to the extent of the problem.
One video Seckel posted to TikTok, which has been viewed more than 55,000 times, shows slide after slide of bare shelves, submitted by her followers.
"I just got like dozens and dozens of pictures of shelves with like, four cans of formula on them… the lengths that some people are having to go is horrible," Seckel, a 27-year-old from Alaska, told me.
The ironic thing about these "formula influencers" becoming an integral part of the response to the shortage is that all three women told me they were moved to start their accounts after finding so few resources online for formula feeding after having their own kids.
Whitmore, 35, said that she had always expected to breastfeed, and when she was pregnant with her first child in 2016, she read all about it to try to set herself up for success. But when her daughter was born prematurely, she and her doctor eventually came to the conclusion that formula feeding would be best to help her infant thrive. As a new formula feeding parent, Whitmore was surprised to learn that the helpful resources she had relied on to prepare for breastfeeding didn't exist for formula.
"It just struck me that that one type of feeding could have so much information out there to prepare parents, and the only information that I could find about formula feeding was basically don't do it," she said. "And so that was really shocking to me."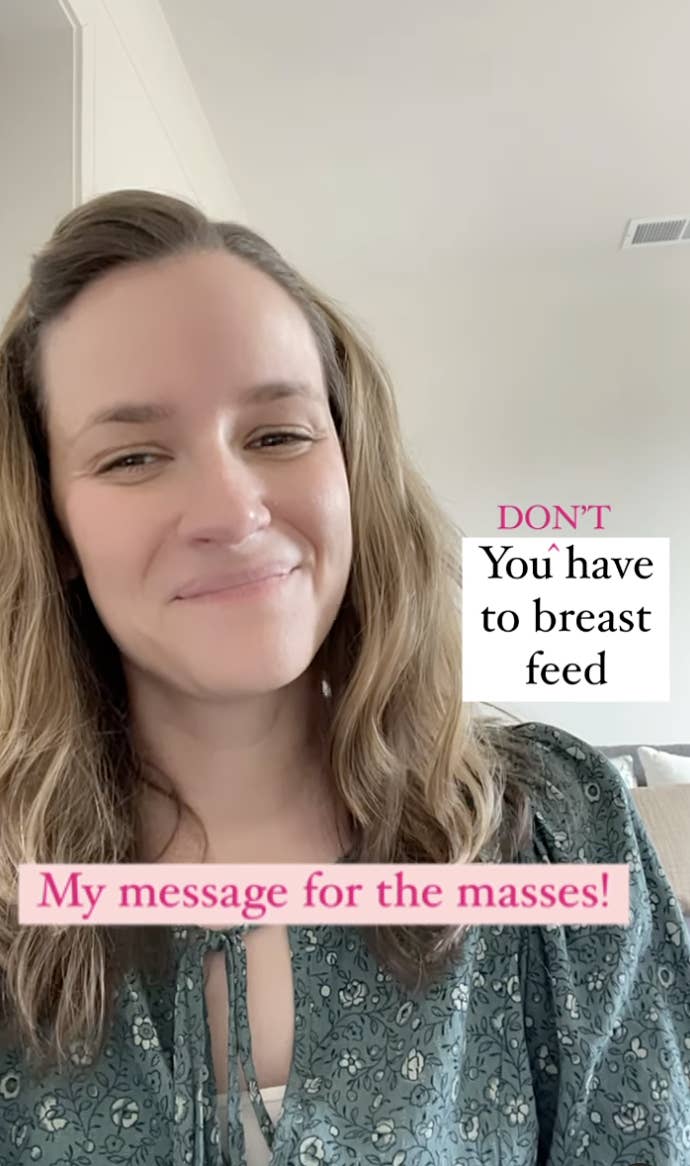 After learning about formula feeding and doing the same with her second child, Whitmore decided to become an advocate for other parents. She had struggled with feelings of inadequacy and shame over her decision to formula feed and said it took a while for her to realize that the stigma surrounding formula feeding wasn't warranted. So, she became certified as an infant feeding technician (essentially like a lactation consultant but for parents who formula feed) and started her account. She now has nearly 170,000 followers on Instagram.
"I wanted to create a platform to just help other parents that found themselves in that same sort of cycle, where they could not only get high-quality information about the logistics of formula feeding but also some support…all those things that I wish I could have heard at that point in my life."
Both Seckel and Moore had similar motivations for creating their platforms. Seckel formula fed her two kids and Moore combo-fed (introducing both breast milk and formula) with her 2-year-old son. They were similarly struck by the lack of resources for those transitioning to formula, and also by the negative rhetoric against it.
In fact, Seckel devotes a large amount of space on her TikTok account to just responding to the negativity she gets as a public formula feeding advocate. Seckel, who also became certified as an infant feeding technician, has seen people online call formula feeding moms lazy, accuse them of taking the easy way out, and even claim that formula moms won't bond with their babies. Since the shortage, it's only gotten worse.
"I'm fortunate that I feel confident about my decision to formula feed; I am educated about formula, but those who are just starting and they are maybe feeling insecure or guilty and wishing they could breastfeed and then seeing this stuff, is awful," she said.
As a new formula feeding parent, Whitmore was surprised to learn that the helpful resources she had relied on to prepare for breastfeeding didn't exist for formula.
As prominent online formula feeding advocates, the influencers said they were made aware that shortages were happening long before it began to become a big issue in the news. They began to get messages from parents who said they had a hard time finding formula in late 2021 and early 2022, the result of global supply chain issues due to the COVID-19 pandemic. In February 2022, after contamination in a Similac plant caused a massive FDA recall, worried parents began flooding their inboxes and comment sections with questions about what to do.
In the comments on a recent post by Whitmore about the shortage, some parents described having out-of-state relatives send them formula, and others said they had tried every store in a 100-mile radius to try to find supplies. Some of the most heartbreaking stories Moore has heard come from parents whose infants require a specialized formula that is out of stock and are left with impossible choices to make.
"I've had one mother that contacted me and she was on her last can of formula," she said. "And they had called every store, every CVS, anywhere that had formula, and they still couldn't find it. And, and she has to decide, do I give my baby a formula that they might not be able to tolerate? Or do I not feed my baby? You have to feed your baby. It's just making these really, really difficult decisions."
Whitmore said she has been inundated with stories from followers who described driving to multiple locations and even across state lines to try and find cans, which is an added financial hardship because of high gas prices. After observing parents connecting in local Facebook groups to share formulas with each other, she decided to start an online formula exchange board on Trello to help her community do the same. The forum is self-moderated, but Whitmore provides guidelines to her followers to ensure they aren't falling for some sort of scam and how to vet the formula when it arrives.
"I think that has helped a lot of families feel like they're doing something to help," she said, adding that she has read of some parents who call stores every day just to try to find formula for those who need it. "You know, we can't solve this on a macro level, but we can maybe help somebody in the next state over that can't find what they need."
In addition to her formula exchange Facebook group, Seckel posts press releases and updates from the manufacturers and answers questions from her audience on the logistics driving the supply issues. In a recent Instagram story, she dispelled a rumor flying around that there was another, new recall.
"If the FDA hasn't announced it, it's not recalled," she wrote.
When she's not running her Instagram account, Moore works part-time at a pediatric clinic as a nurse practitioner. She said she is very concerned about some of the misinformation that has been circulating throughout the internet as desperate parents try to figure out alternatives, like a homemade formula recipe from the 1960s that has gone viral.
"It is never safe to make homemade formula," Moore said. "And it's never safe to dilute your formula to make it last longer. Soy formula has a very, very delicate balance of minerals, nutrients, and electrolytes, and changing that, or, making your own formula, it's just very hard to tell if your baby is actually getting the nutrients that they need."
Moore advised parents to turn to their doctor for help if they can't find what their babies need, and said the clinic she works in has been helping parents as well. However, she recognizes that many parents are desperate, and she said the formula shaming comments online are only exacerbating the problem.
"I think that these negative comments, they do instill fear into parents, and that makes parents try different options that are possibly not safe," she said.
Moore and the others are attempting to fight this misinformation, and these biases, one post at a time. But despite the hardships, Moore has been inspired by all the parents who are doing their best and staying calm through this hard time, and the way parents across the US have banded together to try to help one another.
"Mothers are supporting mothers. It's actually really, really amazing," she said. "I would rather that they didn't have to do that. I'd rather they be able to go to the store and get the formula. But it's been a pretty amazing thing to see how much people are stepping up for each other." ●