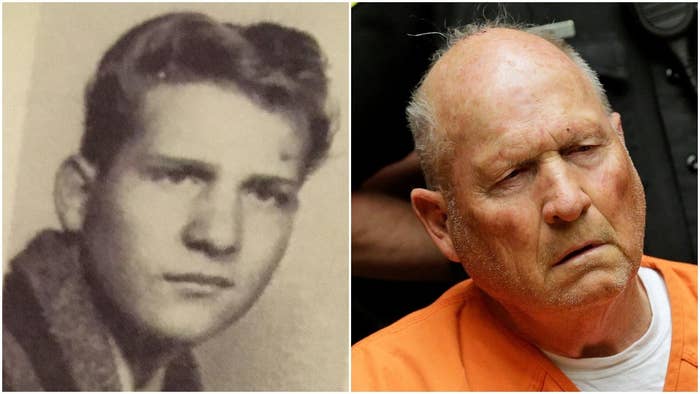 Decades before he killed at least 12 people and sexually assaulted 51 others in a prolific crime spree that terrorized the state of California, the suspected Golden State Killer watched two men rape his younger sister on an Air Force base in Germany, family members said.
Joseph James DeAngelo, 72, who was identified last month as the serial rapist and killer who terrorized California in the 1970s and 1980s, was playing with his sister Constance in an abandoned warehouse on the base when two airmen walked in and raped her in front of him, Jesse Ryland, one of Constance's sons, told BuzzFeed News this week.
DeAngelo was about 9 or 10 at the time. His sister was 7 years old.
"That's pretty crazy for a kid to see his sister be violated," said Ryland, 35, who learned about the incident from his mother just before she died from cancer last year. "Maybe that was the start of Joe going wacko."
The incident may have sparked a fantasy with rape for DeAngelo, a former police officer and mechanic who served in the US Navy during the Vietnam War, according to an expert who has examined serial killers' backgrounds for the FBI.

Ann Wolbert Burgess, a psychiatric nursing professor at Boston College who studied the personalities of 36 convicted serial killers in the late 1970s and early 1980s with FBI agents in the Behavioral Science Unit, said serial criminals commonly develop a preoccupation with their crime at an early age.
It's possible that DeAngelo, who now faces a total of 12 counts of murder in Santa Barbara, Orange, Ventura, and Sacramento counties, became preoccupied with rape after his sister's sexual assault, Burgess told BuzzFeed News.

"Of course that would be significant and could have set the nucleus of the fantasy," she said. "What probably happened was that it was something that he kept on his mind."
DeAngelo was arrested at his home in Citrus Heights, a Sacramento suburb, on April 24 after investigators linked DNA from the decades-old crime scenes to DeAngelo using an online genealogical database. He has not yet entered a plea and is scheduled to return to court in Sacramento on Monday.

It was not immediately clear if his sister's sexual assault would factor into DeAngelo's criminal trial. A representative from the Sacramento County District Attorney's Office told BuzzFeed News they were reaching out to family to discuss the incident but declined to comment further.
Representatives from district attorney's offices in Santa Barbara and Orange counties declined to comment for this story. The Ventura District Attorney's Office did not immediately respond to a request for comment from BuzzFeed News.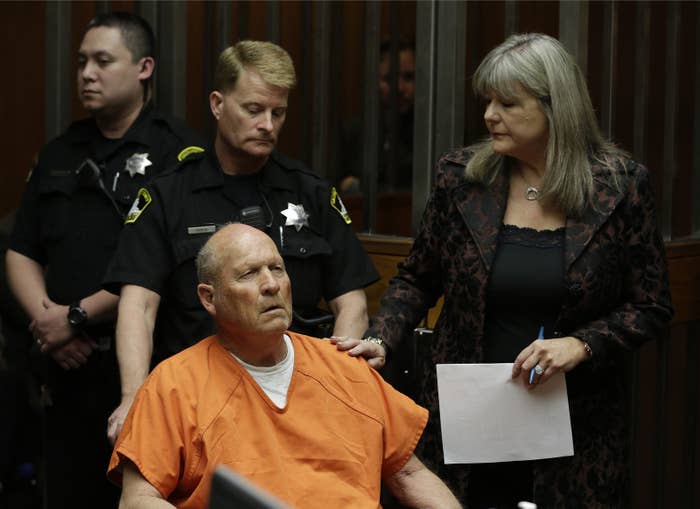 Paul Holes, a retired cold case investigator for the Contra Costa County District Attorney's Office who spent 24 years chasing the Golden State Killer, said he wonders whether witnessing his sister's rape was a traumatic or stimulating event for DeAngelo.
"As more is found out about him and his childhood, we'll get a better sense on how witnessing something like that would have contributed to him developing into the guy he was," Holes told BuzzFeed News.

His sister's rape was just one notable incident in what was a tough childhood for DeAngelo, his nephew said.

DeAngelo and his three siblings grew up in an abusive household where his father physically assaulted his mother, Kathleen, said Ryland. She also abused at least one of the children.
"She would hit my mom all the time," Ryland said, adding that his mother would at times wear two pairs of pants to lessen the blow. "I'm pretty positive they were all abused like that."

Joseph DeAngelo Sr. served in the US Air Force and the family moved frequently because of his job. Ryland said that after one violent incident on a base in Germany, military police warned Joe Sr. he would be kicked out if he touched his wife again.
A spokesperson for the National Personnel Records Center, which manages military records for veterans who served in the 20th century, said files for Joseph Sr. and Joseph Jr. were not available because another government agency had seized them.

Ryland said when his uncle and his mother told their parents about what had happened in the military base warehouse, they were instructed to never discuss it.
Burgess said that might have been confusing for DeAngelo, and the conflict between his parents also could have affected his psychological state.
Studies have shown that it's common for serial predators to have grown up in abusive environments, Holes said, but there are a lot of people who are exposed to that kind of trauma and don't become violent criminals.
"It's one of those mysteries," Holes added.
The Golden State Killer would often get angry with his victims and was probably "channeling part of his childhood psychology" into his crimes, the investigator said.
Constance's ex-husband, Kenneth Ryland Sr., told BuzzFeed News she never mentioned that she was raped as a child in their 26 years of marriage. He only heard about the incident recently from their son Jesse.

"I'm just trying to get my mind wrapped around it," Kenneth Ryland Sr. said.
The 71-year-old Placerville man married Constance in 1964 after she and DeAngelo's parents divorced. Their mom moved the family to the Sacramento area sometime in the early 1960s, he said.
Joseph DeAngelo Sr. ended up in South Korea, where he retired and had another set of kids, who were given the same names as his first three children: Rebecca, Joseph Jr., and Constance, according to Jesse Ryland and Kenneth Ryland Sr.
After serving in the Navy, Joseph DeAngelo Jr. was a police officer for the Exeter Police Department from 1973 to 1976 and then for the Auburn Police Department, where he worked from 1976 to 1979 until he was fired for shoplifting a can of dog repellent and a hammer from a drugstore.

Kenneth Ryland Sr. said that when he asked DeAngelo why he stole those things, DeAngelo responded, "Because I could."
"Something like that, and I thought that was really weird," Kenneth Ryland Sr. said.
Meanwhile, authorities say DeAngelo was breaking into houses, raping women, and ransacking their homes.
The last crime linked to the Golden State Killer was in 1986, when an 18-year-old woman was raped and killed in Orange County, but authorities have said they don't know if he stopped his attacks.
Growing up, Jesse Ryland said he never suspected his uncle was violent. DeAngelo was nice and seemed like a normal guy, he said. But when Ryland heard his uncle had been identified as the Golden State Killer, it suddenly made a lot of sense.
"Joe was young and saw my mom get raped," he said. "It instantly clicked in my head."
Ryland said although his mother and DeAngelo were close, he didn't see his uncle often when he was growing up and hasn't seen him in about 10 years.
"I almost wish I could go and see him and ask Joe about it if he remembers," Ryland said, though he admitted, "It's probably not a good time for that."
CORRECTION
After this story was published, Kenneth Ryland Sr. said his daughter had not told him that her mother, Constance, had been raped. He said he was made aware of the incident by his son Jesse.