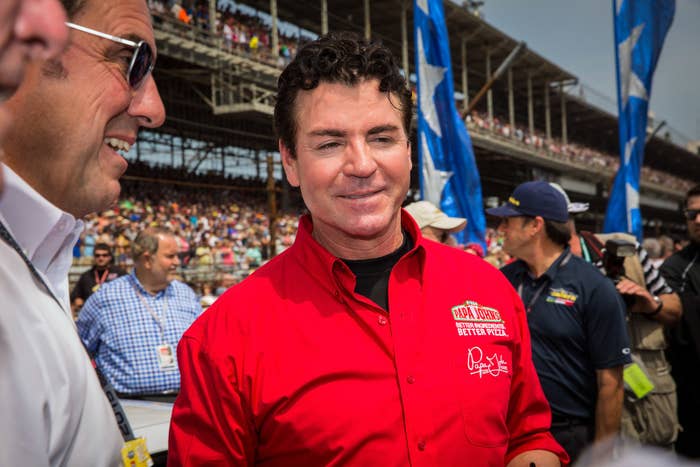 Papa John's is removing its founder's image from its logo and other branding materials after he admitted this week to using the n-word during a conference call.
John Schnatter resigned as chair of the company's board of directors Wednesday after reports, confirmed by BuzzFeed News, that he had used the n-word during a conference call in May. The call was intended as a public relations training exercise for Schnatter after he faced backlash last year for saying NFL players who kneel during the national anthem were hurting pizza sales.
Schnatter confirmed the reports and apologized, saying that "racism has no place in our society." The pizza company has since moved to erase its founder from all marketing and advertising materials, CEO Steve Ritchie said in a letter Friday.
"Papa John's is not an individual. Papa John's is a pizza company with 120,000 corporate and franchise team members around the world," Ritchie wrote. "Racism and any insensitive language, no matter what the context simply cannot — and will not — be tolerated at any level of our company."
But several professional baseball teams, including the New York Yankees, Miami Marlins, and Seattle Mariners, have announced they are cutting ties with the company and the University of Louisville is scrubbing the pizza chain from the name of its football stadium because of Schnatter's comments.
The University of Louisville in Kentucky, where Schnatter served on the board of trustees until resigning Wednesday, is also renaming Papa John's Cardinal Stadium to Cardinal Stadium and removing Schnatter's name from a center at the college's business school.
"Over the last 24 hours our community has been fractured by the comments made by former UofL trustee John Schnatter," university president Neeli Bendapudi said. "These comments were hurtful and unacceptable, and they do not reflect the values of our university."
Major League Baseball has also reportedly suspended its "Papa Slam" promotion where fans get 40% off Papa John's pizzas the day after a player hits a grand slam.