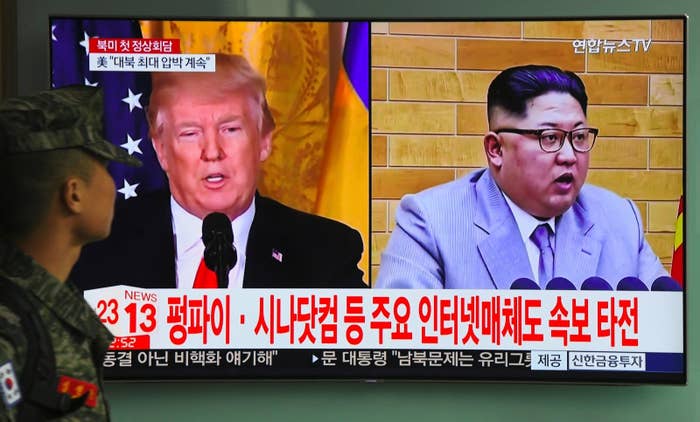 A senior North Korean official said Friday that President Trump's decision to cancel a planned historic summit between leaders of the two countries was unexpected, and that the regime was still willing to meet with the US.
Trump abruptly canceled the meeting on Thursday, citing Kim Jong Un's "open hostility" in recent statements as the reason why he felt moving forward with the planned meeting was "inappropriate, at this time."

North Korea's vice foreign minister Kim Kye Gwan said in a statement Friday that the North's goal to bring stability to the Korean peninsula remained unchanged.
"We express our willingness to sit down face-to-face with the U.S. and resolve issues anytime and in any format," Kim said in the statement carried by the state-run Korean Central News Agency.
The two leaders were scheduled to meet on June 12 in Singapore.
"While many things can happen and a great opportunity lies ahead potentially, I believe that this is a tremendous setback for North Korea and, indeed, a setback for the world," Trump said of his decision during a previously scheduled press event at the White House, hinting that the summit could still take place at a later date.
"Nobody should be anxious; we want to get it right," Trump said.
"All of the Korean people, North and South, deserve to be able to live together in harmony, prosperity, and peace," Trump said. "That bright and beautiful future can only happen when the threat of nuclear weapons is removed. No way it can happen otherwise. If and when Kim Jong Un chooses to engage in constructive dialogue and actions, I am waiting."
Trump's move to pull out of the summit aligns with the advice on backing away from negotiations he gives in his book, The Art of the Deal.
Following the announcement Thursday morning, a source close to Trump told BuzzFeed News, "The book is a best-seller for a reason. The tactics work."