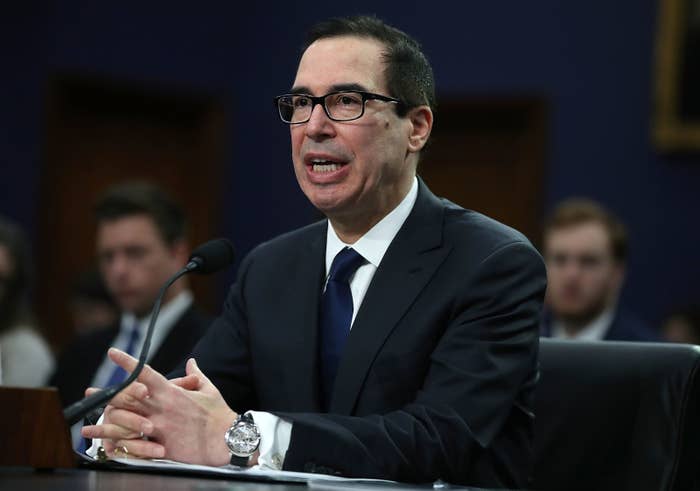 A previously withheld video of Treasury Secretary Steven Mnuchin being heckled at UCLA last month was released Friday after the Treasury Department gave the university consent to make it public.
Mnuchin visited the campus Feb. 26 to talk about the economy in a discussion with Marketplace host Kai Ryssdal. Throughout the talk, audience members repeatedly hissed at Mnuchin, who often responded and, at times, mocked their disapproval.
"Does that mean you don't like the business school here?" Mnuchin said after some members of the audience hissed at his mention of his relationship with UCLA. "I just assumed that you're hissing at the business school. I want to make sure I'm getting the right feedback from the audience."
"You guys get to hiss at me. I don't get to hiss at you," he added.
A UCLA spokesperson told BuzzFeed News Tuesday that the Treasury Department and the university's Burkle Center, which hosted the event, had an agreement to post the video to the center's website after the event. But the government department "subsequently withdrew their consent to post the video."
The Treasury Department then came back to the university Friday and reversed its decision, saying it supported the release of the full video.
"Our prior objection was providing a platform for the non-student protestors, who sought to disrupt the event, at the expense of the otherwise thoughtful discussion," a Treasury spokesperson said in a statement.
During Mnuchin's opening remarks, campus police officers removed three women who began shouting at the secretary as he talked about sanctions against North Korea, the video shows.
"OK, that was interesting," Mnuchin said after they left.
A few minutes later, he sat down with Ryssdal and continued to react to the jeers, motioning with his arms that he was hearing the hissing directed at him.
"Ignore them," one audience member shouted.
To which Ryssdal replied, "That's a good point."
"No, I think they're going to get more tired than I am," Mnuchin said.
David Snyder, executive director of the First Amendment Coalition, told BuzzFeed News that while UCLA ultimately released the video, the decision to withhold the footage and only release it after getting the Treasury Department's consent was problematic.
"That suggests that they still don't get it that it doesn't matter that Steve Mnuchin consented or not," Snyder said. "They have an obligation to produce the records."
The coalition was one of more than a dozen groups and media outlets that filed requests for the video under the California Public Records Act, according to UCLA spokesperson Peggy McInerny.
"This idea that a federal official can control access to the records that the public is entitled to under California law is troubling," Snyder said.