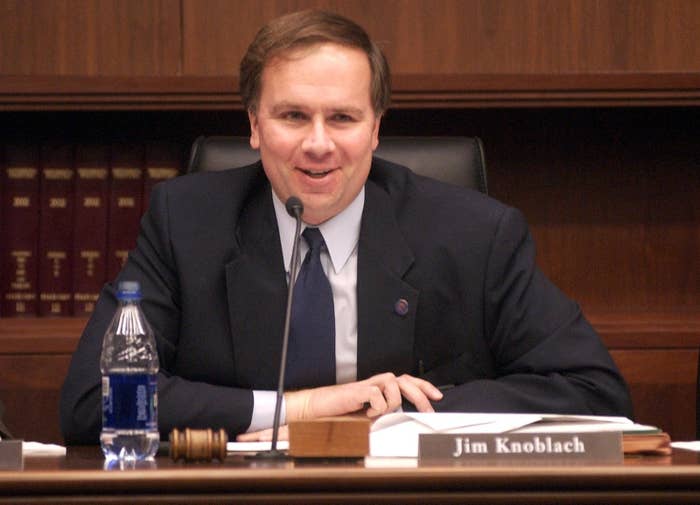 A longtime Minnesota state lawmaker abruptly ended his reelection campaign Friday after his 23-year-old daughter accused him of inappropriately touching her throughout her childhood and young adult life.
Republican state Rep. Jim Knoblach denied the allegations but said he was "not willing to spend six weeks fighting with [his] daughter in the media" as Minnesota Public Radio prepared to publish a detailed account of the accusations.
"As a result, I feel I have no choice but to effectively end my campaign today so that I can work towards healing my family," Knoblach said in a statement. "As indescribably hurtful as these circumstances are, my wife and I love our daughter, and we look forward to the day when we can somehow again be a happy family."
Knoblach's daughter Laura Knoblach alleges that the eight-term Minnesota legislator would come into her room after she went to bed, lay behind her, and lick her neck or bite her ear. She also said her dad would often kiss across her arms and neck while they watched movies on the couch, and pin her against the refrigerator or dishwasher, MPR reported.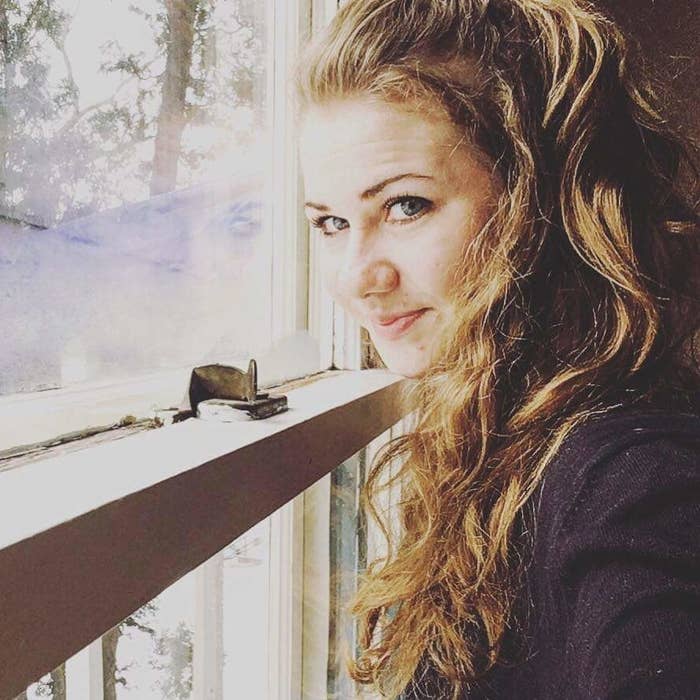 "It felt inappropriate," Laura Knoblach told BuzzFeed News by phone Saturday night. "I didn't like it and I'd voice that I wouldn't really want to do that but it didn't really seem to matter to him."

According to their report, Laura Knoblach told friends, family, and adults at her school and church about her dad's behavior for more than a decade. In December 2016, after she had moved away from her family to Boulder, Colorado, for college, she wrote on Facebook that she had been "molested as a child and young adult" by her dad and that her family "coerced [her] into silence about it for almost 15 years."
The now-deleted post prompted an uncle to call the police, and in January 2017 the St. Cloud Police Department and Sherburne County Sheriff's Office opened an investigation, according to MPR. No charges were ever filed.
MPR reviewed documents, including written transcripts of interviews, copies of old diary entries, and handwritten notes, as well as audio files from the investigation.
Laura Knoblach told law enforcement that sometimes her father would come into her room to pray and lift up her shirt and kiss her stomach.
When she was home for the 4th of July in 2015, Laura Knoblach said she was walking through the garage at their house from the backyard where her parents were shooting off fireworks when her dad pinned her against a car and licked and kissed her neck, she told BuzzFeed News.
"He grabs my wrist and he pushes me up against our car and he's holding my wrist to the car ... and rubbing his body against me, and he started licking and kissing my neck and biting my ear," she said.

That same night, her father allegedly put his face between her legs repeatedly, kissing and licking them, while the family was watching a movie together.
"My mom said, 'Jim, that's not appropriate to be doing to your adult daughter,' and he kind of looked up at her and laughed and continued doing it," Laura Knoblach told BuzzFeed News. "I told him to stop and I tried to push him away."

The station reported that, according to the documents, St. Cloud police officer Trent Fischer told Laura Knoblach that her father's actions were "really inappropriate but not criminal" and that they wouldn't be able to bring charges against him because her father did not expose himself or touch her under her clothes.

Jim Knoblach's attorney Susan Gaertner told BuzzFeed News the lawmaker "has been physically affectionate" to both his daughter and his son, but he "does not believe he crossed any lines."

Gaertner said Jim Knoblach first learned of the "nature of the allegations" when his daughter wrote about them on Facebook.
"He was shocked, he was concerned, and he was very sad," Gaertner said, adding that prior to the post he knew about "some complaints she had about boundaries but again the detail and the real nature of the allegations came much later."
She declined to comment on the specific allegations.
"This is a very sad, private family matter, and in order to keep it as best he can out of the public arena going forward he dropped out of the race," Gaertner said.
Laura Knoblach said family members would always tell her that her dad just "doesn't understand boundaries," and so for a long time she felt like her discomfort was the problem.
"I felt like I have to work through this because clearly my feelings are the ones that are wrong," she said.
But the more that she talked to friends and a counselor at school, the more she came to realize she wasn't wrong. She said she hopes coming forward will help her heal.
"A lot of children that have been abused by their parents don't want their parents to go to jail. They just want to be free of those feelings," Laura Knoblach said. "We all wear blinders when it comes to the people that are in our own communities."