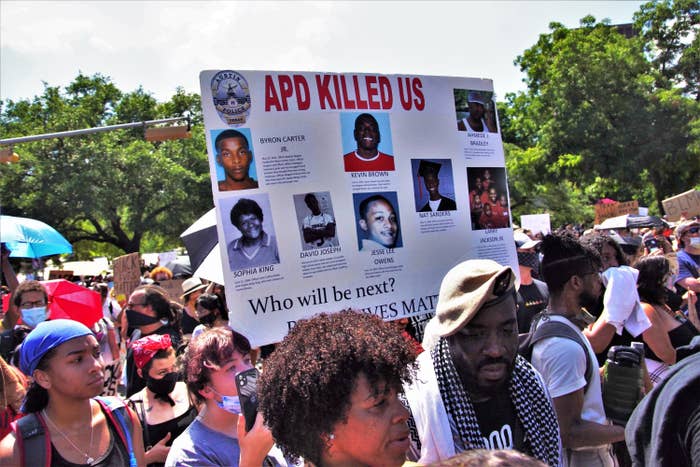 Video released by the Austin Police Department on Monday shows officers fatally shooting a 42-year-old man who told police he was unarmed and was holding his hands above his head before they began firing.
The footage shows the confrontation leading up to the April 24 killing of Michael Ramos, whose death has fueled protests in Austin as people around the world march against racism and police brutality.
Austin police officers were responding to a 911 call about a man and a woman using drugs in a vehicle outside an apartment complex in South Central Austin when they made contact with Ramos. The caller reported that the man was holding a gun, but police did not locate any firearms in the vehicle after the shooting.
A transcript and edited audio of the call was also released as part of the video, which includes dash and body camera footage from the incident. In the video, the officers are seen driving up to Ramos's parked vehicle and immediately yelling at him to show his hands with their firearms drawn. The driver door slowly opens and Ramos appears to raise his hands next to his head as he leans his body out of the vehicle.
"Michael Ramos, you're going to listen to everything we say," an officer yells. "Keep your hands up."
Ramos initially complies with the officers' commands and exits the vehicle with his hands up, raising his shirt and turning around in a circle, the video shows.
An officer then tells Ramos to walk toward him again as Ramos yells, "Man, what the fuck, man," shaking his hands above his head.
"Michael Ramos, you're going to get impacted if you don't listen," an officer says, according to the video.
"Man, you all scared the fuck out of me, dog," says Ramos says, who appears increasingly anxious, bringing his hands to his brow and exhaling deeply.
He then tells them, "don't shoot," as he waves his hands at the officers.
One of the officers continues to say Ramos's name, telling him to relax and listen and turn around as Ramos asks, "What's going on, bro?"
"Man, what the fuck did I fucking do, man!" Ramos screams, standing behind his car door. "The fuck you tripping on, dog."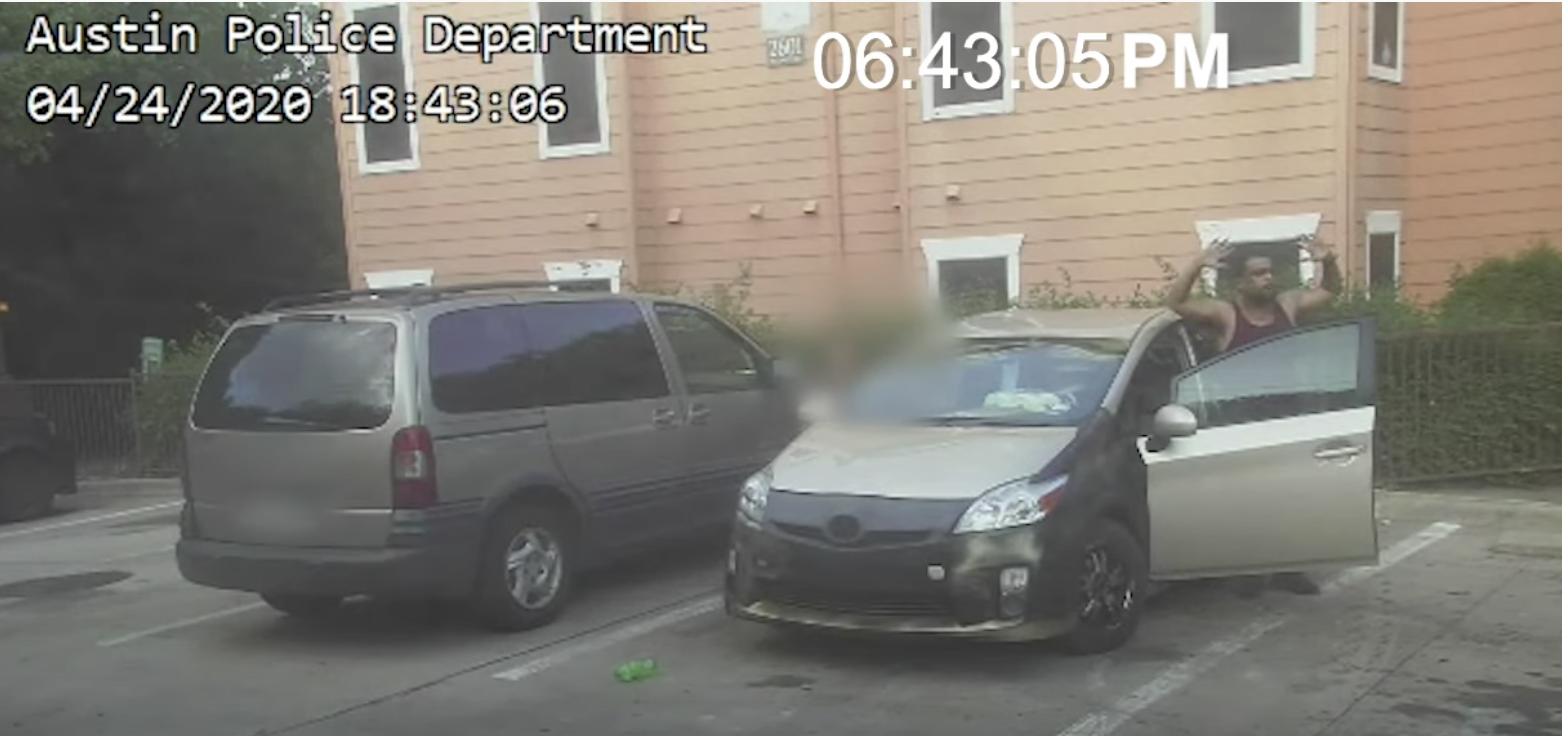 "Impact him," another officer is heard yelling.
"I don't got no fucking gun, dog," Ramos says. "What the fuck."
Officers tell Ramos they're going to "impact" him and to "walk towards us," according to the video.
Ramos says, "No," and yells for them to put their guns down. Seconds later, an officer is heard yelling, "impact him," and a beanbag round is fired, striking Ramos and bouncing off of his body as he gets back into the car and shuts the door.
As officers yell at him, "Do not leave!" Ramos drives the car out of the parking spot, and then an officer fires three gunshots at the vehicle, the video shows.
The officers are then seen running up to the car, which had crashed into another parked vehicle, with their weapons still drawn.
Ramos was transported to a local hospital where he was pronounced dead, according to the police department. A woman passenger who was in the vehicle was not injured in the shooting and was not arrested or charged in connection with the incident.
Officer Christopher Taylor, who fired his rifle at Ramos as he drove away, and Officer Mitchell Pieper, who shot the beanbag round at Ramos, have both been placed on administrative duty. The department's internal affairs unit is continuing to investigate the incident.
The criminal investigation is being handled by the Texas Rangers and the Travis County District Attorney's Office.
A custodial death report submitted to the Texas Attorney General's Office in May said Ramos died of multiple gunshot wounds. A narrative of the incident in the report states that Taylor fired his rifle because he feared Ramos would "use the Toyota Prius as a deadly weapon."
This was the second time in less than a year that Taylor used lethal force while on the job. According to the Austin American Statesman, Taylor was one of the officers who fatally shot 46-year-old Mauris DeSilva, who was wielding a knife in the gym at his condo in downtown Austin in July 2019.
The newspaper reported that he was placed on administrative leave but later allowed to return to duty.
District Attorney Margaret Moore declined to comment on the video's release Monday through a spokesperson.
Moore had planned to present the case to a grand jury in August, but after losing the Democratic primary runoff earlier this month she decided to hold off until her successor takes office in January.
"By overwhelmingly supporting a candidate for District Attorney who ran on a platform of changing how officer involved shooting cases are prosecuted, I believe the the community has clearly stated it would like to see the new administration oversee the prosecution of these cases from beginning to end," Moore said in a statement announcing the postponement last week.
An attorney for Ramos's mother, Brenda Ramos, did not immediately respond to BuzzFeed News' request for comment Monday.

Brenda Ramos, who has called for the APD to fire Taylor, said in a recent interview with Fox 7 Austin that Moore's decision to not present his case in August was "very disrespectful."
"It hurt me for her to be in her position and say that," she told the local TV station.
Ramos also said that she had seen bodycam footage of the incident before its release Monday.
"I'll never forget the face he made when he was confused. That's what staying on my mind and I feel him and that hurts. That's a part of me," she said.