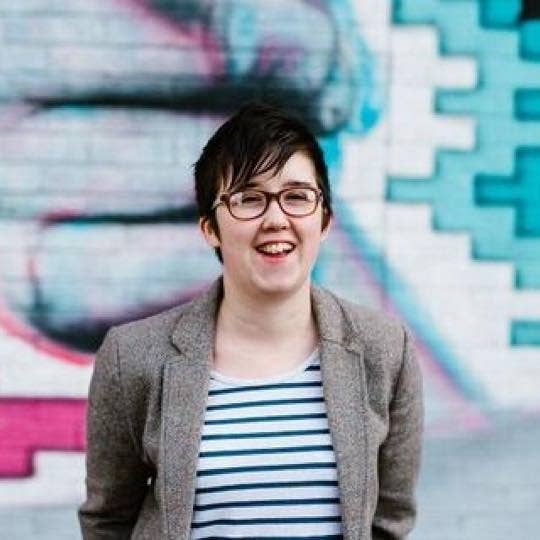 Two men have been arrested in connection with the killing of a 29-year-old journalist Thursday night amid riots in Northern Ireland in what police are calling a "terrorist incident."
The journalist, identified as Lyra McKee, was an editor for the news site Mediagazer and was based in Belfast, according to literary agency Janklow and Nesbit's website. Her work included examining the fallout of decades of violence in Northern Ireland, and she was described as a rising star of investigative journalism in an announcement of a publishing deal last year.
The Police Service of Northern Ireland confirmed on Saturday that two men were arrested in connection with her shooting following an appeal to the public for information and the release off CCTV footage.
The men, aged 18 and 19, were arrested under the Terrorism Act.
According to the Telegraph, masked attackers appeared to throw Molotov cocktail fireworks and other debris at police vehicles during a security operation in the Northern Ireland city.
A journalist at the scene said she was standing next to the woman when she was struck by gunfire.
"I called an ambulance for her but police put her in the back of their vehicle and rushed her to hospital where she died," Leona O'Neill wrote on Twitter.
McKee's last tweet showed an image from the scene with black smoke billowing in the distance.
"Derry tonight. Absolute madness," she wrote.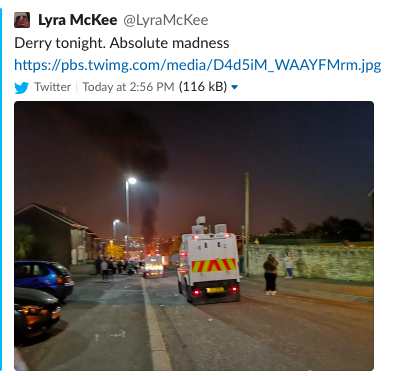 McKee's work has appeared in various publications, including the Atlantic, Mosaic Science, and BuzzFeed.
"We are heartbroken to learn of Lyra's death and extend our deepest condolences to her family, friends and colleagues," BuzzFeed said in a statement.

In 2016, Forbes named her one of their European 30 under 30 in media. She is the author of a nonfiction novella, Angels With Blue Faces, and was working on a new book, The Lost Boys, according to the agency.

Angels With Blue Faces focused on a cold case from the Troubles, the 30-year conflict in Northern Ireland that left more than 3,000 people dead.
Democratic Unionist Party leader Arlene Foster called the killing "a senseless act," comparing the incident to the violence seen in the Troubles.

"Those who brought guns onto our streets in the 70s, 80s & 90s were wrong. It is equally wrong in 2019," Foster said on Twitter. "No one wants to go back."