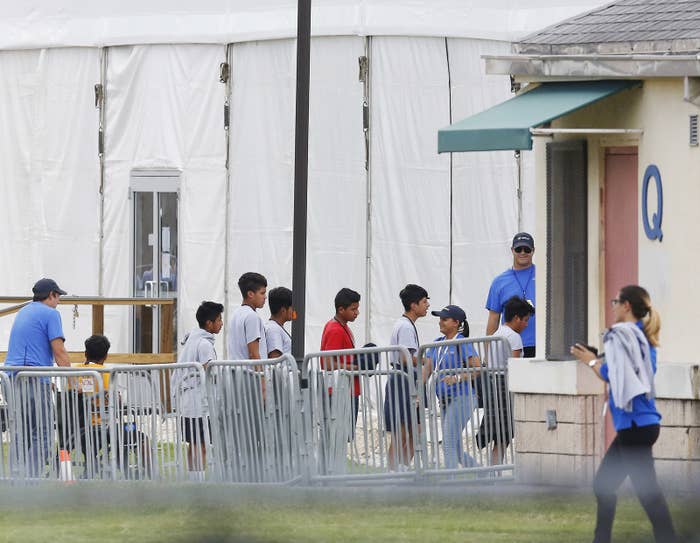 A 15-year-old immigrant girl hid inside an auto shop after running away from employees of a child immigrant shelter in Florida on Friday.
The girl, who has not been identified, escaped while employees of the Homestead Temporary Shelter for Unaccompanied Children were transporting her to an eye exam around 9:15 a.m., according to the Homestead Police Department.
Homestead police spokesperson Fernando Morales told BuzzFeed News the girl ran away as she was exiting a vehicle outside of the doctor's office located near Gonzalez Auto Care.
Police who were searching for the girl were flagged down by the owner of the auto shop, who informed officers that the girl was hiding behind a toolbox inside, according to the Washington Post.
Frank Gonzalez, the owner of the auto shop, told the Post the girl was crying when she ran into the shop. She hid in a corner and stayed there, crying, for more than an hour, he said.
"It broke my heart to see the girl panicked and scared, not knowing where her father or mother was," Gonzalez said, adding that he was glad he told police where she was. "It's safer for her in detention than out on the streets with no family. It was a hard decision."

Police transported the girl back to the shelter without incident, the department said in a statement.
Comprehensive Health Services, the company that manages the Homestead shelter, did not immediately respond to requests for comment from BuzzFeed News. An official with the Department of Health and Human Services, which oversees facilities that care for unaccompanied immigrant children, said in a statement that the Office of Refugee Resettlement provides children with "the least restrictive, safe and comfortable setting to stay while waiting for release to a suitable sponsor."
In the event a child leaves a facility without permission, officials go over security measures to see what, if any, additional steps should be taken, including possibly using another shelter until the review is complete.
According to the Post, 109 children left detention centers "without permission" between October and May, though "most or all" were returned to the shelters.
Shelters and detention facilities across the country have been taking in undocumented immigrant children who were separated from their families at the border under the Trump administration's "zero tolerance" policy and other unaccompanied immigrant children.
The Homestead facility, which is located at the Homestead Air Force Base, is home to more than 1,000 immigrant children between the ages of 13 and 17, including some who were separated from their parents at the border, according to the Miami Herald.
Most children remain at the Homestead shelter for an average of 25 days, program director Leslie Wood told the Herald last month.