California authorities have agreed to review a 1979 rape and murder case for any ties to the notorious Golden State Killer after an attorney said she detected similarities between the serial murderer's crimes and the decades-old case.
The Orange County District Attorney's office said Wednesday that it will review the conviction of William Lee Evins, who died in prison in 2013 while serving time for the murder of 28-year-old Joan Anderson in Fountain Valley.
"We're looking into every possibility whether it was by this guy or some other person," Susan Kang Schroeder, chief of staff for the Orange County District Attorney, told BuzzFeed News. "We'll just make sure that we can have confidence in the conviction."

Kang Schroeder said prosecutors don't currently have any reason to believe Joseph James DeAngelo, 72, who has been identified as the serial rapist and killer who terrorized California in the 1970s and 1980s, committed the crime, but they will be reviewing the evidence to see if DNA testing is possible.
DeAngelo, who was arrested in April, currently faces 12 counts of murder in Sacramento, Ventura, Orange, and Santa Barbara counties. He is also suspected of committing at least 51 rapes and more than 120 burglaries across the state between 1974 and 1986.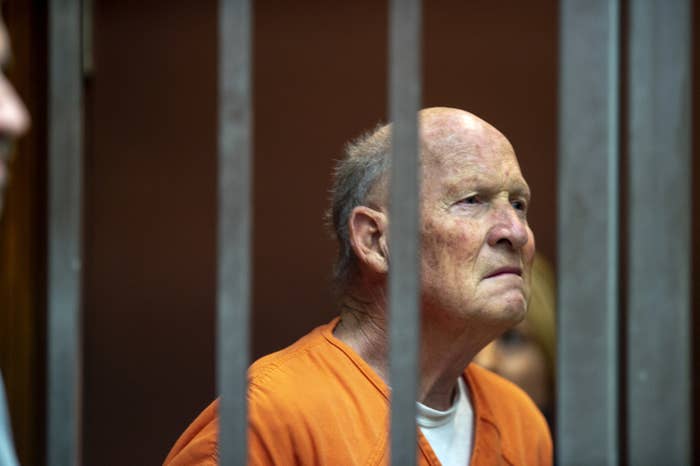 The reexamination of the 1979 Fountain Valley case comes after attorney Annee Della Donna filed a request with the district attorney.
Della Donna, who runs the Innocence Rights of Orange County project, told BuzzFeed News she started looking into old rape and murder cases after seeing a sketch of the Golden State Killer that resembled a man who tried to abduct her about 40 years ago when she was 17.
"He tried to get me into a van," Della Donna said. "I ran. I got away."
Around the same time, Anderson was tied up and bludgeoned to death with a hammer at her home about six blocks away from where Della Donna lived. Anderson's two young children were in the house at the time of the attack and left unharmed.
Della Donna said the technique and "brazenness" demonstrated in Anderson's killing were similar to that of the Golden State Killer, adding that the proximity to where she was almost abducted made her believe it was the same man.
The evidence against Evins was "unbelievably circumstantial," she said, and based on a statement from a hypnotized witness who testified that Evins confessed to him that he killed Anderson.
That testimony was later excluded by the California Supreme Court, which ruled in 1982 that hypnotically refreshed accounts are "inherently unreliable," according to the Los Angeles Times. But then a notorious Orange County jail informant testified that Evins confessed to the crime, Della Donna said.
Evins took a plea deal and was sentenced to 15 years in state prison.
"Even if it turns out that it's not the Golden State Killer, Evins is not responsible for this murder. There's no way," Della Donna said.

Meanwhile, in Tulare County, questions have been raised about whether another man died in prison while serving time for a crime that may have been committed by DeAngelo.
In November, the Tulare County Sheriff's Office released a statement asking for information about Oscar Clifton, who was convicted in the 1975 murder of 14-year-old Donna Richmond. Detectives noted similarities between Richmond's murder and that of 15-year-old Jenny Armour, who was found dead in a canal near Exeter.
The Sacramento Bee reported that investigators are examining if DeAngelo could be responsible for Armour's killing, raising the question of whether he also could be the perpetrator in Richmond's death.
DeAngelo, who worked as a police officer in the Central Valley town of Exeter from 1973 to 1976, is believed to be responsible for a series of crimes attributed to the Visalia Ransacker, a serial prowler and burglar who murdered local journalism professor Claude Snelling in 1975 in a failed kidnapping attempt of his teenage daughter.

Prosecutors are still reviewing the Snelling murder for possible charges against DeAngelo, Tulare County Assistant District Attorney David Alavezos told BuzzFeed News.
But while the Bee reported that DeAngelo was "one of the suspects" in Armour's murder, Alavezos didn't see a reason to reopen Richmond's case.
"I don't have any question about that conviction," he said.