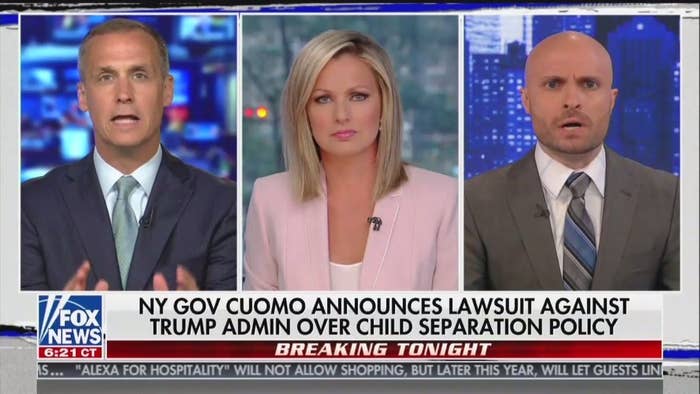 President Donald Trump's former campaign manager Corey Lewandowski on Tuesday mocked a story about a 10-year-old girl with Down syndrome who the Mexican government said was forcibly separated from her mother as a result of the administration's "zero tolerance" immigration policy.
Lewandowski appeared on Fox News' The Story With Martha MacCallum with Democratic strategist Zac Petkanas Tuesday night to discuss the Trump administration's practice of separating children from their parents at the border.
"I read today about a 10-year-old girl with Down syndrome who was taken from her mother and put in a cage," Petkanas said.
"Womp womp," Lewandowski interrupted.
"Did you say, 'Womp womp?'" a shocked Petkanas replied. "How dare you. How dare you. How absolutely dare you, sir."
The White House did not immediately respond to a request for comment from BuzzFeed News.
Asked on Fox News Wednesday whether he owed the child an apology, Lewandowski said, "An apology? I owe an apology to the children whose parents are putting them in a position that is forcing them to be separated."
He added that "we owe an apology ... to the families of individuals killed by illegal aliens."
Under the zero tolerance policy announced by Attorney General Jeff Sessions in April, prosecutors have been directed to charge all people who are caught crossing the border without documentation with illegal entry. As a result, children have been separated from their parents, who are being detained by the US Marshals Service.
From May 5 to June 9, officials separated more than 2,300 children from the adults they were traveling with, according to the Department of Homeland Security.
On Tuesday, Mexican officials said that one of those children was a 10-year-old girl with Down syndrome who was separated from her mother and was being held in a detention facility in McAllen, Texas, even though her father is a legal resident in the US.
A US Customs and Border Protection (CBP) spokesperson confirmed on Wednesday that a child with Down syndrome was separated from her mother on June 3 as a result of a smuggling attempt and not because of the zero tolerance policy.
The mother is being held as a witness, the official said, and CBP officials are "working to reunite the mother with her children as soon as possible."
Lewandowski defended the practice of separating families, saying, "When you cross the border illegally, you have given up the rights of this country."
He then reiterated Trump's false claim that it was the "law of the land" and that it was up to Congress to change it.
There is no law that states that children must be taken away from their parents when they cross the border.