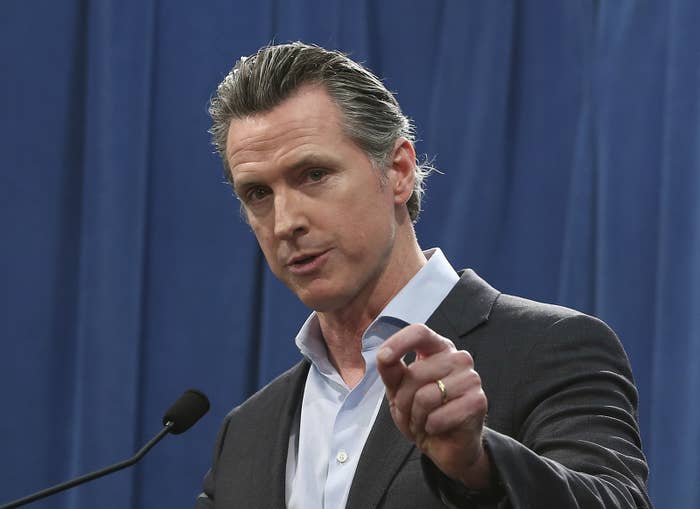 LOS ANGELES — California Gov. Gavin Newsom on Wednesday formally announced a moratorium on executions in the state, granting a reprieve for more than 700 inmates waiting on the largest death row in the country.
"I did this with a heavy heart, with appreciation for the emotions that drive this issue, and I did it with the victims in mind," he said at a news conference.
Newsom's executive order will put in place a moratorium on capital punishment in California, withdraw the state's lethal injection protocol, and shut down the execution chamber at San Quentin State Prison. On Wednesday, equipment in the chamber was already being removed, Newsom said, "to send a message that we're better than this."
The order does not allow for the release of any inmates or change their sentences, he added.
California hasn't executed a prisoner since 2006. There are currently 737 people on death row, the largest such population in the country, according to the Death Penalty Information Center.
Newsom addressed victim's families directly, acknowledging that they are divided on the issue, but insisted the moratorium is the right thing to do.
"We owe you and we need to do more and do better," he said. "But we cannot advance the death penalty in order to soften the blow of what happened."
Newsom also argued that capital punishment disproportionately affects people of color, is costly, and ineffective.
Californians have long been been divided on the issue. Voters have struck down initiatives to repeal the death penalty on multiple occasions. A proposition in 2016 was defeated with about 53% against and nearly 47% in favor.

Proponents of the death penalty and those who think Newsom is overstepping his powers criticized the moratorium as illegal and a "slap in the face" of victims' families.
"The people have voted for the death penalty eleven times since 1972, including three times in the last seven years," Kent Scheidegger, legal director at the Criminal Justice Legal Foundation, said in a statement. "The governor's decision to grant a blanket reprieve to prevent executions is an abuse of power and a slap in the face of the families of murder victims."
California has executed only 13 people since it brought back the death penalty in the 1970s. Still, Newsom said 25 people currently on death row had exhausted their appeals, and he wasn't about to sign off on the execution of dozens of inmates when some of them could be innocent.
"I think we're better than this," he said.