A suspect was arrested Wednesday night in connection with a string of fires that authorities said were intentionally set at three historically black Baptist churches in Louisiana.

The suspect, identified as 21-year-old Holden Matthews of Opelousas, is the son of a St. Landry Parish deputy, and has been charged with three counts of arson on religious buildings, authorities said.
"This community is safe again," Louisiana State Fire Marshal H. "Butch" Browning said at a news conference Thursday. "We are extremely, unequivocally confident that we have the person who is responsible for these tragic crimes."

The three St. Landry Parish churches burned to the ground within 10 days of each other. About 77% of Opelousas' residents are black.

The first fire occurred on March 26 at St. Mary Baptist Church in Port Barre. The second fire broke out on April 2 at Greater Union Baptist Church in Opelousas and the third at Mount Pleasant Baptist Church, also in Opelousas, on April 4.
"We can now confirm that all three of these fires are intentionally set and all three of these fires are related," Browning said, adding that physical evidence from the scene and "technological evidence" tied Matthews to the crimes.
While reviewing footage of the April 2 church fire, authorities noticed that a truck kept driving back and forth along a nearby highway. At one point, the truck slowed down and turned into the parking lot. About 25 minutes later, the vehicle pulled out and a "bright glow can be seen" from the building, according to a police affidavit.
A few days later, federal officials found a charred gasoline can at the scene of one of the burned churches and traced it to a local Walmart, court documents state. Investigators for the company found that a customer purchased two of the cans, some towels, and a lighter from a store in Opelousas on March 25.
The purchase time on the receipt was less than three hours before the first church fire was reported, according to the affidavit.
Using the receipt, which allegedly linked the purchase to Matthews' debit card, and surveillance footage, investigators found their suspect. Cameras at Walmart also captured Matthews getting out of a gold Ford truck, which matched video and witness descriptions from the scenes of the fires.
Officials then reviewed cell tower data and GPS tracking and found that Matthews' phone was "in the surrounding are of all three church fires."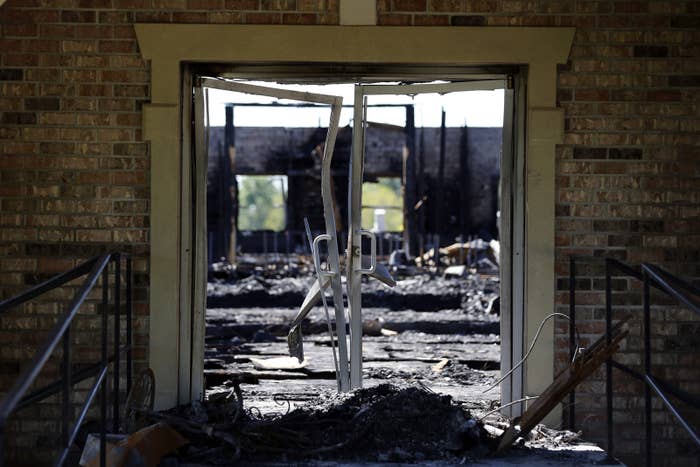 Gov. John Bel Edwards said the fires were "especially painful because it reminds us of a very dark past of intimidation and fear."

"I don't know what this young man's motive was, I don't know what was in his heart, but I can say it cannot be justified or rationalized. These were evil acts," Edwards told reporters. "Hate is not a Louisiana value and violence has no place in our communities we are better than this."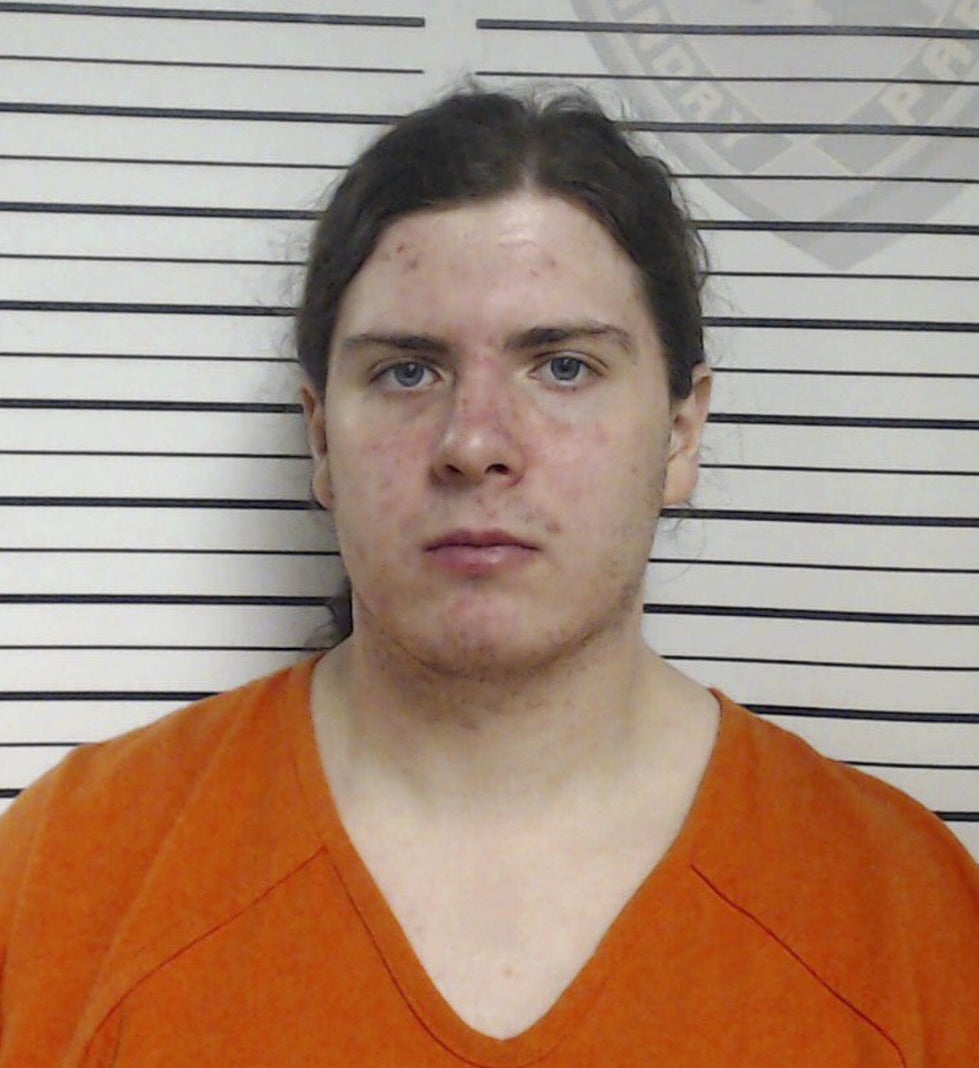 Two friends told to BuzzFeed News Matthews was "sweet," "genuine," "mild-mannered," and obsessed with black metal music, particularly Norwegian black metal, a community in which he was trying to make a name for himself.
Nygyl Brynn Blackwolf, who founded an extreme metal record label and has known Matthews since 2014, said the 21-year-old was "a good kid" who never exhibited any signs of white supremacism, was "gullible and impressionable," and had been trying hard to make his mark in the Norwegian black metal scene.
"He was never aggressive, mean, racist, or anything like that," the 36-year-old said. "He was just a kid who wanted to make music."
Matthews was, however, "inspired" by "Lords of Chaos," a violent horror biopic about the Norwegian black-metal scene in the '90s that hit theaters in February, Blackwolf said.

In the controversial film, Kristian "Varg" Vikernes, one of the subculture's most influential musicians, murders another artist and sets several churches on fire. He served 15 years in prison and, in 2014, French authorities convicted him of inciting racial hatred for lashing out at Jews and Muslims in his blog. Vikernes even lashed out against the film about him on YouTube, complaining about the "fat Jewish actor he played him."
"Most people in our world adamantly did not like the movie and what it stood for and how it portrayed our culture," Blackwolf said. "But Holden liked it. If he did this, which is crazy, he was inspired by that movie."
In Facebook comments, Matthews said he liked the film, but didn't take it too seriously.
"It's a good movie, yea it's a 'Hollywood' movie but hey it's still fun, the only people against it are people who take themselves too seriously, and people who listen to everything varg says," he wrote about five weeks ago.
Browning said investigators are still exploring possible motives for the fires and were looking into Matthews' interest in black metal music, noting "its association and history with church burnings in other parts of the world."

He added that when authorities developed Matthews as a suspect, they feared "other crimes were imminent" and immediately obtained warrants to take him into custody.
St. Landry Parish Sheriff Bobby Guidroz said Matthews didn't have any previous arrests or a history of violence, adding that his father "knew nothing about his son's activity."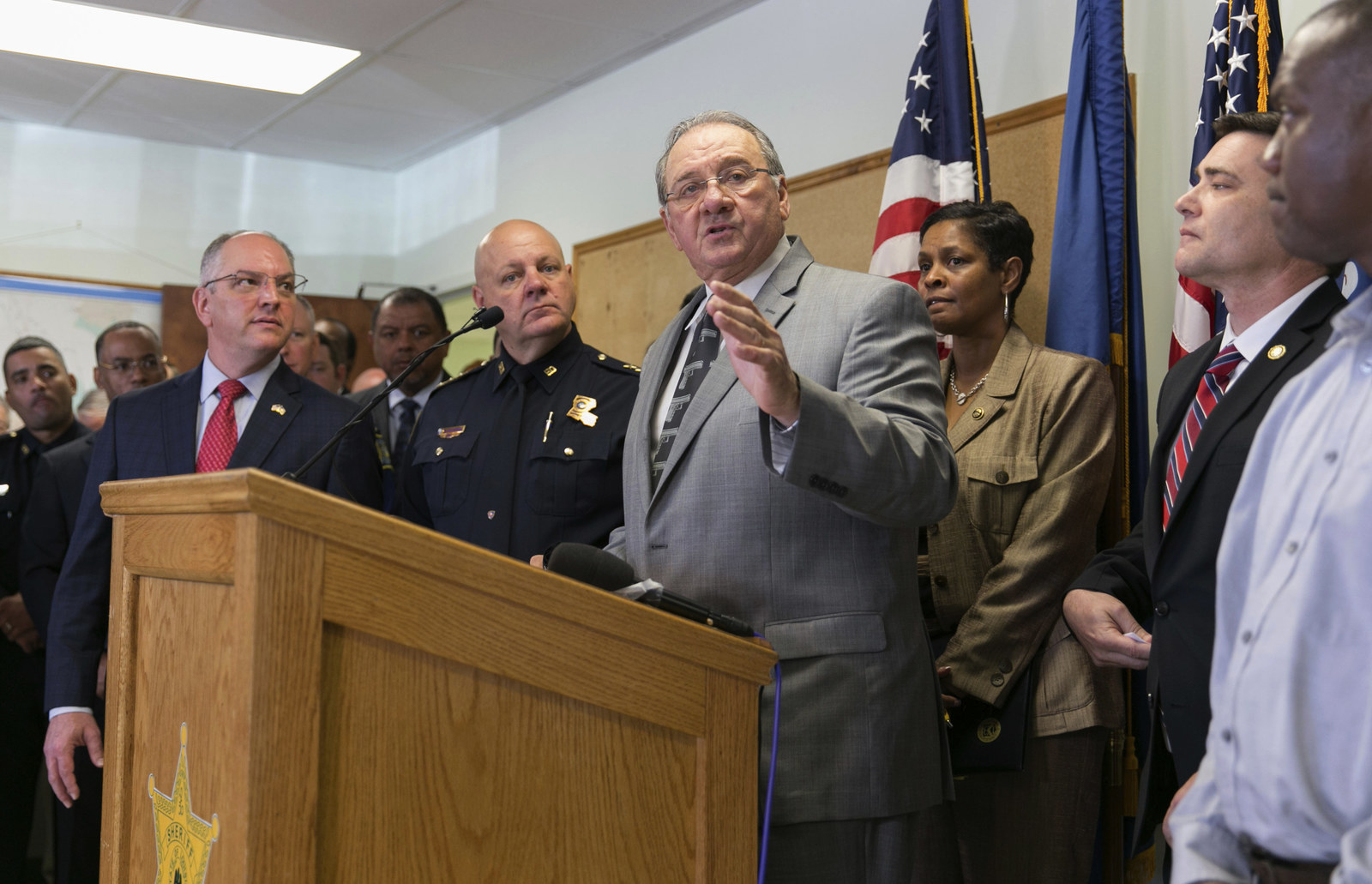 "He was shocked and hurt as any father would be," Guidroz told reporters. "He was in terrible shape."
Matthews, who had several aliases on Facebook, was also active in several pagan groups on the platform, which Blackwolf said "comes with the territory" of black metal music.

In one Facebook group Matthews was active in, people often discussed Norse paganism and Odinism. The Southern Poverty Law Center, which tracks hate groups, has reported that these religions were "taking root among skin heads and neo-Nazis and other white supremacists across the nation." However, the group's bio states: "No Racisme ** No Hating No Porn ** No nazi stuff No Selfies ** No Religion."

In the large group, Matthews was friendly and affable, frequently making jokes and commenting on people's posts about their spiritual journeys and daily lives, often sharing his own thoughts on their "ancestors," mythology, beer, pendants, and symbols.
Using one of his aliases, he wrote in July of 2017 that he had converted "from Catholic to pagan"
In reply to one person's positive review about "Viking Spirit," a book about Norse Mythology and religion, one person wrote, "Did anyone ever notice the swatstika on his belt In this?" To which Matthews replied, "well yea the belt gives him extra strength and power.....white power lmao jk jk I had to."
In a post on Thursday, one of the admins wrote that the group condemned the suspect's actions "and do not approve of them."
Investigators have not said whether race was a motive in the fires. Eric J. Rommal, special agent in charge for the FBI's New Orleans Field Office, said investigators are working to determine whether the arsons were "bias-motivated."
However, the apparent attacks against the predominantly black congregations were reminiscent of the historical burning of African American churches in the US.

"This string of suspicious church fires, including three in St. Landry Parish alone, is deeply disturbing and a reminder of the violence that people of color continue to face across the South, Alanah Odoms Hebert, executive director of the ACLU of Louisiana, said in a statement Monday. "Black churches have long been targets of racial terrorism, and recent years have seen a steady rise in white supremacist violence."
Matthews was denied bond and his next hearing is set for May 2, according to court documents.