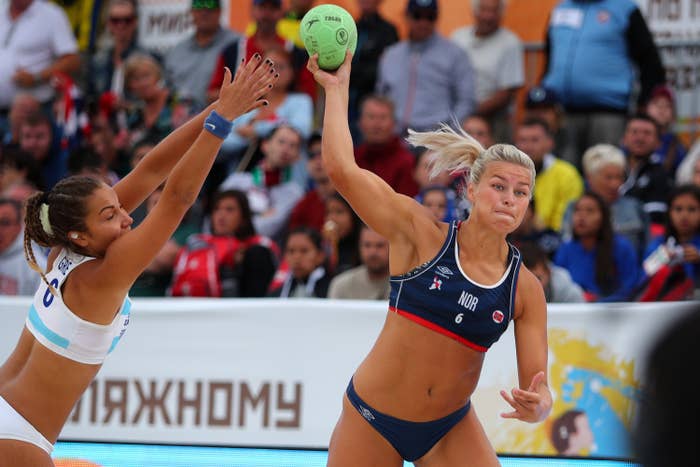 The International Handball Federation will no longer require women to wear bikini bottoms after the Norwegian women's beach handball team was fined over the summer for wearing shorts in protest of the rule.
The federation abandoned the sexist requirement in its updated rules handbook published on Oct. 3. The new rules state that women athletes "must wear short tight pants with a close fit."
Federation spokesperson Jessica Rockstroh told BuzzFeed News on Wednesday that IHF made the change "after the global discussion about the beach handball uniforms over summer" and after Norway's federation submitted motions on the issue. The Norwegian players were fined 150 euros each for wearing "improper clothing" at the European championships in July.

At the time, the IHF's rules stated that while men could wear shorts, women were required to wear bikini bottoms. Norwegian Handball Federation President Kåre Geir Lio told the New York Times that Norway had complained about the bikini bottom requirement since 2006 but the federation had done nothing about it.

Rockstroh said in an email that the IHF may still adopt additional uniform options.
"For example, a second option – a long option – should be included in the uniform regulations as the different cultural backgrounds of the athletes need to be considered as well," she said.
In a statement provided to BuzzFeed News Tuesday, Lio said the change was an important step toward fighting gender inequality in handball.
"The new regulations are a huge step in the right direction, and we are happy about the progress," he said.
Lio added that Norway was looking forward to the IHF's biannual meeting of member federations this weekend, "where we hopefully will get to know more of the details and the thoughts behind the new regulations."
The new rules will take effect on Jan. 1, 2022, the handbook said.