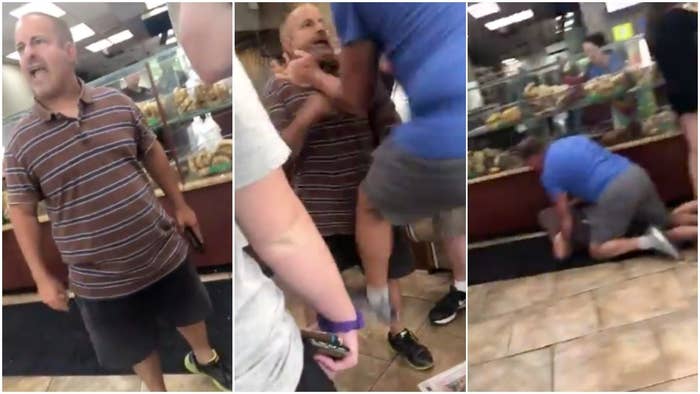 A man in a bagel shop unleashed a wild rant about women mocking his height on dating sites before he was eventually tackled, viral video footage shows.
In a video posted to Twitter, Olivia Bradley is heard on Wednesday morning at the Bagel Boss shop in Bay Shore, New York, asking a middle-aged man wearing running shoes, shorts, and a striped polo shirt why he thinks it's OK to "degrade women".
"Degrade — why is it OK for women to say, 'Oh you're five feet on dating sites, you should be dead,'" the man snaps back as he throws a newspaper he was holding to the floor. "That's OK?"

Bradley then asks him rhetorically, "Who said that to you here? Nobody."
"Women in general have said it on dating sites. You think I'm making that shit up," the man yells while throwing his arms in the air. "Everywhere I go I get the same fucking smirk with the biting lip."
Another customer interjects and says, "Dude, calm down," to which the man angrily yells, "Shut your mouth. You're not God or my father or my boss."
The other customer appears to say something else, causing the man, who was not identified, to yell again.
"Dude you want to step outside? You want to step outside?" the man asks, bumping his body into the other customer. "Huh? I'm not scare of you, pal."
He then tells a different customer to "shut up, too," before he is tackled to the ground by another man.
Bradley's friend Diana, who recorded the video, exclaims, "OH MY GOD. I just wanted bagels."
Bradley, a 19-year-old from Bay Shore, told BuzzFeed News she and her brother and their friends were waiting in line to order food when they noticed the man pacing and "muttering angrily" to himself, saying the word "stupid" and something to the effect of "can't do their jobs."

She said the man started to berate the woman employee behind the counter and then told another employee "don't look at me like that."
"It just got to the point where I realized that he wasn't going to stop and it didn't look like anybody else was going to do something about it," Bradley said. "He was acting in a threatening way."
So she stepped up to the man and told him to stop.
"I told him to stop, that she was just trying to do her job," Bradley said.

Her friend Diana then started recording, "God forbid he went to go put his hands on her or anyone," she said in an Instagram Live video after the incident.
A second video showed the man continuing to yell at other patrons and employees after being tackled. One of the employees then hands him his food and says, "Have a great day."
The man, still furious, throws the food to the floor and yells, "Fuck your fucking breakfast." He then returns to pick up his food and continues to scream at the employees before another customer escorts him out.
According to Suffolk County police, officers responded to a fight at the Bagel Boss store at 9:20 a.m. but there were no injuries or arrests made in connection with the incident.
The video was so widespread on Twitter it attracted the attention of Chrissy Teigen, who tweeted her desire to witness a similar confrontation in person: "this could be the thing that drags me out of my house. where do I need to post up with my camping chair??"
Donald Rosner, whose family owns the Bagel Boss chain, told BuzzFeed News employees at the shop asked the man to leave several times, saying they were frazzled by the incident.
"It's scary because you don't know how crazy somebody is and you don't know how far it's going to go until it's over," Rosner said, adding that they were "so thankful it didn't go any further than it did."
Bradley said when she and her friends left, she saw police talking to the man, trying to calm him down.
"Definitely something else was happening in his life made him snap like this," she said. "I really do hope he's OK, but his actions weren't acceptable and that's that."