14 People Were Injured After A Storm Hit A Backstreet Boys And 98 Degrees Concert In Oklahoma
Venue officials evacuated the concert space due to nearby lightning, but 150 fans were still waiting in line when high winds and heavy rain knocked over the entrance.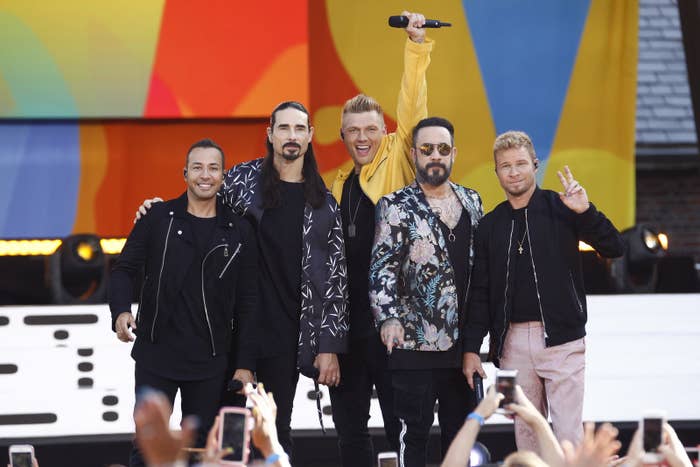 At least 14 people were injured while waiting in line for a Backstreet Boys and 98 Degrees concert in Oklahoma Saturday after high winds and heavy rains knocked over the entrance to the concert venue.
WinStar World Casino and Resort officials began to evacuate the outdoor venue at about 5 p.m. after seeing lightning within four miles of the casino.
The casino, which is owned by the Chickasaw Nation, said in a statement that about 150 patrons who were standing in line "did not heed staff's warnings." Around 5:30 p.m., the storm hit and knocked over the entrance trusses with 70 to 80 mph winds and heavy rain, injuring at least 14 people.
The injured fans were treated at the scene and then transported to a local hospital, according to the casino. As of Saturday evening, two had been released.
"We know that fans often suffer through inclement weather for their favorite acts, but this was an unusual event and our thoughts are with those who were injured during this storm," the casino said.

The concert has been postponed.
"We never want to put our fans in harm's way and with tonight's weather and the injuries from earlier, we have decided to cancel the show and will attempt to reschedule," the Backstreet Boys tweeted.
The group 98 Degrees also tweeted, saying they were disappointed about the show's cancellation.
"We know many of you traveled to be here today," the group said. "Sending you all our love and hope to see you soon."
Casino officials said they plan to notify fans of the new date and time and will honor tickets to Saturday's show on that date.
"We have been looking forward to a great show with the Backstreet Boys and 98 Degrees for many months," the casino said. "Our primary concern is the safety of our patrons, event staff and artists ... apologize for any inconvenience this may have caused ticket holders."