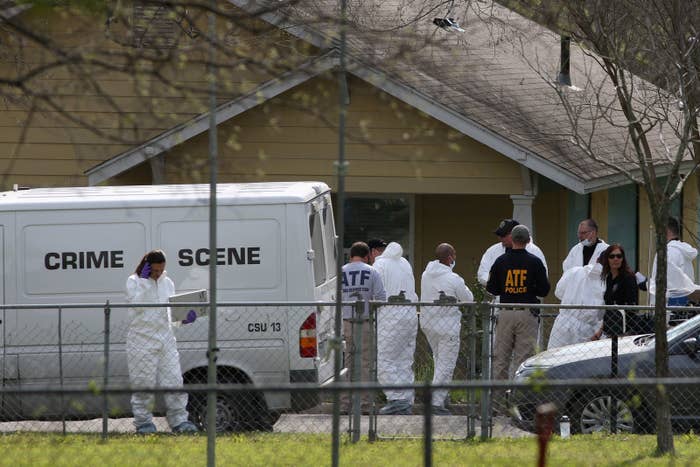 Investigators still have over 150 leads to work through the Austin bombings that killed two people and injured four others, according to a special agent involved in the investigation.
Agents from Bureau of Alcohol, Tobacco, and Firearms (ATF) spent two full days collecting evidence from the Pflugerville, TX, home of the man responsible for the bombings, 23-year-old Mark Conditt.
"There was a lot of evidence recovered from that location," ATF Special Agent Nicole Strong told BuzzFeed News on Friday.
The evidence will be shipped to the ATF's national lab in Maryland for analysis.
"There's kind of a miscommunication that because he killed himself the investigation ends with that, but it doesn't," said Strong.
She said authorities are still investigating if other people were involved in the bombings, and if there is any connection between Conditt and the victims.
Strong noted that package bombs or other bombs set up by Conditt may still exist.
"Thats always going to be a concern," she said. "We can never be 100% certain there will not be other packages."
However, although she would not speak about the evidence collected from his home, she did indicate that they did not find anything specific about any other explosives the public might encounter.
"If there was anything of concern, that would be absolutely be put out publicly and addressed immediately," she added.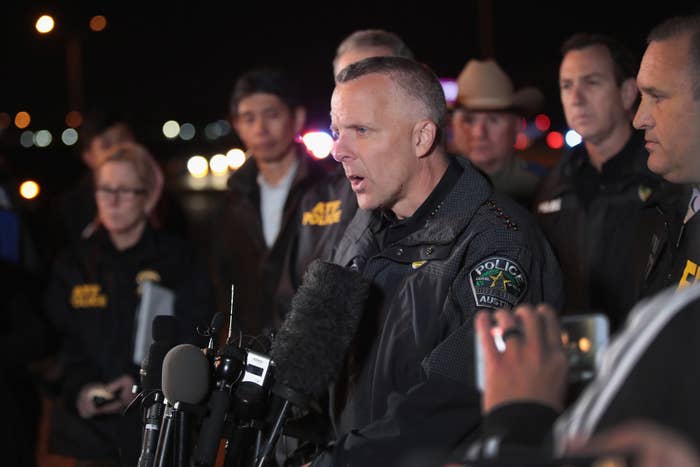 Hours before dying in a car explosion, Conditt recorded a cell phone video confessing to the crimes that terrorized the area for weeks, police said Wednesday.
Interim Austin Police Chief Brian Manley told reporters that in the 25-minute video the man did not mention anything about terrorism or hate as he described in detail the six explosive devices that killed two people and injured several others.
"Instead it is the outcry of a very challenged young man talking about challenges in his personal life that led him to this point," Manley said.
Police believe Conditt recorded the video sometime between 9 p.m. and 11 p.m. Tuesday.
"There were indications that he stated in the video that he felt like we were getting very close to him," Manley said, adding that police would not be releasing the video at this time.
On Thursday, local news station KXAN published surveillance video from an electronics store in Austin that showed Conditt purchasing items possibly used to create his bombs.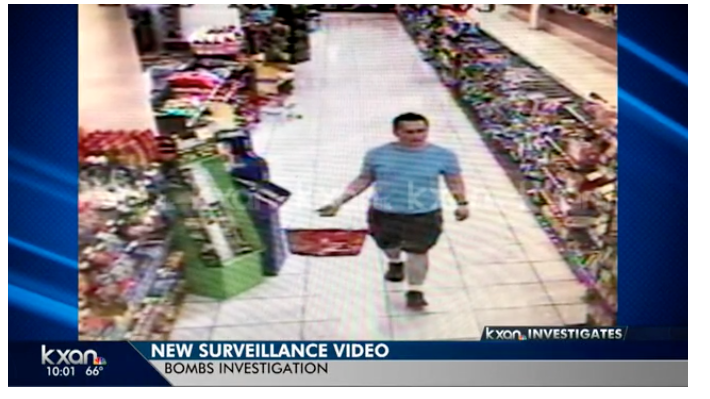 The ATF had subpoenaed Fry's Electronics, in north Austin, looking for receipts and surveillance video of anyone purchasing items similar to those found in the package bombs.
Fry's Electronics handed over the information, including video of Conditt, about a week and a half ago, KNAN reports.
The receipt of his purchase shows he bought 10 resistors, 5 battery cases and electrical components from the store.
Conditt died early Wednesday after a police pursuit ended with him detonating an explosive device in his car as SWAT team officers approached on foot.
One officer fired on the suspect and another officer was injured by the blast.
Manley said the medical examiner's office was still determining whether Conditt died from gunfire or the explosion, but noted that the injuries he sustained from the explosion "were significant."
Federal authorities had charged Conditt late Tuesday with one count of unlawful possession and transfer of a destructive device and issued a warrant for his arrest.
Travis County District Attorney Margaret Moore said Wednesday afternoon that state and federal prosecutors had intended to seek the death penalty.
"The deaths that occurred here were random and meaningless and absolutely something that we can't ever get our heads around," Moore told reporters.
Authorities believe they have accounted for all of the explosive devices constructed by the bomber. In his video recording, Conditt identified each of the devices — including the one he detonated in his vehicle — and explained their similarities and differences, Manley said.
The first package bomb exploded outside a home in East Austin on March 2, killing 39-year-old Anthony House. Two more package bombs were left on doorsteps and exploded on March 12, killing 17-year-old Draylen Mason and injuring a 75-year-old woman who remains in critical condition.
On Sunday, a fourth package bomb that police believe was triggered by a trip wire injured two men as they passed on their bicycles.
A fifth package bomb exploded at a FedEx facility outside San Antonio on Tuesday, injuring an employee. An additional device was found at the facility but did not detonate.
Manley said it did not appear that the victims were targeted. "There was no indication of why [the bomber chose] these specific addresses," Manley said, referring to Conditt's video.
The bombings had put all of Austin on edge as law enforcement continued to hunt for a suspect. Police said they responded to more than 1,200 suspicious package calls in less than 10 days.
Austin Mayor Steve Adler applauded the community's vigilance Wednesday and said that the bombings were a lesson that residents should get to know their neighbors.
"The legacy of this event for us should be that we walk across the street and introduce ourselves to our neighbors," Adler told reporters. "We should know our neighbors better than we do."
This is a developing story. Check back for updates and follow BuzzFeed News on Twitter.‏