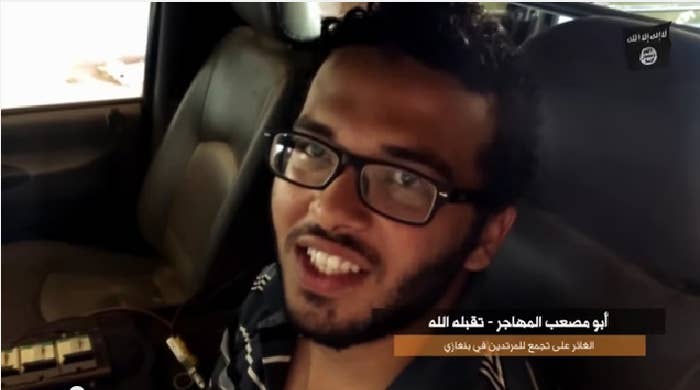 A new four-minute video opens with an interview with a young man, identified as Mosa'ab el Mohager, in the back of a car, driving near the outskirts of Benghazi. It ends with a shot of a distant explosion and the explanation that the young Egyptian national had carried out a martyrdom operation in the name of the local Libyan branch of ISIS.
"We, unfortunately, are likely to see more and more of these tapes," said Khaled Masouri, a 27-year-old Egyptian teacher who recently returned to Cairo from a year-long teaching project in Libya. "There are many Egyptians flocking to these jihadi groups."
Thousands of Egyptians are estimated to be fighting for ISIS in Iraq and Syria. Despite Egypt's military openly bombing ISIS targets in Libya, Egyptian officials now fear that thousands more could join the militants it's attacking there, in a country that shares a long, porous border with Egypt.
"There are multiple jihadi groups in Libya and the soil is ripe for them," said Prof. Khaled Hanafy from the 
Ahram Strategic Studies Center, a think tank in Cairo. "Most of the Egyptians in Libya are laborers, many of them are illiterate workers. These people are desperate for work and have nowhere else to go. They are very easily recruited by jihadi groups."
Masouri said that during his time in Libya, he saw the growing influence of ISIS and other hardline groups. He said that following the brutal killing of 21 Egyptian Coptic Christians in Libya, many Christians (including himself) left Libya.
"It was sickening, but it was more sickening that other Egyptians, even Egyptians working in Libya, supported this," said Masouri. "I was not surprised to hear that an Egyptian had carried out a martyrdom operation for ISIS. The people there have had their heads turned by ISIS."
The video has since been taken down, but in this still, Mohager tells Egyptians to "come back to God and forget democracy."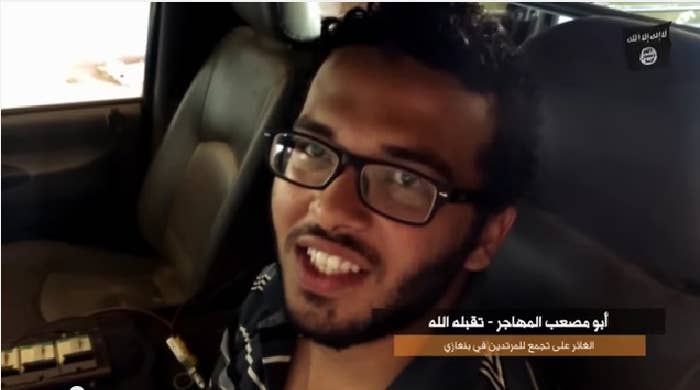 There have been several reports of suicide attacks near Benghazi, including and attack thst Reuters reported to have killed seven people. It was unclear from the video which attack was taking place.
Egyptian officials estimate that there could be as many as 1 million Egyptian nationals currently working in Libya, the vast majority of whom are unskilled workers in low-paying laborer jobs. Although Egypt offered to evacuate its nationals from Libya following the announcement that Egypt's air force would begin hitting ISIS sites in Libya, many have stayed.
"Egypt worries a lot about what happens in Libya, not because of just borders or oil, but because up to 1 million jihadis could be created and manufactured in Libya," said Hanafy.
Khaled Mahmoud, a former head of the Libyan state news agency's bureau in Egypt, said ISIS was actively looking to recruit Egyptians.
"Skilled workers go to the Gulf; those who end up in Libya have no other option," he said. "We are talking about desperate men who would easily be recruited by either promises of paradise or a meager salary."