Sisi Wins Egyptian Election But No One Trust The Numbers
"This is Egypt, whoever wins the presidency makes up the numbers."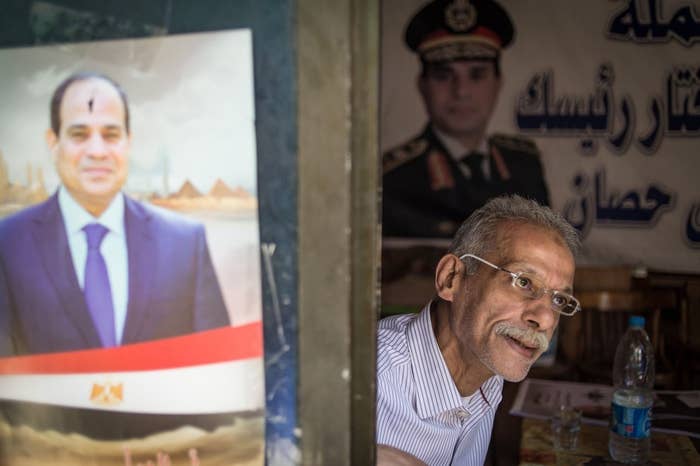 Few Egyptians were surprised Thursday by military strongman Abdel Fattah al-Sisi's landslide victory in the presidential elections, and fewer still by international assessments that the vote was far from democratic.
"Sisi's victory was a foregone conclusion," said Egyptian student Muhammed Bashawri, who, like most of his friends, didn't bother to vote. "Nobody expected it to be a fair vote."
Election observers from three separate monitoring groups have declared that the vote in Egypt was conducted in an "undemocratic" atmosphere, leaving them with serious concerns over Abdel Fattah al-Sisi's apparent election as the next president.
The concerns came amid claims on state media that turnout had reached 46%, despite exit polls suggesting only around 14% voted on the first day, typically the most popular.
Monitors from both the European Union (EU) and African Union (AU) who observed the elections told BuzzFeed that they were alarmed over Egypt's repressive political environment. A statement released by Democracy International, a United States–based monitoring group, reached similar conclusions.
"It is not as simple as fraud, as someone making fake ballots, that is not what we saw. What we saw was elderly people appearing at polling booths because they were frightened that if they didn't vote Sisi they would be fined. We saw an environment where people felt they had no choice but to vote for Sisi," said one AU observer, who spoke to BuzzFeed on condition of anonymity as his group's report is not yet published.
"We could not count with, or move with, the ballots at every stage. So we don't have anything to say regarding the turnout numbers. What we can say is that those who voted felt that they had no choice but to elect Sisi," he said.
In their preliminary report, Democracy International wrote that Egypt's environment "made a genuinely democratic presidential election impossible." The group said that a last-minute decision to extend voting by a third day "did not appear to be justified."
"In addition to extending voting to a third day and creating other incentives to encourage voting, such as suddenly declaring a state holiday on the second election day, some public officials threatened to enforce an onerous fine (500 Egyptian pounds or US $70) against those who failed to vote without a valid excuse. Although compulsory voting has been a feature of Egyptian electoral law for many years, fines for failure to vote appear to have rarely if ever been enforced in the past. These threats appeared intended to intimidate citizens into voting, even if they did not wish to do so," read the report.
Official figures will not be released until June 5, but local Egyptian media reports that Sisi won the presidency with 93.3% of the vote. The other candidate, Hamdeen Sabahi, managed to come in third, losing to invalid ballots, which amounted to 3.7 % of the vote.
But the number that caused the most surprise was the turnout rate, with state media reporting that as much as 46% of eligible voters turned out to cast their votes. For Egyptians who were on the streets this week, the figure seemed unrealistically high.
"Myself, all our friends, noticed that nobody was voting. It is not one anecdotal opinion, but dozens, and if I look at Facebook hundreds of anecdotes of poll booths being empty," said Ahmed Baloushy, a 32-year-old pharmacist who lives in the Giza suburb of Cairo. "I do not think anyone will believe this figure that nearly 50% of Egypt voted. It's just not what we saw with our own eyes."
Election observers said that on the first day of voting, exit polls showed an approximate 14% turnout rate. Traditionally, they said, the votes on the first day are the highest.
"The first day was the day on which we saw the longest lines and most crowded polling stations," said the AU observer. He added that on the following two days, many booths he visited remained empty for hours at a time.
Nasser Amin, who sits on Egypt's official election monitoring committee, said that they have not received any complaints of fraud during Egypt's three-day vote. He told BuzzFeed that the numbers currently being cited are inaccurate, and that actual turnout rates could be closer to 37%.
Nasser Mahmoud, a 32-year-old Egyptian who is preparing for Sisi's presidency, said he saw little difference in the official and actual turnout figures.
"Who cares how much he won by? It was predetermined that he would win and all of Egypt knew it," he told BuzzFeed by phone from his home in Heliopolis.
"I don't believe the numbers, but I also didn't believe the numbers during the Mubarak times, or the Morsi times. This is Egypt, whoever wins the presidency makes up the numbers."