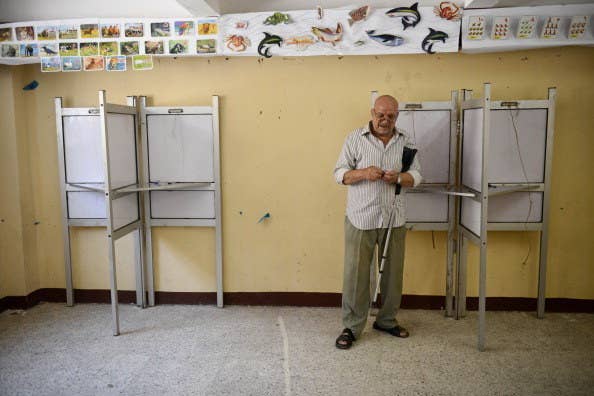 Maysoon Hamoudi hasn't done anything these last few days. Her fellow Egyptians might be voting for their second president in as many years, but the 27-year-old said she is avoiding the "circus."
Holed up with a couple of friends in her apartment in downtown Cairo, they smoked endless cigarettes and spoke about the excitement of years gone past.
"All of it, everything happening in Egypt today, is such a disappointment," she said. "The people voting for Sisi are fools and the people voting for Sabahi are fools. They are drinking from a poisoned chalice either way."
Years ago, Hamoudi joined tens of thousands of Egyptians in Tahrir, and her apartment less than a mile from the square became a popular hangout for friends coming and going from the rallies. She's voted in all of the elections and referendums held in Egypt since the 2011 uprising that ousted longtime Egyptian leader Hosni Mubarak. Now, she says, she's just tired.
"We the youth, gave everything to try and make this country something different something better. Now we are just so disappointed so exhausted," she said. "Nobody under the age of 30 really cares about the Egyptian elections anymore."
Across Egypt, officials have panicked over the low voter turnout Monday as Egyptians went to the polls to vote for military strongman Abdel Fattah al-Sisi or longtime liberal lawmaker Hamdeen Sabahi. On Tuesday, a national holiday was suddenly declared in hopes that it would drive more voters to the polls — though few appeared motivated. Egyptians officials went so far as to extend voting to 10 p.m., and made the subway and trains free in an attempt to encourage voters.
On national TV stations, anchors pleaded with Egyptians to get out and vote, telling Egyptians their lives depended on it.
But polling booths were largely quiet across Egypt, as judges and local officials shooed journalists out of voting centers to avoid images of empty ballot boxes. DJs hired to create a festive atmosphere played to empty streets, as bystanders looked on and wondered how many more votes Egypt could take.
"We vote and vote and this country keeps getting worse and worse. So now I say, no more voting," said Suha Mustafa, a 57-year-old mother of five. "Just leave us alone."
"I'm not voting because I don't believe in this anymore," said Maha Ali, who works at Cairo's AUC university. "Nobody showed us a program, a plan. They said, vote for me and I'll choose to co whatever I want."
For some, the decision not to vote was a political statement over the lack of political dialogue during this election season, but for many more, the decision not to vote stemmed form apathy over the constant turmoil Egypt has experienced in the three years since Mubarak went.
"Three years of protests and uncertainty and now there are bombings in the streets of Cairo. In three years so much headache and worry. My wife and I are just tired of it," said Abu Muhammed, a 42-year-old Cairo native who asked not to give his real name as he had lied to neighbors and friends about voting for Sisi. "I told people I voted, but I won't waste my energy."
Others, including Ahmed Morsy, a teacher in Port Said, said he wasn't voting because he considered a Sisi presidency a foregone conclusion.
"Simply I think Sisi will win, so my vote today will have no effect," said Morsy.
Teams from the E.U. and Democracy International who are monitoring the elections said they wouldl release their preliminary reports on the elections later this week. Turnout figures will not be immediately available, but the monitoring group Global Network for Rights and Development reported that turnout was noticibly low.
"There was a high turnout yesterday [Monday] in the morning, about 12% by midday, but it decreased in the afternoon. Today there's very few people voting. The turnout is very low," one official told Al Jazeera.
One Cairo-based Egyptian official looking to explain the low turnout told BuzzFeed by phone that the heat wave of recent days had kept many people at home, and that the Muslim Brotherhood Party — now banned in Egypt as a terror group — had tried to threaten and intimidate those going to vote. The official, who works in Cairo's Helwan area as a overseer of the local vote, said that he still hoped turnout would be as high as the referendum on the constitution Egypt held several months ago.
"We think Egyptians will still speak and cast their vote," he said.
In the Sabahi campaign office, concerns were raised Tuesday over whether the vote was being manipulated. His office said that police and soldiers were refusing Sabahi's representatives access to polling stations, and that one lawyer from the campaign had been "brutally beaten" and arrested.