More And More Egyptian Women Are Casting Aside Their Veils
Amid revolution and upheaval, women are staking their claim to the right to choose.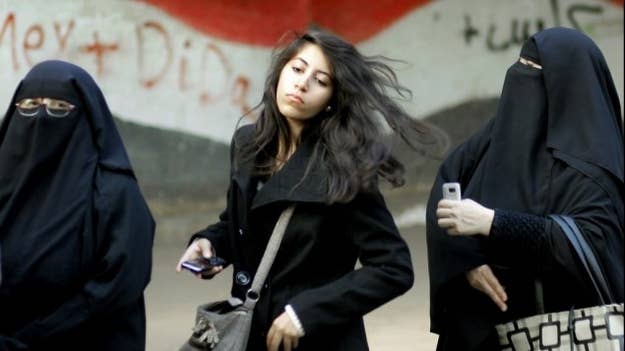 CAIRO — For most of her life, Jehad Meshref covered her long black hair with a veil.
Now, disappointed by a failed revolution, she has cast it off, tired, she says, of fulfilling other people's ideas of what a "good Egyptian girl" should look like. "We in Egypt were trying to change a lot of things these last two or three years," she said, explaining her decision to stop veiling two months ago. "We tried to change politics, culture, our whole country," said Meshref, 23. "It made me think I should start by changing myself."
Across Egypt, women are increasingly challenging the tradition of veiling their hair. For some, it means switching from the niqab — or a nearly full face covering — to a hijab, or veil that only covers the hair and usually most of the neck. For others, it means going bare-headed for the first time in their lives.
Jehad Meshref a few years ago, and again, last month.
"It is a trend, there is a wave of my friends doing it now," said Layla Khalil, a 26-year-old student in Alexandria, who switched her niqab for a hijab just this month. "It is about freedom to veil how you want without people judging you as a good or a bad Egyptian girl."
The new trend comes four months after the Egyptian military ousted the elected government of Mohamed Morsi and the Muslim Brotherhood.
Emboldened by the Muslim Brotherhood's political power, Islamists increasingly harassed women in the street who didn't have their hair covered, trying to shame them into adopting a more conservative style of dress. It was a physical manifestation of the ideas enshrined in the constitution adopted by the Brotherhood, which severely curtailed women's rights, limiting their ability to inherit property, to earn equal pay and to make decisions independently of male family members.
"During the revolution women were very vocal and they were at the forefront. Suddenly they lost their rights, were not represented in the Muslim Brotherhood constitution and were being pressured to adopt, not just a physical hijab, but in many ways a social hijab, an economic hijab, an enforcement of traditional limitations on them in every way," said Hibaaq Osman, founder of El Karama, an Egyptian organization for women's rights in the Middle East and North Africa.
"My problem is not the hijab or niqab, it is the right of a woman to do whatever she wants. If she wants to do it she should, and if she doesn't she shouldn't be forced to," said Hibaaq. "The bottom line is that it is a woman's choice."
For Meshref, it never was. "I starting wearing a hijab when I was 7 years old, the niqab from 14 to 20 and then switched back to the hijab until just two months ago," she said, just a few days shy of her 24th birthday. "My family thought I was too liberal; they thought I talked to boys and was too outspoken."
"My parents forced me to veil, and I was so angry at them for taking my freedom to choose away," she said. Now she has new worries: "Suddenly I have to think about my hair all the time. I have to brush it, and tie and it and use products. It's so much new to think about."
The implications have been dire. Meshref was forced to leave home and no longer sees her father. She has to maintain two Facebook accounts — one for her family and childhood friends which shows her veiled, and the other for new, or "understanding," friends, which shows her new life.
"For me, not wearing the veil, I feel like myself for the first time in my life. It should be every women's right to make this decision for herself. And once every woman has that right, and the men respect her for it, then we will really be in a new Egypt ready for new revolutions and change," she said.
Meshref said that over the past six months, she had met over a dozen other women who have recently removed their veils. Of the more than dozen women contacted by BuzzFeed for this story, each spoke of "countless" friends who removed the hijab or niqab in recent months.
The hijab and niqab have a long political history in Egypt, where governments have alternately banned them from being worn in certain universities or institutions, or encouraged as proper dress.
"Whether the government is enforcing veiling or discouraging it, either option is not good. It should not be the business of the government or the society, it should be the decision of the women," Hibaaq said.
Sally Osama, a 26-year-old journalist and new mother, also said she and many of her friends removed their veils as a response to the recent ouster of the Muslim Brotherhood.
"Two things are making us do this: the revolution and Islamic current. The revolution taught us the idea of rebelling and protesting what we didn't believe. And the Muslim Brotherhood disappointed us and made us think differently about religion. We didn't like what they had to say about religion, so we looked for our own answers," said Osama. "I spoke to my family about the decision, I explained to them that I don't think god cares whether or not I veil my hair. I still have a strong connection to my faith, and taking off the veil has not changed anything about me."
Osama said that even though she believed many women were forced to wear the veil by their families or because of peer pressure.
"They don't really want to do it," she said. "Or at least, they want to make the decision for themselves. I noticed it — the first day I took off my veil — women from my office and my friends were coming up to me to whisper that they were jealous."
She added that her decision to cast off the veil did not mean she had become less devout.
Osama, like other women, said she faced problems finding work because of her hijab, which she began wearing at the age of 14 in order to fit in with her peers. "When I started veiling my hair, it had nothing to do with God or belief, I just wanted to fit in," she said.
Twice during her journalistic career, she lost jobs over her decision.
In 2004, when Osama was a reporter for an Iraqi television network, a producer approached her and offered her the chance to get on air.
"The producer told me I needed to take off the veil, since Iraqi channels were used to having women with hair uncovered. I resigned on the spot, told her that I hated she was using it as a bargaining chip," she said. Six months ago, when she decided to remove her veil, she was told she would only be hired by a local Egyptian channel and put on air if she put the veil back on.
"I couldn't believe it. This time it was the opposite. So again, I quit. It isn't anybody's decision to make but mine, and I won't be bullied into it," said Osama.