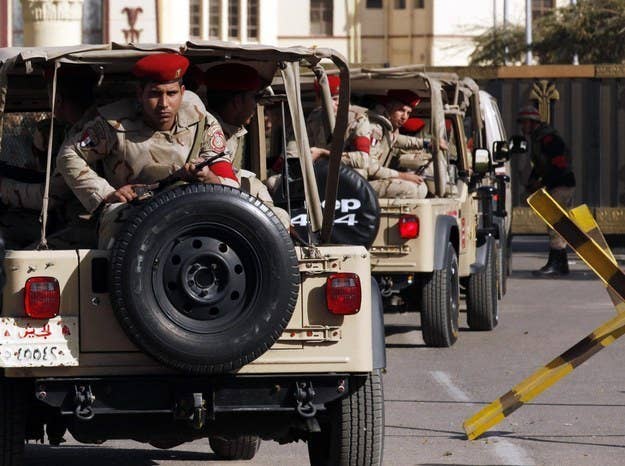 The attack in Sinai Thursday that claimed the lives of at least 45 people, most of them Egyptian soldiers, was the most recent in a wave of assaults undermining the Egyptian army's control of the Sinai Peninsula.
"The army and police will intensify their raids against terrorist and extremist elements in Sinai and across the country," a military statement said, though no mention was made of how the Egyptian army planned to increase what is already one of the most wide-ranging campaigns they have waged in the Sinai Peninsula.
Thursday's attack was the most deadly to-date, showing a previously unseen level of coordination by militants who launched simultaneous attacks on a dozen army and police targets in the peninsula. While official Egyptian State media reported that 45 people have been killed, other outlets said the number was as high as 60. Amid the chaos of a car bomb on one military base, mortars were simultaneously fired at soldiers trying to flee the explosion, Egyptian officials said. In other locations, militants opened fire at a police club and various police checkpoints across the Sinai Peninsula.
"We have been afraid something like this would happen. These [militants] are sending a message that they are roaming freely in Sinai and can attack security officers as they want," said one Egyptian military official who recently returned from Sinai. He spoke on condition of anonymity. "Egypt has been warning for a long time that these groups are a threat, a growing threat. Now we see what they are capable of."
Despite an ongoing army campaign across Sinai, militant groups have steadily stepped-up attacks on military and police targets over the last year. Eight weeks ago, Egyptian security officers told BuzzFeed News that many of the roads in Sinai had become no-go zones, and that soldiers and police officers entering in and out of northern Sinai had been ordered to go by boat from Al Arish, in order to avoid road ambushes by Ansar Beit al-Maqdis, the Sinai-based group which has sworn allegiance to ISIS.
An Egyptian police officer who according to official reports was kidnapped and killed by the group, had actually been picked out of a car in an impromptu checkpoint set-up by Ansar Beit al-Maqdis.
Strong storms had prevented the officer from travelling by boat. Instead he joined several other officers in a convoy of cars making their way down from northern Sinai. While the first cars passed through, his car was stopped and he was pulled out, according to one military officer who spoke to BuzzFeed News and who recently returned form serving in Sinai. He asked to remain anonymous as he was not authorized to speak to reporters.
"The fact that Ansar Beit al-Maqdis have their own checkpoints in Sinai is well known to us here," said Mahmood Zarmoun, a resident of Al Arish who spoke to BuzzFeed News by phone. "They are gaining more support and followers."
While Egyptian officials initially blamed the Muslim Brotherhood for the attacks on Thursday, Ansar Beit al-Maqdis took credit for the attack in a statement released Friday afternoon. While Ansar Beit al-Maqdis was initially linked to Al Qaeda, they swore allegiance to ISIS earlier this year. The extent to which they take orders and coordinate with ISIS is still unclear.
This story originally reported that 60 people were killed in the attacks Thursday. While some outlets are continuing to report that 60 people were killed, Egyptian State Media has put the death toll at 45.