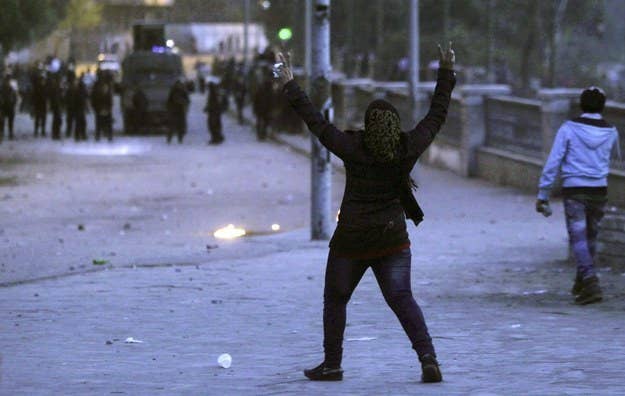 At least five women were attacked in mob sexual assaults in Tahrir Square Sunday night, as thousands gathered to celebrate the inauguration of Egyptian President Abdel Fattah al-Sisi.
"Unfortunately we are now witnessing another wave of sexual harassment. We don't have accurate numbers to report but we can say many women, at least five we know about, were attacked by mobs last night," said Heba Mohamed, who works with the Egyptian group "I Saw Sexual Harassment," which catalogues attacks on women.
In at least three of the cases last night, the women were badly injured and remain in the hospital. She said that the group was still collecting data about what happened over the weekend, and did not know the total number of women attacked.
Egyptian television stations, which initially did not report the attacks, were eventually forced to comment when a video surfaced online showing one attack in brutal detail. Few, however, provided any details, and were quick to blame Muslim Brotherhood supporters, who they said wanted to ruin the happy occasion of Sisi's inauguration by attacking women.
In one clip, a correspondent from the Tahrir Channel is shown speaking to news anchor Maha Bahnasy live from the square. The correspondent said that there have been isolated cases of harassment, and Bahnasy, audibly laughing, replied the boys were "having a good time."
Bahnasy then says that "boys will be boys" as the correspondent goes on with her report. The video outraged many online, with many attacking Bahnasy for trivializing a series of brutal attacks on women.
In one video that was widely circulated Sunday night, a young woman is shown naked and bloodied as she is attacked by a mob of men who push and shove her into a circle of abusers. The video shows a police officer attempting to reach her several times, before he is helped by others who reach the woman, now lying on the ground.
Egyptian newspapers reported that seven people were arrested in connection with sexual assaults Sunday night. Last week, outgoing Egyptian President Adly Mansour approved a draft law which criminalizes sexual harassment. Those convicted will face at least six months in jail or a fine.
In Tahrir, however, few thought the law would change the widespread sexual harassment women face on Egypt's streets.
"There was a horrible sexual harassment [in Tahrir], they were touching women's bodies and this was insulting," said Lamya Sharaf, 43, a pro-Sisi supporter who was in the square Sunday night. "It's become like a habit now, when I go to street somebody tries to touch me."