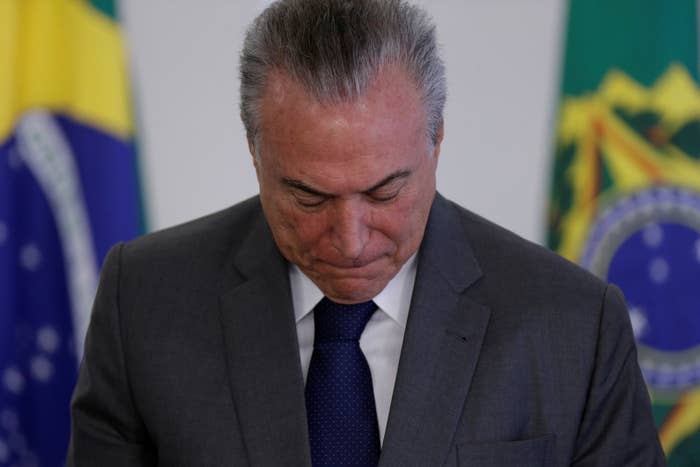 A judge on Brazil's Supreme Court on Wednesday opted to allow prosecutors to open investigations into basically the entirety of Brazil's elite political class, throwing early planning for next year's election into chaos.
Judge Edson Fachin approved the opening of cases for eight of the nine federal ministers that Brazils attorney general Rodrigo Janot asked for, including Eliseu Padilha, the chief of staff to President Michel Temer, and Moreira Franco, a key Temer adviser. Padilha is also the lead negotiator on Social Security reform in Congress, which is at the top of the government's agenda.

Congress hasn't been spared either. The presidents of the Senate, Eunício Oliveira, and the Chamber of Deputies, Rodrigo Maia, will also be investigated, along with 69 other congressmen from both Houses.
Temer himself, however, is currently off the hook; Brazilian law prohibits prosecution of a sitting president for crimes before they took office.
The massive set of investigations came at the request of Janot, responsible for investigating crimes committed by federal congressmen and ministers related to the Operation: Car Wash scandal that engulfed the end of former President Dilma Rousseff's term, prior to her impeachment. Though it began in 2014 as a small look into political money laundering, the probe eventually showed that a set of companies and executives with Petrobras, Brazil's national oil company, colluded to have the companies line their pockets with kickbacks. That money would then allegedly be used as donations to politicians.

This is the second time in recent months that Temer's political grip has been shaken by the Car Wash scandal. In December, one of his top aides was forced to resign after a BuzzFeed News investigation showed that he had taken millions on behalf of Temer from Brazil's largest construction company, Odebrecht.
The news that Justice Edson Fachin had approved the investigations shook the nascent 2018 presidential race, as the heads of both the center-right Brazil Democratic Movement Party (PMDB), which Temer belongs to, and the center-left Worker's Party (PT) are under investigation. Former President Lula da Silva, who has long been embroiled in the scandal, is also named among those under investigation.
A version of this story originally appeared on BuzzFeed Brasil in Portuguese.