On June 2, Canadian far-right website the Rebel hosted its annual live conference in Toronto. I could write my own opening line about it, but coincidentally, the day's emcee, Rebel contributor David Menzies, did it for me. Assuming the role of the least generous and most liberal reporter, he mockingly bellowed, "The event occurred at a venue called Canada Christian College, which, as its name implies, is not inclusive to non-Canadians, non-Christians, and non-collegiates. A woman was spotted in the fourth row wearing a white hat from a distance that seemed to resemble a hood of a Ku Klux Klan." Menzies sneered and the audience applauded raucously. This is absolutely what I was planning to write anyway, so I consider it a real time-saver.

Over the course of seven hours I personally became a key target for the Rebel's speakers and their audience, as they compared me to "vaginal itching"; intentionally mispronounced my name; chanted "lock her up" for me; called me a "degenerate," "mentally unstable," and "thuggish"; referred to me as a "bigot"; and asked if I was anti-Semitic. (I am not.)
If this behavior sounds familiar to people in the US, that's because in the age of Trump there has been a noticeable uptick in hostility toward reporters from both his administration and his followers. According to a recent study from the World Press Freedom Index, journalists are even more hated this year than last, namely in the US, which fell to 45th out of 180 countries for press freedom. Trump has attacked journalists personally so many times that it merits its own spreadsheet.
In August 2015, he made those now-infamous comments about Megyn Kelly, saying that there was "blood coming out of her eyes, blood coming out of her wherever." In November 2015, he mocked a journalist with a physical disability. In June 2017, he referred to Morning Joe cohost Mika Brzezinski as "low I.Q. Crazy Mika" and claimed she was "bleeding badly from a face-lift." In March, he called Meet the Press host Chuck Todd "a sleeping son of a bitch." In April, he called New York Times reporter Maggie Haberman a "third rate reporter" over her extensive coverage of Trump's disgraced personal lawyer Michael Cohen. On Friday, he called a reporter "obnoxious" for asking questions at a press conference he initiated. The people around Trump are no different, insulting and attacking journalists personally if they don't like a question — in May 2017, Republican congressional candidate Greg Gianforte was charged with assault against a reporter for the Guardian. The Trump effect isn't only occurring in the states; its reverberations are being felt all over the world, and in Toronto, where I live.
The Trump effect isn't only occurring in the states; its reverberations are being felt all over the world.
While US conservatives have Breitbart, Canadian conservatives have the Rebel, which publishes stories like "Islam and the Left working in tandem: How did we get here?" and "VICE debunked: Conservatives ARE hotter!" The Rebel positions itself as just slightly out of the mainstream. Its writers rarely engage directly in blatant racism or white supremacy — partially because founder Ezra Levant is Jewish, and many of the Rebel's supporters are pro-Israel. Instead, they try to maintain just enough respectability to exist as a "conservative" option for Canadians and, possibly, to skirt the country's somewhat stringent libel and slander laws.
On an international stage, the Rebel isn't terribly influential. It started as a website for conservative commentary and videos and quickly devolved into a place for racist rhetoric, dog-whistle politics, and personal attacks against journalists, politicians, and public figures. (The Rebel has written about me multiple times.) The Rebel has always been hostile to "the media" in particular, as if we're all on one big team, facing off against Levant and his contributors. War is a consistent ideology for the Rebel — Levant refers to himself as the "Rebel Commander" — one that has to be waged against the "other" side, meaning liberals, or the "alt left" as Rebel contributors call them. But the Rebel has had a bad, mostly absent year.
Last summer, then-contributor Faith Goldy livestreamed from the race-fueled riots in Charlottesville, Virginia, defending the white supremacists and appearing on a neo-Nazi podcast. A number of Rebel contributors quit and journalists put increased pressure on conservative politicians who had previously appeared on Rebel segments to disavow the media company. While Levant fired Goldy, it seemed like the Rebel was done for good.
But not quite! That first Saturday in June, more than 200 people gathered to hear Levant and Rebel contributors, like Katie Hopkins (a UK media personality), Sheila Gunn Reid (the Rebel's Alberta bureau chief), and Lindsay Shepherd (a recent Laurier graduate whose claim to fame is dismissing trans people), preach about their conservative beliefs. Gavin McInnes, the cofounder of Vice Media and the Proud Boys, was scheduled to speak, but he never showed up — and his lack of presence was never explained.
I went to The Rebel Live because I was initially reporting a story about Canada's, and specifically Toronto's, alt-right. (The movement has gotten increased attention lately after a 25-year-old man and alleged member of the "incel," or involuntarily celibate, movement used a van to kill 10 people in Toronto, possibly motivated by misogyny.) I attended to try to speak to some of the people who bought tickets for the event — $95 for general admission, while tickets for media were $150 — and to get a better sense of where Toronto's conservative movement was headed. Levant knew I was attending, as did the organizers.
It's still so easy for groups to get swept up in using language they might not ordinarily cosign in other circumstances.
This isn't the first time I've dealt with hostility as a reporter. At a Trump rally I covered before the election in Hershey, Pennsylvania, one attendee called me "trash" and said it was people like me, specifically, who pushed him to vote for Trump. Recently I interviewed a female men's rights activist (MRA) — they call themselves "Honey Badgers" — who had previously made a number of YouTube videos about me where she called me a cunt. (In person, she assented that, yes, I still am a cunt.) Most of the hostility I deal with tends to be online; I've gone viral (negatively) in Canada before, and have unfortunately become a target for personal attacks by MRAs, anti-Muslim trolls, the Rebel, or your garden variety internet gnome.
But even still, the Rebel was easily the most hostile experience in my professional life, so hostile that I wasn't able to do any actual reporting. It was unpleasant, but more than that, it was emblematic of how mob rule still rears its head, the kind we were taught to stay away from by reading Lord of the Flies as children. It's still so easy for groups to get swept up in using language they might not ordinarily cosign in other circumstances.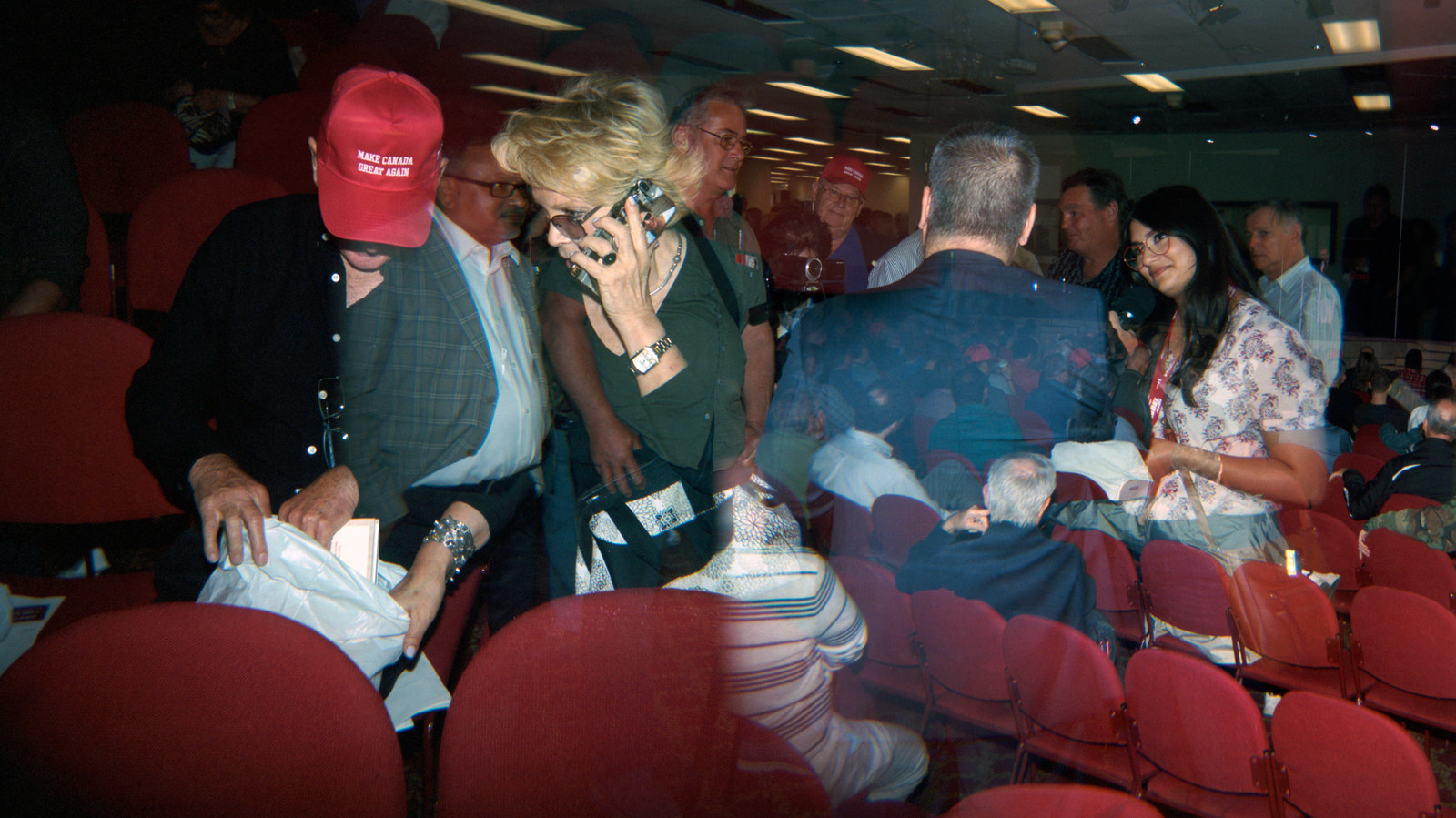 After leading the audience in the Canadian national anthem (using the "old" words, defiantly, since the anthem was recently changed to be gender neutral) and making a few introductory comments about the evil CBC, Levant turned to me, literally. He asked me to show myself in the audience, and then pointed at me throughout his comments. "I should tell you that Scatchy is a bit of a racist," he said, pronouncing my name incorrectly. Then he misquoted one of my tweets from nearly three years ago, called me a bigot, and praised himself for not censoring me by refusing me access to the event. (Levant has barred media from attending Rebel events in the past, and he turned down my interview request through a representative. Though when reached for comment after the conference, Levant replied, "My god you're slow," and sent me a link to a partial recording of his speech.) "I'm not going to pick on Scatchy anymore. She's enough of a damaged person as is," he said. "But enough of the haters and the intolerant closed-minded. What we have in store for you is a day of fun, food, friendship, and a little fightin'."

I don't know what was fun or friendly about the day, and "food" only existed in the loosest possible definition as a very wet sandwich, but Levant certainly geared up everyone in attendance to fight. The other speakers and attendees also called me "Scratchy" for the duration of the day, a nickname I first heard in the fifth grade. Menzies, assuming my feelings were hurt or that I was getting "triggered," offered me a therapy dog before adding, "I guess that was an example of Islamophobia; I don't think dogs are halal." (I am not actually Muslim, but more urgently, I don't know a lot of Muslims who are eating dog. Besides, it was Ramadan.)
Much has been written about how Trump's own rallies have the feeling of a rock concert, with crowds hyped up with chants of "lock her up" by the likes of Michael Flynn before the now-president's raucous arrival. The rallies were so effective at rallying his base that he still continues to have them now as a way to counter or distract from bad press.
These are adults who seem to be so caught up in the moment they don't consider the implication of who they support and whether they're doing more harm than good.
In this kind of setting it also becomes easier to flatten people into caricatures. Trump has previously stated that immigrants are criminals, black people are unpatriotic, trans people are unlawful, liberals are hypocrites. Such rhetoric allows the audience to pretend that it has a full understanding of an entire population, even though the audience comprises people who, in all likelihood, have not met many of the people who fit into those maligned categories. No wonder it's easy to write them off with a few glib lines.
This lack of common decency has had reverberations in situations beyond just the chaos of marches and Trump rallies, though the underlying hate is no less palpable. These are adults who seem to be so caught up in the moment they don't consider the implication of who they support and whether they're doing more harm than good. As far as I can tell, there weren't many adults left in the room at the Rebel conference.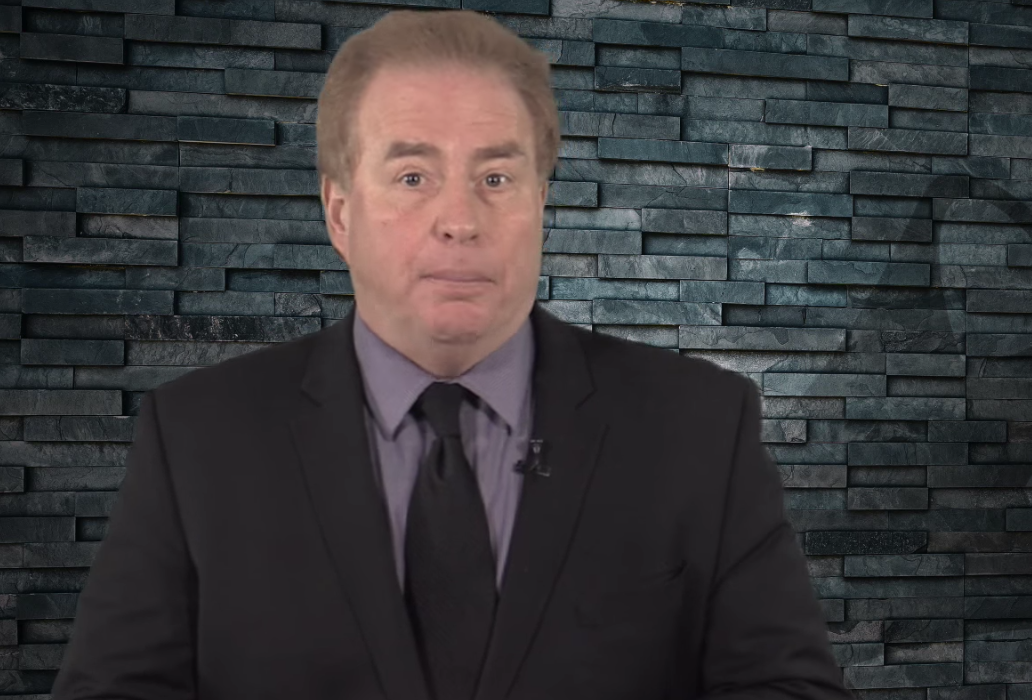 Throughout the day, Menzies made repeated comments about how and why he might ever be forced to kiss me, usually through my somehow requiring mouth-to-mouth during the day, and the dramatic, complicated ways he would get out of it — one scenario including a water filtration straw that a booth in the back of the auditorium happened to be selling. He offered me a hug and then said, "but not too much of a hug, that would be a #MeToo moment." (Menzies did not respond to my request for comment on this piece.)
Sheila Gunn Reid started her speech by encouraging the crowd to chant "lock her up" either for or at me, which Menzies followed up with the suggestion that I would be violent toward her. "Who would be such a degenerate, who would be so mentally unstable and so thuggish?" Menzies said. "Oh, Scratchy!" Katie Hopkins, a woman once detained on her way back to the UK for "spreading racial hatred," morphed my stupid nickname into "Scratchy-Pants" and said she pitied what the crowd might do to me during the lunch break before comparing me to vaginal itching. "Quite rough, bloody irritating, and equally hard to get rid of." (Vaginal itching is actually pretty simple to solve, but, point taken, I am mildly inconvenient and easily remedied with antibiotics.) (Sheila Gunn Reid and Katie Hopkins did not respond to my request for comment on this piece.)
The audience, largely composed of white baby boomers, clapped and cheered in response to these attacks, sometimes hurling their own insults from behind the insulation of a crowd. Levant's introductory comments about me made it difficult to interview anyone, especially after he encouraged the crowd not to speak to me. Wearing Make Canada Great Again hats, they talked spiritedly to each other about the terror of a Liberal government and appeared to be mostly from the surrounding Toronto area. Some attendees followed me around, grabbed hold of my arm or my shoulder to confront me ("Are you for real?") or tell me off (an Asian woman clutched my forearm and said, "I am not white, and I am here," which, I guess, same). In the lobby, a man stood next to me, wordlessly removed a Qur'an from his jacket, and shook it at me. Kevin Johnston, the host of Freedom Report, who was charged with a hate crime against the Muslim community last summer, followed me around with a camcorder for a few minutes while he asked me leading questions, like if I was anti-Semitic and how many genders I think there are. (When reached for comment, Johnston referred to BuzzFeed as "fake news" and a "garbage fire." He claims the hate crime charge has no merit, has yet to make a plea, and also does not intend on making one at all.)
Vaginal itching is actually pretty simple to solve, but, point taken, I am mildly inconvenient and easily remedied with antibiotics.
"Stand up, Scratchy!" one woman yelled at me from a few rows away in the crowd. "Show your face!" Because half the audience didn't actually know what I looked like, they made comments about me while either I or our photographer were standing next to them, cracks about how I would surely be assaulted at the event, or about how they were going to "take [me] for a ride" if I didn't leave on my own volition. The two-man security team, which was hired by the Rebel, followed me around for most of the day, standing close enough to me to put a hand on my back or to whisper in my ear, "Are you all right?" One told me he'd have to remove me if people got too aggressive. (Later on, they approached me offering mini cannoli for hanging in there, which I declined.)
The easy solution to most of this would have been to just leave. But leaving doesn't mean the Rebel or its supporters change their minds, or that they become more thoughtful, or that they regain a sense of decorum. They just get to avoid an uneasy confrontation.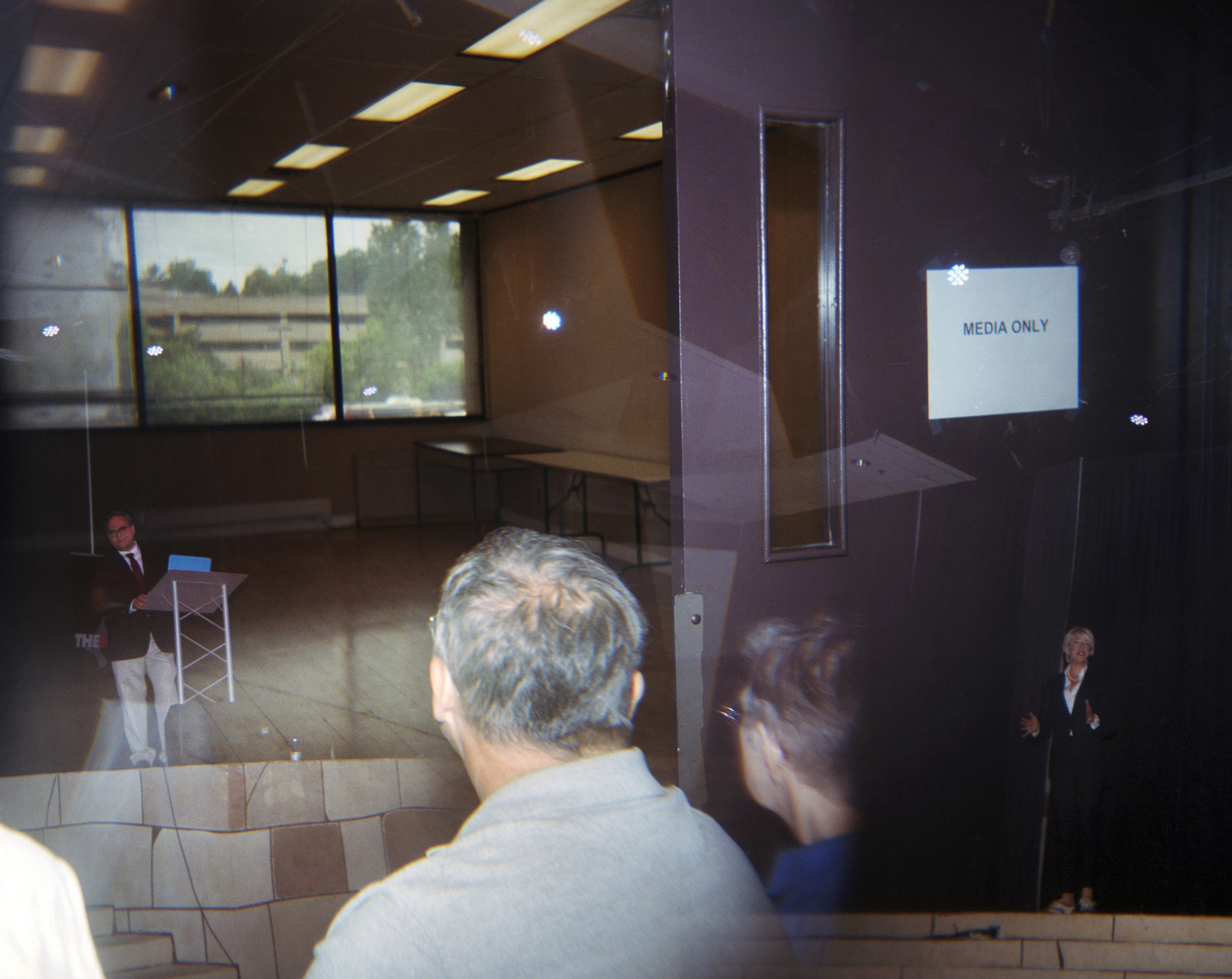 Complaining about your job is tedious, but it's unavoidable that this kind of reporting certainly takes a toll. No one anticipates that these events will be comfortable or comforting, but threats of violence, personal attacks, and any physical contact — threatening or not — are legitimately discomfiting. We're at a place now where violence and politics are fusing, and people have less and less shame about getting personal in their attacks of anyone with whom they disagree. Worse, these are now normal conditions for journalists: If the administration of the most powerful country in the world is doing it, it's not surprising that small but worrisome groups like these would do the same.

It's not even a subtle tactic. Last month, 60 Minutes' Leslie Stahl said that Trump told her he attacks reporters "to discredit you all and demean you all, so when you write negative stories about me no one will believe you." So far this month alone, Trump has tweeted that the "Fake News Media has been so unfair, and vicious, to my wife and our great First Lady, Melania," that "Fake News CNN is dead!" and asking, "Why aren't they firing no talent Samantha Bee?" Trump, the Rebel, and people who support them are going after their opponents personally because it's the only tactic they have left. Logic and compassion are never on the side of racists and bigots, so the next clearest route is to delegitimize media figures. That way, the criticism wilts before it even begins, at least with their already faithful audience.

I was not surprised that people made fun of my name or compared me to a diseased vagina or suggested they'd rather I die than offer me mouth-to-mouth in a fictitious emergency. I was surprised that people started to feel bad about it.
Trump, the Rebel, and people who support them are going after their opponents personally because it's the only tactic they have left.
Halfway through the day, the laughter went from raucous to tepid. "Boy, they're getting a lot of mileage out of her," said one man when Menzies made his third joke about being forced to somehow make physical contact with his mouth. (My dude! We are not going to kiss! It's okay! You do not have to worry about this ever happening!) A brown man — one of maybe five people of color in attendance — called me brave after a small group of attendees made a circle around me and asked me to explain diversity hiring to them. When I did, they were more agitated by my using words they apparently hadn't heard before. ("Explain it to me like I'm a 5-year-old," one man directed.)
"This hostility has got to stop," a woman told me. I agreed, and suggested she speak to the organizers to encourage them to pull back. She winced. Another woman who was manning the "vaccination choice" booth in the back of the auditorium bent down to meet my eye while I was charging my phone. "Are you the woman they're dumping on?" she asked me. "It's abominable." The day after The Rebel Live, one of the attendees tracked down my email and sent me a note — quite a feat, since no one was actually using my name correctly. "I just want to say that although I was in the audience that day, I did not fully support all the personal attacks against you," she wrote. "I may disagree with you and not respect things you do or say, but as a person, you should be treated with courtesy."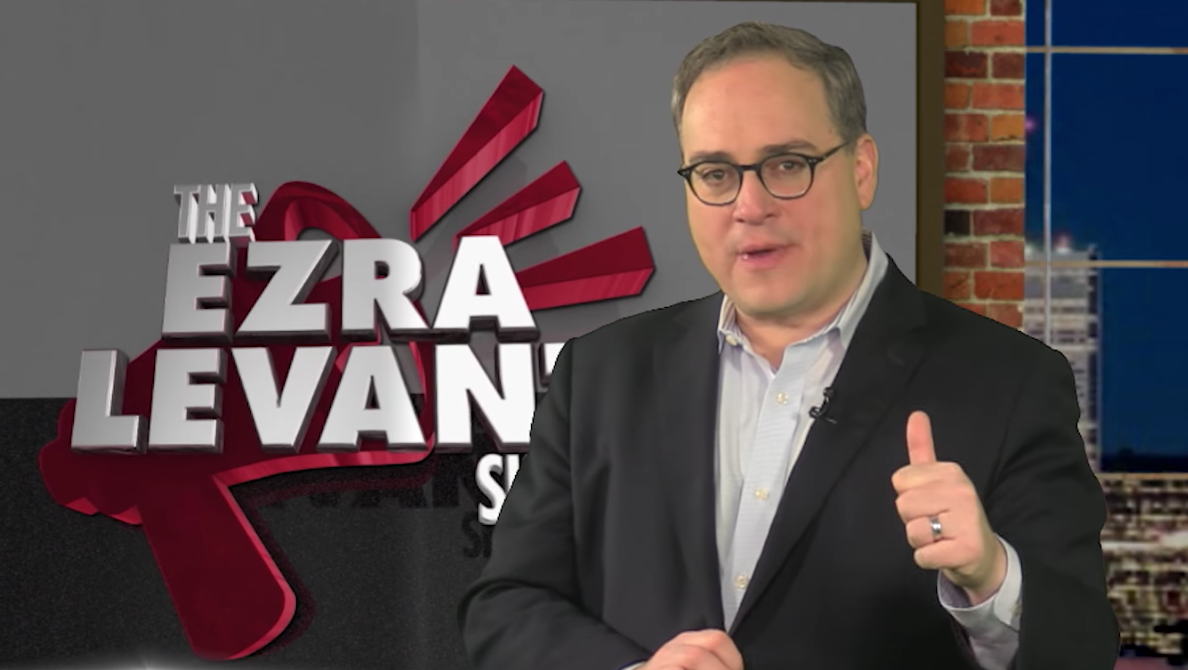 A number of attendees asked me not to make any conclusions about the group by the acts of a few, to "judge on the individual, not on the group." They all demurred when I suggested that instead of telling me they didn't like the rhetoric, to tell the organizers, or Levant himself, who was circulating throughout the audience during the day. By having it on the record that they felt bad, they had fulfilled their social obligation: Getting too personal is unfair, but trying to hold people accountable for it was more than they were willing to do. No one at The Rebel Live wanted to admit that they had laughed the first few times Levant or Hopkins or Menzies made comments about me.
Levant's introductory comments made it impossible for me to interview anyone except for a 46-year-old man named Josh. (He refused to give his last name.) He said that as an employee of Border Services, he was attending because of his concerns over ISIS entering the country and low wages in Canada. He too didn't agree with the Rebel in full. "There isn't a single person on this planet who I agree with every single thing out of their mouth," he said as justification for supporting the Rebel. "Honestly, from what I've seen, I'm more afraid of the left than the right. None of these people are wearing masks," he said, a dig at Antifa, the alt-left group whose members often wear face coverings so they can, presumably, be violent. "I understand they did provide a security guard for you. I don't think there was any violence towards you."
By having it on the record that they felt bad, they had fulfilled their social obligation.
Even if the people in the room at The Rebel Live disagreed with the comments made, they still bought a ticket, or a hat, or a bobblehead. They clapped and laughed. Their financial contribution to the Rebel isn't a minor detail — Levant claims the Rebel is entirely viewer-supported — it's emblematic of whose barbarity you're willing to swallow in order to maintain your social standing, your racial superiority, and your own comfort level.
And this was part of the bizarre dissonance between the majority of the attendees at The Rebel Live and what was said to and about me. They were desperate to tell me that they weren't all the same, that they were the good ones and I shouldn't paint them all by the same brush, to flatten them too. Before he left, Josh turned to me and muttered, "Sorry for the personal attacks. They're not all bad."

Mob mentality isn't new; events like the Rebel conference and other alt-right rallies show us how just prevalent it is. At events like these, people get to feel like they can participate in a large, potent movement without considering what their personal responsibility might be. It's why they cheered when, during the 2016 election season, Trump mused about punching a protester in the face, and why his supporters have acted upon Trump's suggestion. It's why attendees of The Rebel Live could laugh along to whatever its organizers were willing to offer.
This level of distrust of media figures is troubling on a broader level because it makes it harder to have people believe irrefutable facts. It's easier than ever for people to listen only to news that's tailored to their own viewpoint, a version of the world that riles them up even further and makes finding common ground impossible. If all the media you consume tells you the same thing, that you are good and they are bad, it's easy to feel like you're a small part of a larger movement, all with the purpose of defeating the bad.
It's also made reporting on once-predictable events — political rallies, campaign stops, conferences — dangerous. Sitting among 200 angry white people is threatening, namely when they're winding each other up, trying to see who can hurl the worst possible insult, who can get under my skin enough to make me leave.
I answered the email I got from the Rebel attendee, asking if she ever spoke to the organizers about her concerns. "[Hopkins is] doing heroic things, exposing stories and issues, putting herself at risk frequently, and if I don't like her 100%, just 85%, that's fine!!" she wrote back. "I was trying to be supportive, but you can turn it around and make it about me if you like."
A few days after The Rebel Live, Doug Ford won the Ontario provincial election against two other left-of-center parties. Ford, who is the brother of Rob Ford (of crack tape fame), displays a similar kind of hostility toward reporters, along with a very familiar "populist" appeal, which often just means bad news for women and people of color. Ford's success is neither new nor surprising, and it's unlikely he'll ever participate peacefully with media rather than looking for ways to undercut them. But the real spooky part — if you're not a Trump supporter, a Ford supporter, a Rebel acolyte — is that Ford won a majority, his rhetoric enticing enough to sway 40% of the vote.
It's impossible that the entirety of Ford's supporters, or Trump's, or the Rebel's, are all bombastic, aggressive agents of chaos. It is, for example, unlikely that all of Ford's supporters are comfortable with the Ford family's history with drug dealing, or that he continued to support a conservative candidate after it was revealed he had used anti-gay and sexist language in the past. But what mattered in the end is that Ford's supporters went along with it. They didn't need to be the propagators of this behavior or these ideologies, they just needed to allow them to flourish.
Silence, passivity, or quiet murmurs of disapproval won't win you any awards and won't help differentiate between you (The Good) and them (The Bad). This is an old metric, and one that I don't even think worked all that well in the blessed time before Trump. But you don't have to yell at me for me to know exactly where you stand. You don't have to be outwardly aggressive, you don't have to insult me, you don't have to threaten me. You just have to hang around long enough, saying nothing, and doing the least. ●