Like almost everything Amy Sedaris is involved in, the Greenwich Village studio space where she wrote material for her new truTV show At Home With Amy Sedaris is pleasantly deranged. There's a side table shaped like a big red mushroom and a "room divider" constructed from green pantyhose hanging from the top of the kitchen window. On the fireplace mantle, which has fake, pink rose bunting draped over it, is a small ashtray filled with knitted cigarette butts.
It's precisely the setting you might expect for a home entertaining show that begins its holiday special episode with Sedaris in an elegant updo and red lipstick — very Suzy Homemaker — and ends with her being attacked by a cursed nutcracker doll named Colonel Nutley. (The nutcracker then goes on to supposedly kill actor Neil Patrick Harris, who is never seen or heard from, in a six-minute scene that ends with Sedaris covered in blood, missing a tooth, and drinking bitterly in her trashed — but still very adorable and twee! — living room.)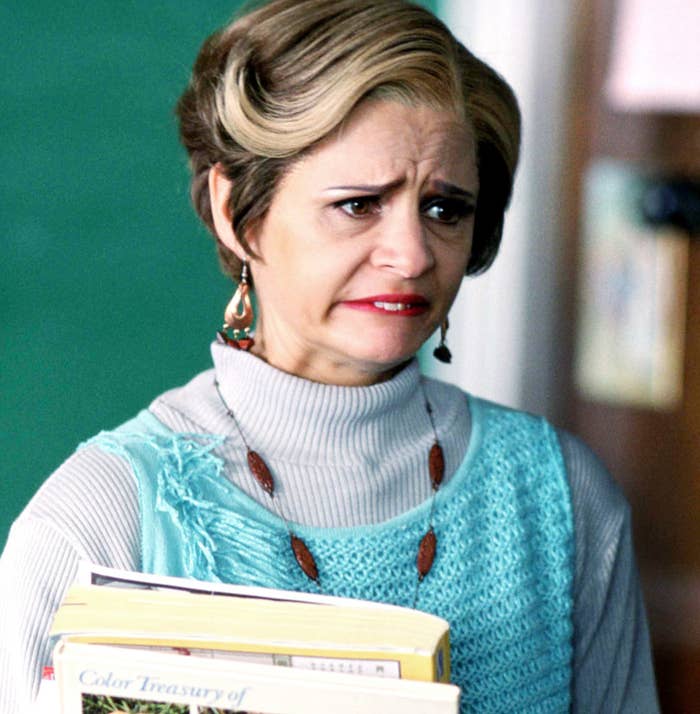 When I arrived to interview her in early November, Sedaris was striding around the studio in red stilettos, a polka-dot skirt, and a white sweater covered in pearls. She offered me a homemade stuffed mushroom before settling into one of the two plush, floral armchairs in the living room. "Good vibes over here," she said, her head propped up on her little fist while an ambulance siren wailed outside her window. In person (and out of costume) Sedaris is all sparkling green eyes, bouncy blond hair, and intense eye contact, hardly the walking overbite she portrayed in Strangers with Candy.
But at 56, Sedaris has made a long, successful (though under-the-radar) career out of playing unhinged lunatics. Maybe you've seen her as the über-rich, divorced, and desperate Mimi Kanasis in Unbreakable Kimmy Schmidt, or heard her voice in the animated series BoJack Horseman as the uptight, high-achieving Hollywood agent and anthropomorphic cat Princess Carolyn. She's appeared as a nightmare apartment broker on Broad City and once did cartwheels in a glittering green onesie on The Colbert Report. Her biggest, weirdest, and, until now, only starring TV role was in Strangers with Candy, a satire of after-school specials that ran on Comedy Central for three seasons (and produced one movie), in which Sedaris played an adult woman who returns to high school after dropping out and becoming a drug addict. The common denominator throughout these disparate roles is Sedaris's manic energy and her total disregard for reality.
At Home With Amy Sedaris, Sedaris's latest project, is an expansion of an oeuvre that mixes discomfort and queasiness with Sedaris's signature charm and unceasing positivity. The show, which premiered at the end of October on truTV, is a cross between sketch comedy and how-to guide for hosting. Tonally, it's like if Twin Peaks were on TLC. Each 24-minute episode features three or four segments loosely based around the ideas of hosting, crafting, and cooking. (They also include discussions of death, depression, poverty, and shellfish-based cocktails.) It's derangement under the guise of wholesome entertainment.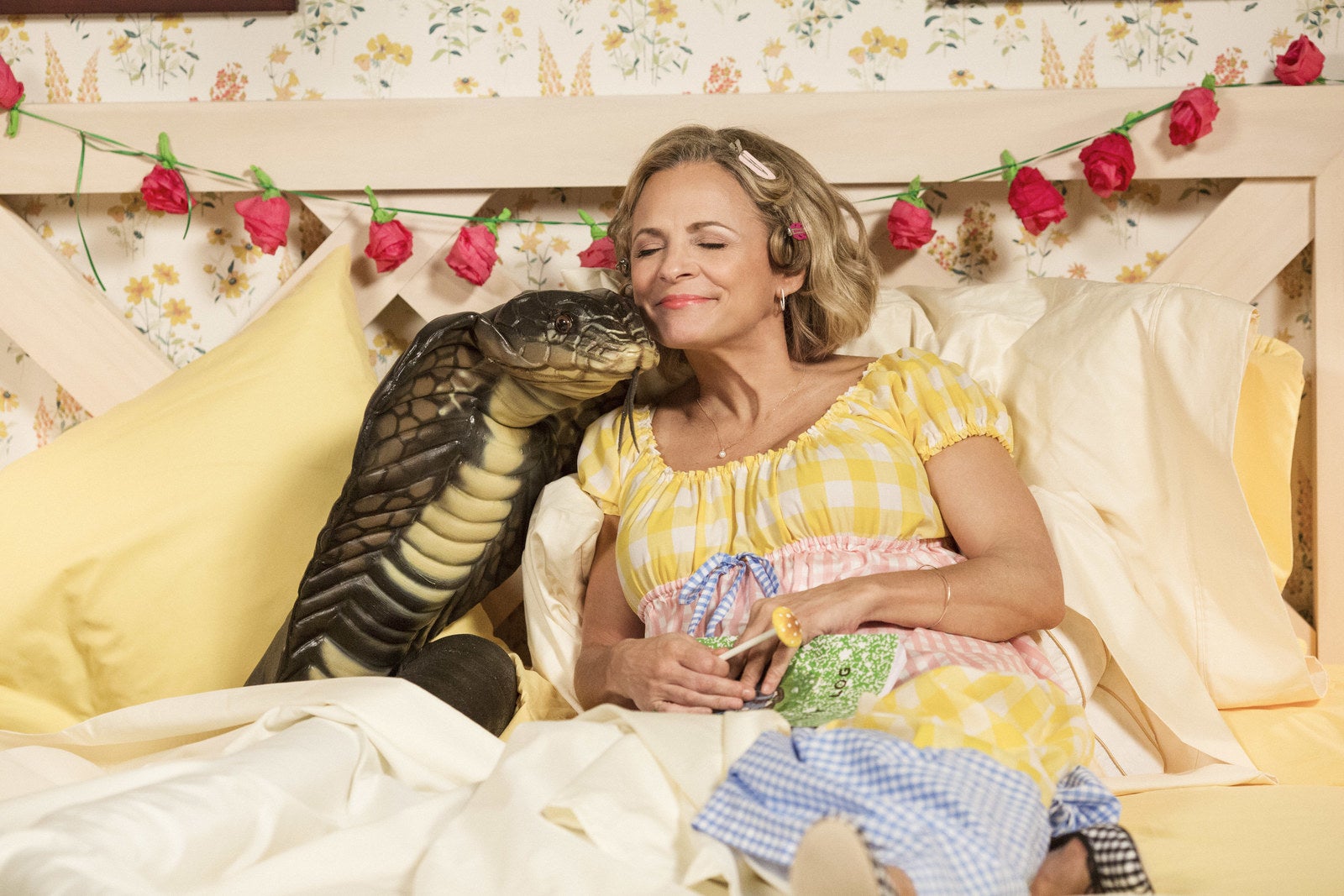 "I like going back to that kind of entertaining rather than trying to talk about prescription drugs or alcoholism or incest. We did that with Strangers," Sedaris said. "It's still messed up a little bit, but I wanted that wholesome feel to it. That's challenging."
It's also the kind of show that could have only come from Sedaris's brain, where everything is saturated in candy colors and seemingly unmoored from any particular era or moment in time. This is arguably true of Sedaris as well. She isn't on Twitter; her studio doesn't have a phone or a television or a visible laptop; she only recently got a cell phone, or a "cellular," as she calls it. "I was best man at Jennifer Aniston and Justin Theroux's wedding," she said. (Theroux, who makes an appearance in one episode of At Home, is a close friend.) "I went to LA and I had to get Uber because I don't drive, and I was forced to get a phone. I don't even know my number. Even when the phone rings, I panic."
In a world where politics has now fully dominated the social discourse, and in which so many celebrities have been consistently and personally disappointing, Sedaris's work offers a surrealist reprieve from all things "topical" and plunges the viewer into a world where, delightfully and briefly, nothing really matters. It's the kind of comedy that isn't guided by pop culture or current events. Instead, she creates a space that's highly detailed and specific, where everything is about organized chaos. If you want to disengage from the world right now, a visit to her universe might be just what you need.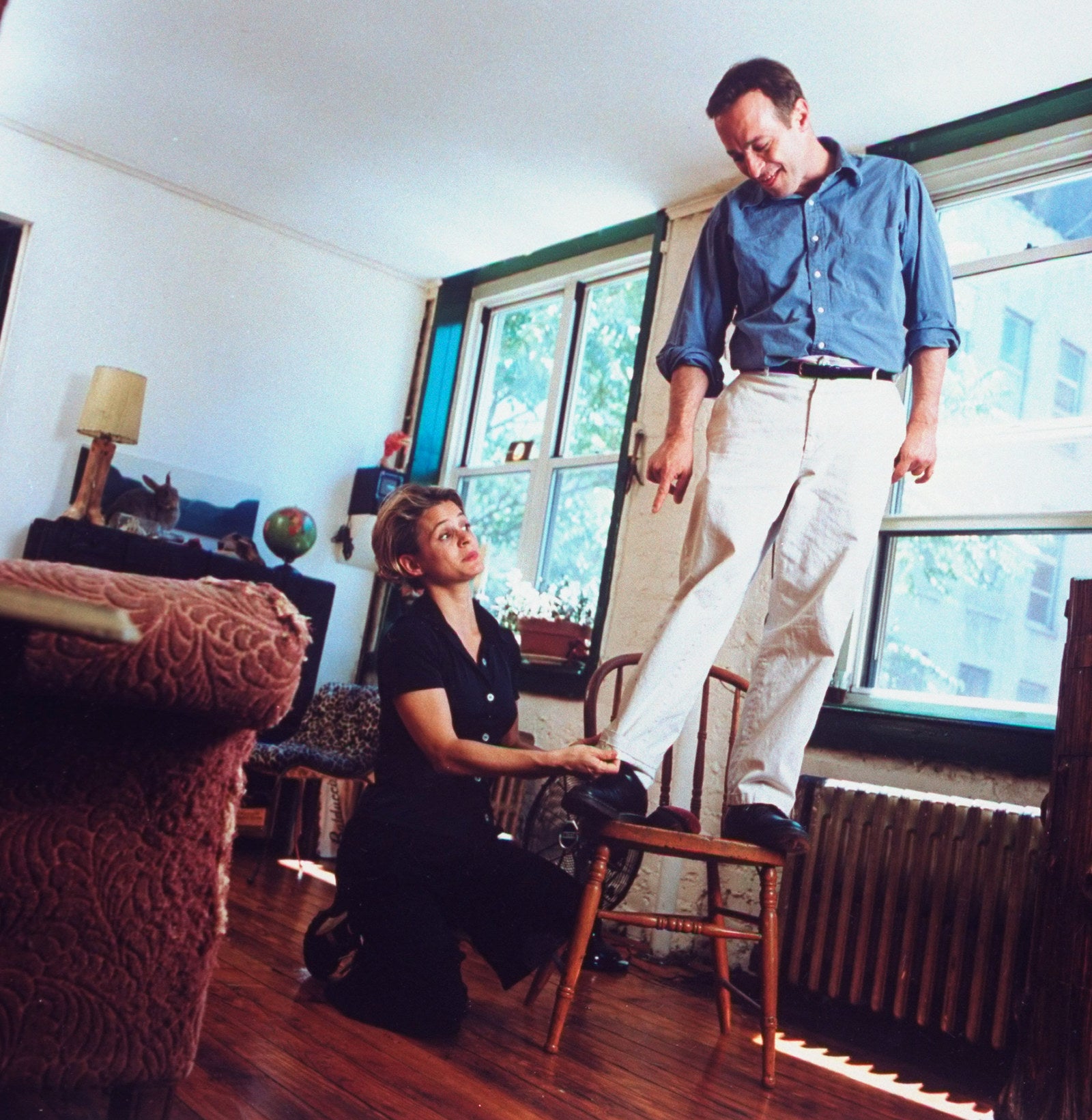 Amy Sedaris grew up in Raleigh, North Carolina, the fourth of six children: Lisa, David, Gretchen, Amy, Tiffany, and Paul. In interviews, Sedaris seldom opens up about her upbringing or personal life, opting to share minor and often bizarre blips of information instead, such as the fact that her outfits are made by her friend and seamstress Mary Adams, who has nine and a half fingers. Or she veers into fiction, mentioning how upset she is that her imaginary boyfriend Ricky was murdered on their way to the hospital for "a cyst on one of his obliques." Her online presence is limited to an Instagram account largely populated by retro ads, reposts from other people, and decor suggestions.
As a result, most of what we know about Sedaris as a person is from her brother, the writer David Sedaris, author of Me Talk Pretty One Day and Dress Your Family in Corduroy and Denim. Energetic, goofy, endearing Amy shows up in almost all of his childhood stories. In a 1998 episode of This American Life, David recounted how Amy wore a fat suit home as a response to her father's insistence that his daughters be thin. "She is by far the most attractive member of my family, yet she spent most of her life admiring skin diseases and praying for a hump," David remembered. "'It's not fair that I can't grow a beard,' she'll say, gluing a pebble-sized wart to the size of her nose … She can't see any benefit to being herself."
"She is by far the most attractive member of my family, yet she spent most of her life admiring skin diseases and praying for a hump."
She and David were frequent collaborators, first as children when they played together (Amy told me they hosted a fake cooking show called The Rex and Germalina Show), and later in the '90s when they published plays together under the moniker the Talent Family. Those included Stitches, about a disfigured teen who becomes a television star, and Incident at Cobbler's Knob, about witches and warlocks and a gay beaver. "He's the best," Amy said of her brother. "No one works as hard as he does." David now lives in London, while Amy has been in New York since 1993.
Before she came to New York, Sedaris joined Chicago's Second City in 1992, alongside Paul Dinello (who would later work with her on Strangers and At Home), Stephen Colbert (a Strangers costar), and Chris Farley. "We both went to the training center at Second City. I went to go see her show, and even though it was 12 people, it was essentially a one-woman show," Dinello told me. "She was just a force in that show. Her character work was already so mature. I couldn't believe it."
In 1999, she got her big break in Strangers with Candy. The Comedy Central show was developed by Dinello, Colbert, and Mitch Rouse, also a friend of Sedaris's from Second City. It was inspired by the 1970 documentary short The Trip Back, about a former drug addict and sex worker who tries to warn a group of high school students away from the life she led. Sedaris plays Jerri Blank, a woman who dropped out of school and ran away from home to become "a boozer, a user, and a loser." After she gets out of prison, she decides to clean up her act and return to the exact place where she left her previous life: high school. Every episode was A Very Special one, but no lessons were ever really learned. Nothing about the show anchored it in the existing universe; no one dressed in a way that indicated what decade it was; no action was ever really followed by consequences. Every episode ended with dancing.
Sedaris described the creative process of making Strangers as comfortably isolated. "Nobody was around. We were in the woods making each other laugh," she told me. In 2015, she told Esquire, "The funny thing is Comedy Central never really got behind it, but that's what made the show work." (Never exactly a ratings hit, the show was canceled in 2000.) "You really had to look hard to find it, you know? People felt like they discovered it and I think that's important. That's what makes it such a cult show."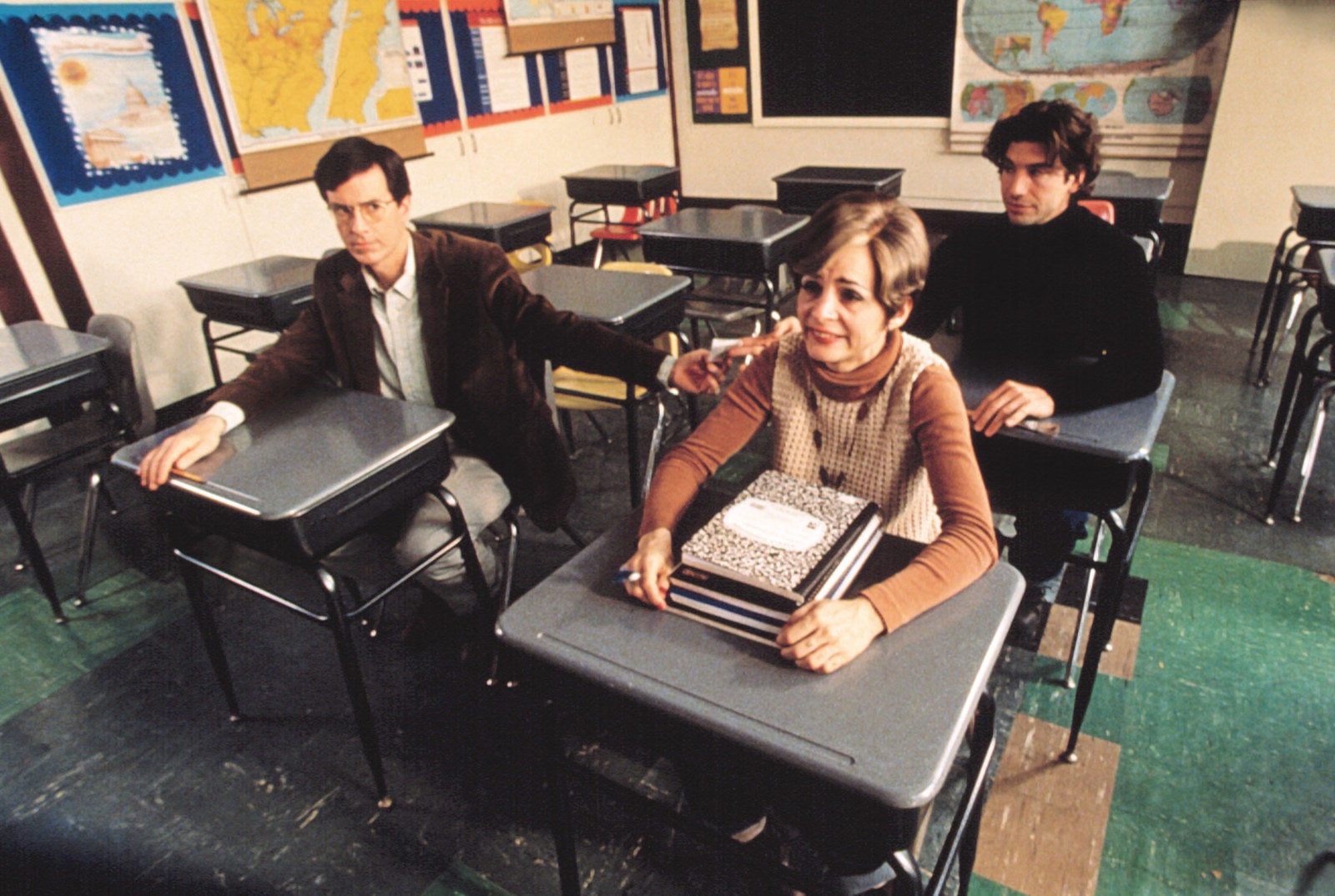 The same may be true of Sedaris herself. She is a low-profile but influential figure in comedy, an inspiration for writers and actors like Julie Klausner and Billy Eichner who has always been on the periphery of mainstream success. Strangers was canceled in 2000, but in 2005, Dinello, Colbert, and Sedaris wrote and starred in a prequel film, produced in part by Worldwide Pants, David Letterman's production company. (Sedaris was a beloved guest on Letterman's Late Night, often appearing with nothing to promote.) The show had always featured some famous guest stars (Winona Ryder, Paul Rudd, Janeane Garofalo), but the movie — with cameos from people like Sarah Jessica Parker, Matthew Broderick, Philip Seymour Hoffman, and Allison Janney — marked a noticeable shift in access to high-profile collaborators. It was the first clear evidence of Sedaris's industry cache: What other weirdo character actor could get Chris Pratt to spend $3,000 in travel and accommodations just for the chance to play her love interest? On Sedaris's birthday last year, Sarah Jessica Parker posted nine Instagram photos celebrating her existence.
Strangers solidified Sedaris as a voice for unrooted absurdist comedy that doesn't require context or known pop culture references to work. She is frequently compared to Maria Bamford, whose Netflix show Lady Dynamite is a fictionalized, surreal rendering of Bamford's return to LA after a mental health breakdown. But the key difference between the two women and their work is that while Bamford takes direct inspiration from her own life, Sedaris is always looking to hide or morph herself into someone else. Even when she's technically playing herself as Your Host, Amy, it's still not really about her. Talking to her in her studio, she's more present and slightly more serious; on TV, she's talking about how the best gifts are edible and then biting into a vanilla candle as if it's a carrot.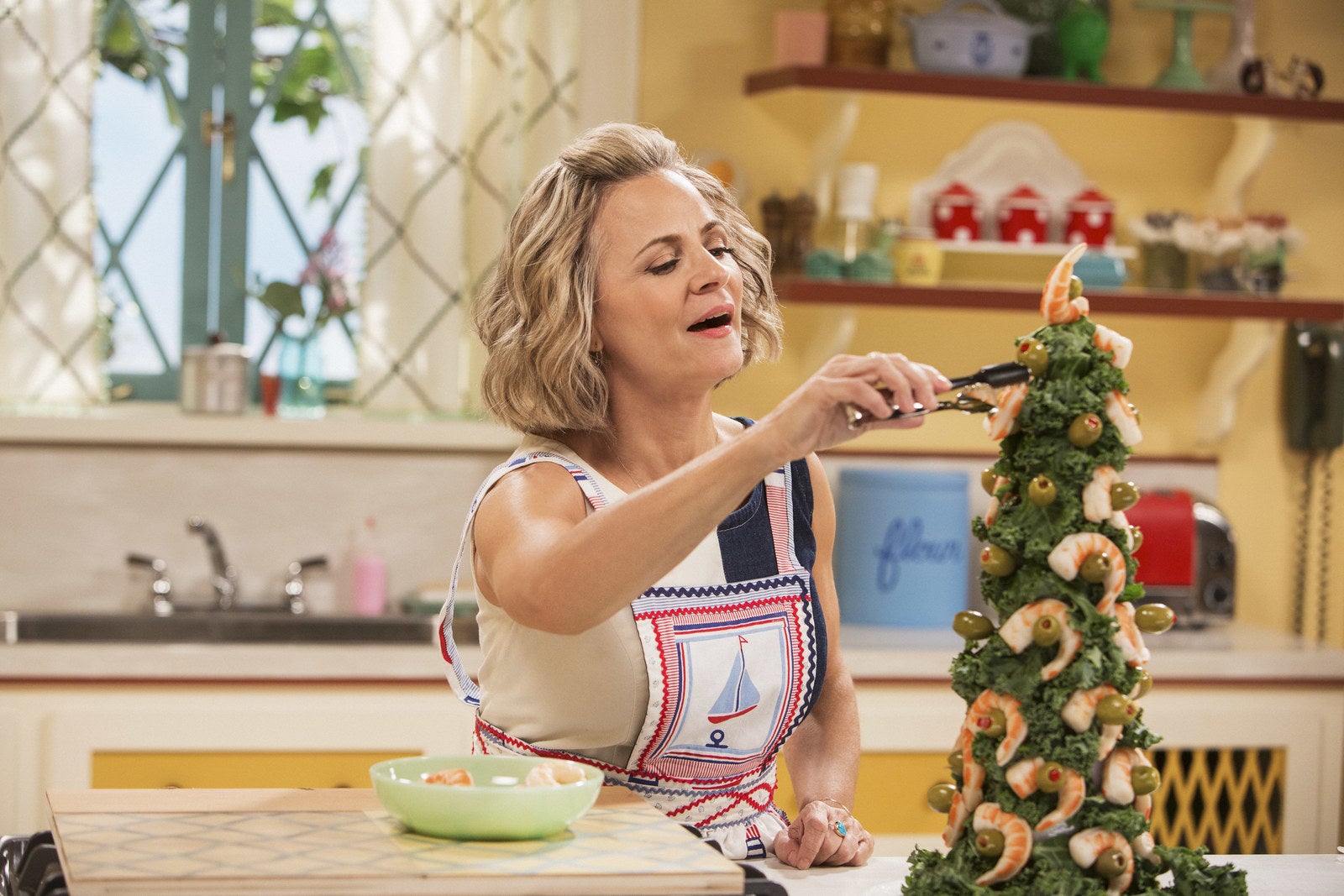 At Home has been a decade in the making, a project Sedaris always wanted to work on. It was inspired by a childhood favorite TV series: At Home With Peggy Mann. "Growing up in North Carolina, this woman here had a local hospitality show," Sedaris told me, holding a framed photo of Mann in her studio. "She would do cooking and crafting, and she would have local people on to talk about their businesses. It was very boring and I was obsessed with Peggy Mann. I liked the idea of pretending you had a show happening in your home."
She shrugs slightly, saying of her Peggy Mann approach to television, "It's probably not for everybody. But it's kind of mindless, isn't it? All the inspiration from it, from growing up, from Galloping Gourmet and Frugal Gourmet and Lawrence Welk and Ernie Kovacs and Julia Child and Two Fat Ladies and Mister Rogers. All of that is what this show is."
You might assume that At Home is just a comedy series masquerading as a show about home decor or cooking; after all, it includes advice on how to hide that you've sliced off the tips of your fingers by covering them with empty peanut shells. (Cheap!) But Sedaris insists that it's more than satire. "All those crafts I do, I'm really trying to do those crafts," she said. "I'm in the moment and I'm sincere."
Dinello confirmed that Sedaris takes an interest in real-life entertaining. "She's a really good cook and she's good at putting interesting people together," he said. But, almost predictably, there's a hidden catch. "It's not a free ticket. A lot of times you're asked to do something like fix a shelf or get her DVR working or paint a wall." When we met, Sedaris told me she had someone coming over for dinner that night, actually; she needed some light bulbs changed.
"What Sedaris offers comedically is an oasis from all the other madness going on in the world."
Even with all this inspiration, however, Sedaris couldn't get the show off the ground. Dinello has been working with Sedaris for decades — they've been talking about At Home for 15 years at least. Every time they got close to selling the show, Sedaris would pull back.
She ended up going to a therapist to get help with two things she was struggling with: First, the 2013 death of her sister Tiffany, and second, why she was stalling on the show. (She also went to a woman who talks to the dead to get closure on her sister's death. "I think I was so vulnerable and so open to the information that next day, I got shingles," she said. "First thing I thought was, Ugh, get me a shingles commercial.")
It was only in the last few years that Sedaris felt ready to move forward with the project. "It wasn't entirely clear what [the show] was at that time, but it was clear that it was a passion project for her — she and Paul had a strong point of view of what they wanted to do," said Marissa Ronca, executive vice president and head of programming at truTV. The network, which is owned by Turner Broadcasting, originally launched as Court TV and specialized in documentaries and legal drama series. Later, it was revamped to focus on reality television, and two years ago pivoted again — to comedy. (A promotional spot from last year features an actor getting crushed to death by the truTV logo.)
Ronca says At Home fits in with what the network is trying to do with its comedy slate at large: Provide a platform for creator-driven shows that only a specific writer or actor could pull off, like Billy on the Street or The Chris Gethard Show, which are both very much shaped by the personalities and sensibilities of their creators.
It's clear that no one other than Sedaris (and Dinello) could create something like At Home, which was developed as an offshoot of Sedaris's very specific and visually stimulating world. Sedaris said visual details are so crucial to her in part because of a former neighbor of hers in Chicago who was deaf. "My whole life changed because the way she saw things was so interesting," she said. "I used to go home and watch Strangers with Candy with the volume down to see if a deaf person could still laugh at this show." The set is based off Sedaris's real Manhattan apartment. "I was obsessed with it," she said of designing the set. "Fringe and tassel and rickrack."
According to truTV, the show has been a success. Since its Oct. 23 premiere, its audience has grown 52% among people aged 18 to 49. Nearly a quarter of those are new viewers to the network. "There's a lot of people out there doing really timely political comedy right now that I love and I appreciate," Ronca said. But, she added, "Sometimes at night, you just want to be wildly entertained and watch something that's clever and funny and isn't screaming back at you from the TV. What [Sedaris] offers comedically is an oasis from all the other madness going on in the world."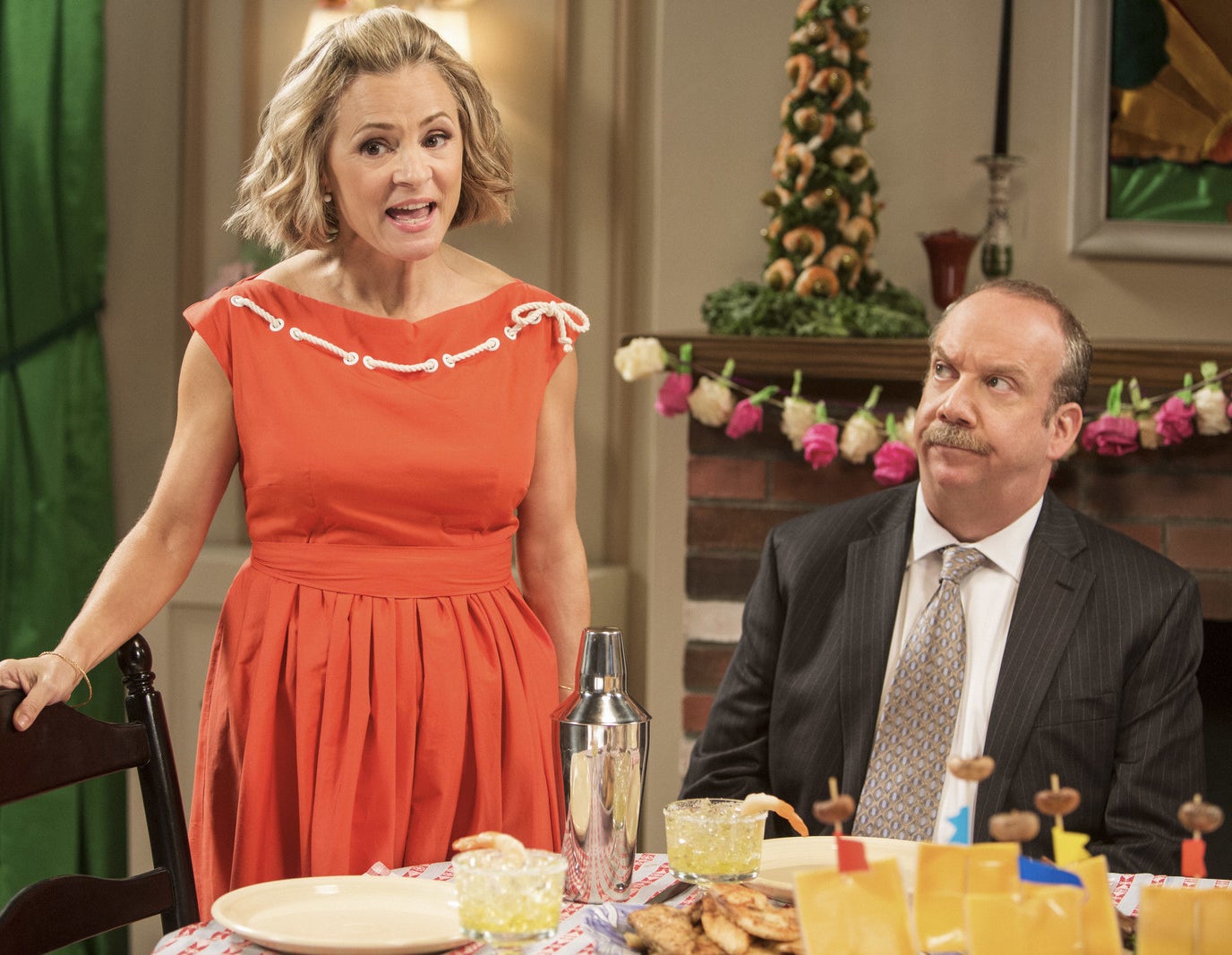 At Home is apolitical, but not in a way that feels willfully ignorant or withholding — see Jimmy Fallon playfully neglecting to talk to Donald Trump about his racist comments, or Taylor Swift refusing to make a clear statement of who exactly she voted for last year. Instead, the show lets viewers temporarily live in a completely different dimension. "She's not shepherded by popular culture," Dinello said. "You'll seldom see a cell phone or computer on our shows, or specific references to modern or to current events."
But even though At Home transpires mainly within an alternate universe, there are occasional moments that resonate here on Planet Earth. In the first episode of the show, Paul Giamatti plays an important businessman who sexually harasses Sedaris over the course of a nautically themed dinner party. "That was written and shot long before the Weinstein scandal broke, and I had concerns about it and even thought about maybe cutting it," Dinello said. "I didn't want us to come across as flip. Amy's [character] is usually in control, which sort of protects us."
When At Home does descend into the truly dark and disturbing, Amy Sedaris somehow make it okay to laugh.
When At Home does descend into the truly dark and disturbing, Sedaris somehow makes it okay to laugh, by cheerfully persevering through uncomfortable scenarios. In "Gift Giving," Randy Fingerling (Nick Kroll, in an awful long wig and black turtleneck) comes over to help Sedaris bake a cake. While she tries to fill an angel food bundt cake with ice cream, Kroll lights candles, plays romantic music, sits directly behind her (Sedaris reminds Kroll, and us, "I do have a knife," her eyes flicking back up to the camera), and fingers the cake while moaning. The segment ends when he mutters, "I'm gonna fucking come." The segment is uncomfortable, a commentary on how unsafe it can feel to be a woman, but it doesn't feel heavy or anxiety-laden the way a lot of satire often can be. Sedaris is so at ease, so ready to laugh instead of cry, and so happy living in an alternate reality. It's infectious, this darkness cloaked in cooking segments and crafting suggestions, and a successful integration of a real-world problem into a segment about how to improve an angel food cake.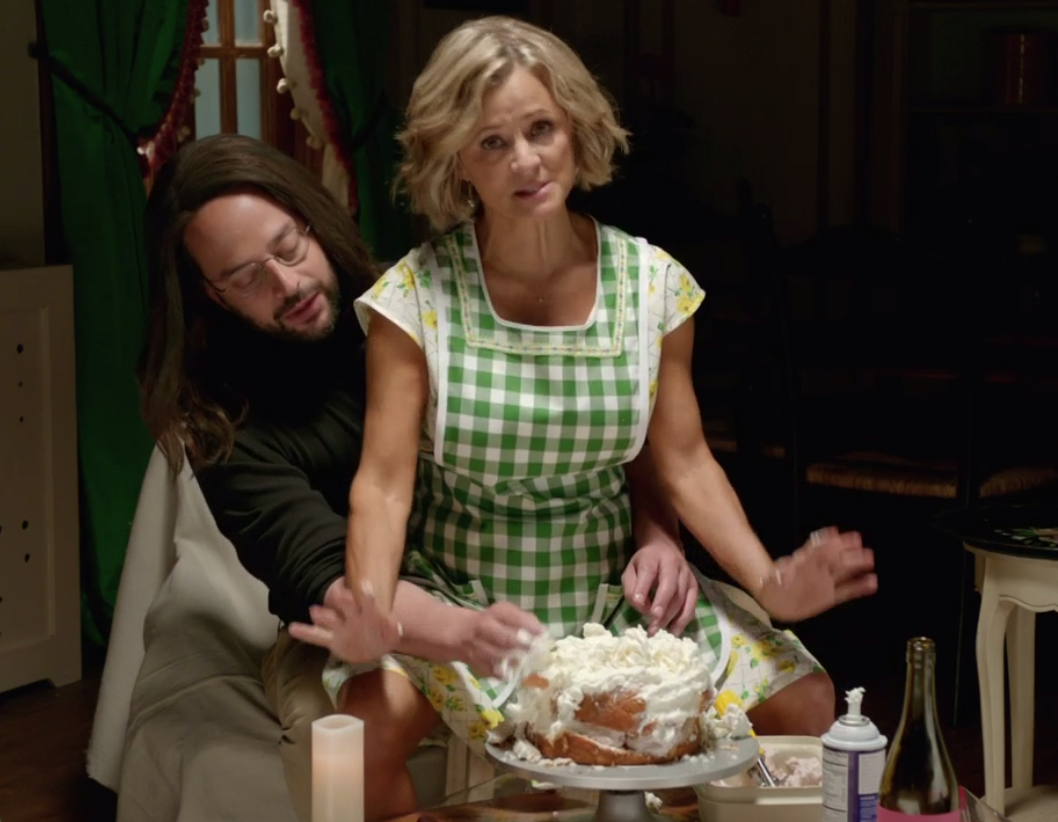 "It's funny to create a show during this time," Sedaris said. "So many bad things were happening, and we're over here trying to write something funny." Being funny right now (in this economy?!) is hard to pull off: Play too ignorant and you end up seeming glib and unfeeling; play too world-weary and you might come off as a huge drag. Sedaris is one of the few performers who can strike the right balance. Her entire public persona has been rooted in ignoring the whims of the world in a way that feels comforting, rather than condescending and privileged.
I watched the first episode of At Home the afternoon the first New York Times story about the Harvey Weinstein sexual assault allegations broke. This was a few days after the mass shooting in Las Vegas, which was two weeks after Hurricane Maria hit Puerto Rico, which came on the heels of the hurricanes in Texas and Florida, which happened around one of the times that President Trump raised the possibility of nuclear war with North Korea.
In a segment called "Crafting Corner," Sedaris told viewers she was going to make "Potato Ships," a baked potato with a wooden skewer mast, a cheese slice sail, a construction paper flag, and a mushroom cap as a crow's nest. She assembled them with fake fingernails taped to her fingers, slathering glue on the stick to adhere the flag and trying to poke the cheese gently enough so it wouldn't rip.
The end result was a crushed potato slathered in sour cream and pierced with a sail made from a crumpled cheese slice, a flap of pink construction paper, and a wet mushroom cap. Covered in glue, it was wholly inedible and didn't remotely resemble the Potato Ship she had shown at the top of the segment. And on that day, it was also maybe the only thing that helped me stop — just for a few, blissfully confused moments — thinking about the state of the world. ●