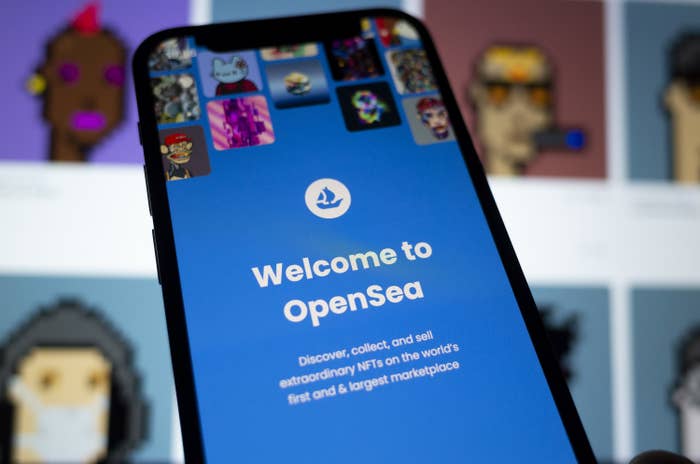 The NFT marketplace OpenSea has acquired Gem, an NFT startup cofounded by a pseudonymous developer accused of sexual abuse, including rape. This month, BuzzFeed News confirmed the individual is the banished Twitch streamer Josh Thompson, who formerly went by the moniker "MethodJosh."
"During the course of our diligence, we learned about, and immediately surfaced, some deeply concerning allegations against a now-former member of Gem's leadership team who operated under the pseudonym Neso. Upon investigating the allegations, the employee was immediately exited prior to the close of this deal. This individual has never and will never be affiliated with OpenSea," OpenSea CEO Devin Finzer said on Monday in a statement announcing the acquisition.
Thompson was fired from Gem this month following an investigation into "a pattern of sexual misconduct," according to an April 9 post on the company's Discord server by cofounder Lorens Huculak. Business documents reviewed by BuzzFeed News indicate that Thompson was a major shareholder in the company, owning as many shares as cofounders Huculak and Vaibhav Saini.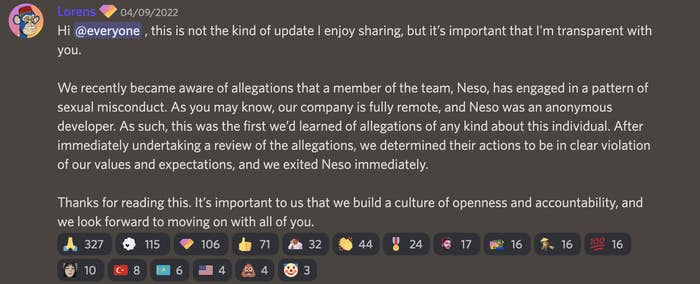 It's unclear whether Thompson is still a majority Gem shareholder, or whether he stands to financially benefit from OpenSea's acquisition. OpenSea declined to comment beyond Finzer's statement. Huculak and Saini did not respond to questions about the status of Thompson's shares, and Huculak instead directed BuzzFeed News to OpenSea's press team. Thompson did not respond to a request for comment on BuzzFeed News' original reporting when reached at the address on Gem's business documents.

At the time, Gem cofounders declined to comment on how they were made aware of the allegations against Thompson, but OpenSea's statement implies that the claims — which include Thompson allegedly grooming minors and using his status as a popular World of Warcraft streamer to sexually harass women — were uncovered during its vetting process. Huculak and Saini also did not respond to questions regarding Gem's acquisition and whether OpenSea informed them of Thompson's identity.
In the wake of BuzzFeed News' reporting, Gem's community members have pressed cofounders on how Thompson was allowed to join the company.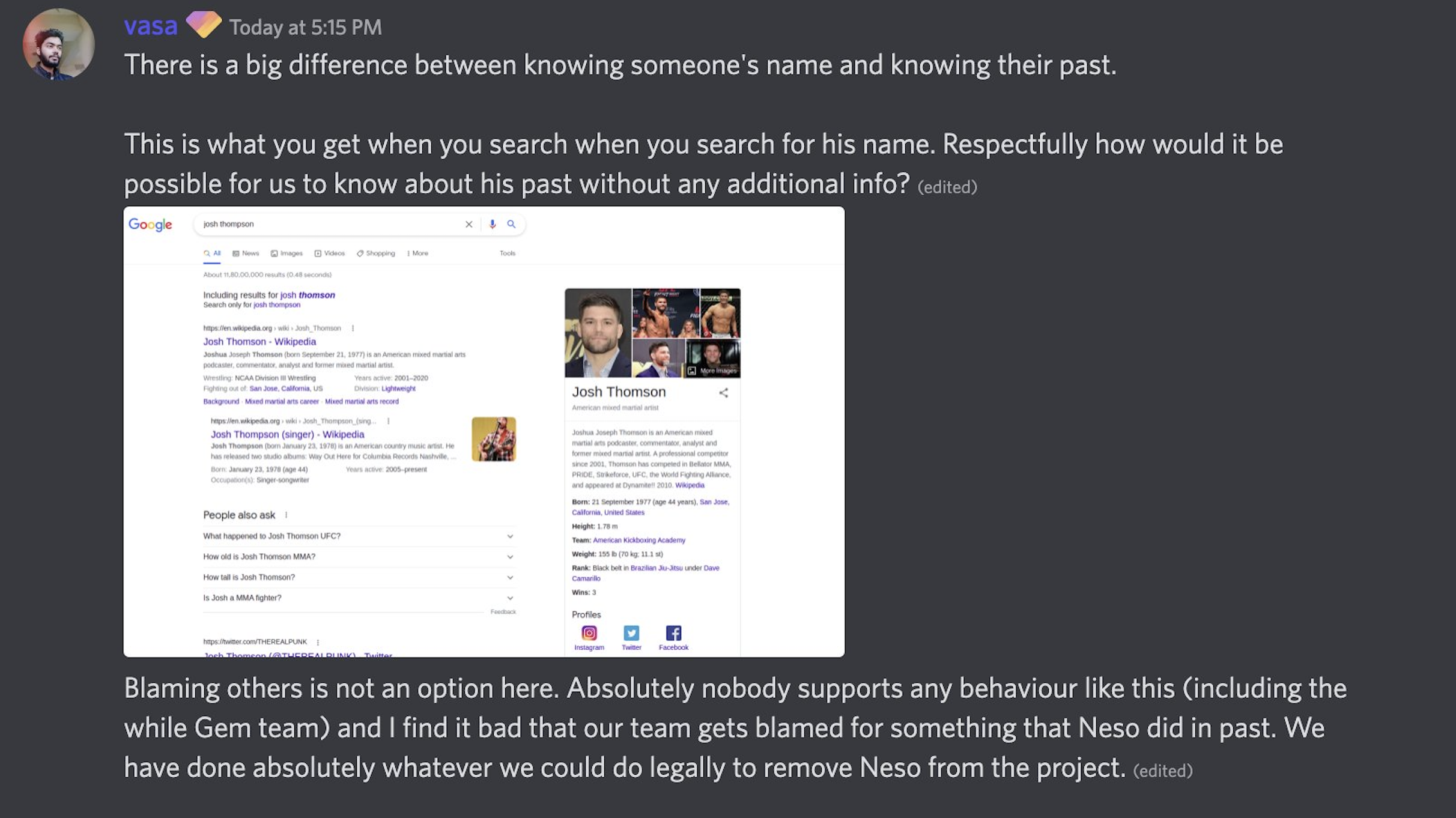 Saini, who did not respond to requests for comment, wrote on Discord last week that "we never knew anything about Neso and we let them go as soon as we got the info," claiming that he knew Thompson for less than a year. At one point, Saini shared a screenshot of a Google search indicating that other people, such as a country music singer and a former mixed martial artist, are also named Josh Thompson.

"End of conversation," Saini wrote. "Back to actual user issues."
In a Discord post announcing the news, Huculak wrote that "Myself, Vasa, Carmen, and Parmesh are excited to join the team as of today. I hope you can take a moment to celebrate this milestone with us! LFG [let's fucking go]!" Thompson was not named.
UPDATE
This story has been updated to clarify OpenSea's comment.