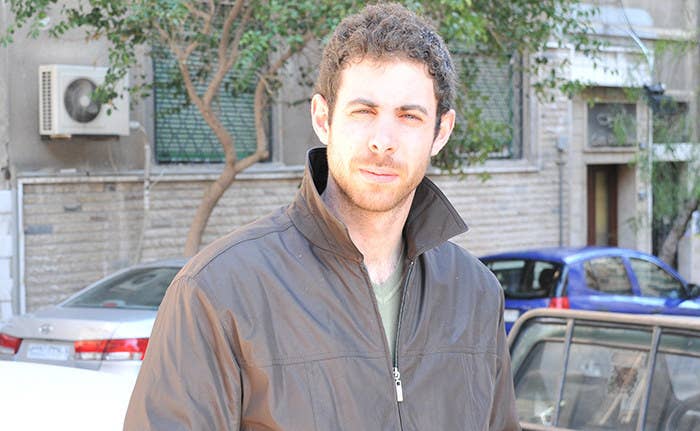 ISTANBUL — A Syrian journalist who reported on multiple occasions from the front lines in the country was detained on Tuesday by Turkish immigration authorities after applying for residency at the border town of Gaziantep.
Rami Jarrah, 32, who was raised in Britain, is among the few independent journalists who has continued traveling to war-ravaged Syria despite the dangers. Jarrah was detained in Gaziantep for three nights and was moved to an unknown location on Friday. The Turkish government has not revealed his whereabouts.
A journalist who was with Jarrah at the time of his arrest, who asked that his name not be published, said Jarrah was questioned about his media work.
On Friday, the journalist who is close to Jarrah said he received a phone call from him, saying he had been moved to the southeastern city of Adana, where he is being detained with members of ISIS. Jarrah, who is widely known for his anti-ISIS stance, told the journalist that he had already had verbal altercations with at least one ISIS member and does not feel safe being held in the same cell with them.
Jarrah had entered Turkey last month. He had met with Turkish President Recep Tayyip Erdogan to discuss the difficulty correspondents like him face while crossing the Syrian-Turkish border, and asked him to ease up on journalists crossing back and forth between the two countries.
In recent months, he has dedicated much of his time and effort to reporting on Aleppo, broadcasting live and putting together video reports from inside the city. He has acted as both subject and source for various news organizations, including the New York Times, Foreign Policy, and BBC. A Syrian activist in touch with the U.S. Embassy in Ankara told BuzzFeed News that the Americans are aware of Jarrah's detention and is already in contact with the Turkish authorities.
His trip to Turkey was supposed to be short, and Jarrah was planning on going back to Aleppo. But while he was still in Turkey, the situation in Aleppo became increasingly dire, with the rapidly-growing offensive forcing tens of thousands of Syrians to leave the city. Resigned to the fact that he may be in Turkey for a while, Jarrah applied for a residency permit in Gaziantep on Feb. 16, and was detained in the governmental office by immigration officials with no clear explanation for his arrest.
Turkey has recently been criticized for its record on press freedoms, with many Turkish journalists jailed or prosecuted for articles critical of the government.
The Committee to Protect Journalists released a statement early Friday morning, calling for Jarrah's immediate release.
"We call on Turkish authorities to immediately release Rami Jarrah and allow him to work in Turkey without fear of obstruction," CPJ Europe and Central Asia Program Coordinator Nina Ognianova said. "Jarrah is known for his independent reporting on the war in Syria, which he has been covering for years at great risk. Syrian journalists like Jarrah, who have turned to Turkey for safe refuge, should be protected rather than subjected to detention and harassment."