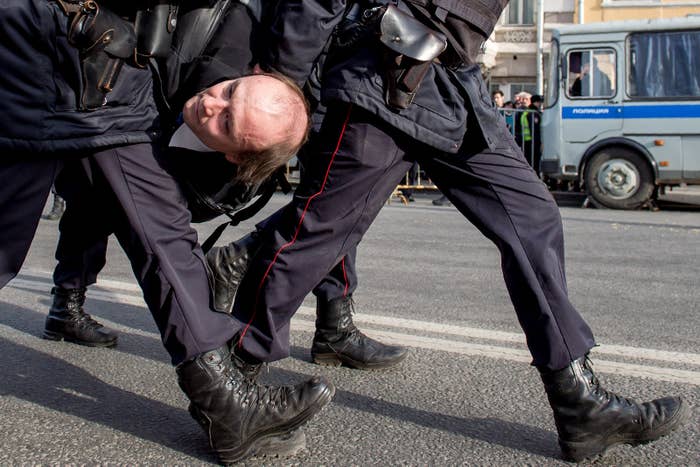 Russian police in riot gear arrested a leading opposition leader and hundreds of protesters in Moscow on Sunday, as the biggest protests Russia has seen in years bloomed in cities across the country.

Hours after this crackdown on what appeared to be largely peaceful gatherings, the Trump administration did not issue any statements about the arrests.

Alexei Navalny, one of Russia's most prominent critics of President Vladimir Putin, organized the gatherings to raise pressure on Prime Minister Dmitry Medvedev. In March, Navalny accused Medvedev of accepting bribes that he used to purchase mansions and yachts.
Russian authorities, however, called these gatherings unauthorized and moved to disperse the crowd of thousands in Moscow's Pushkin Square.
Neither the White House, the State Department, nor the US Embassy in Moscow had issued any statements by Sunday afternoon. As of 2 p.m. Eastern time, a State Department spokesperson was unable to provide any statements, or say if one was expected.
On Sunday night, roughly 12 hours after images and reports of the crackdown began emerging from Moscow, the top State Department spokesman issued a statement strongly condemning the detention of hundreds and calling for the immediate release of all peaceful protesters.
President Donald Trump has called for warming relations with Russia and more cooperation on counter-terrorism. In a February TV interview, Trump said he respects Putin and declined to criticize Russia's human rights record, explaining: "What do you think? Our country's so innocent?"

Some US lawmakers called on the Trump administration to respond to the arrests with a tough and clear message for Russia.

"Putin's thugocracy is on full display," Sen. Ben Sasse, a member of the Senate Armed Services Committee, said in a Sunday statement. "The United States government cannot be silent about Russia's crackdown on peaceful protesters. Free speech is what we're all about and Americans expect our leaders to call out thugs who trample the basic human rights of speech, press, assembly, and protest."
In a tweet sent after his arrest, Navalny encouraged the protesters to continue. "Guys, I'm fine. No need to fight to get me out. Walk along Tverskaya [Moscow main street]. Our topic of the day is the fight against corruption," he tweeted, according to the BBC.

The BBC reported as many as 130 protesters in Moscow were arrested, but other journalists reported estimates of 700 in Moscow alone.
A Sunday protest in St. Petersburg also attracted big crowds.

This weekend also saw protests in Belarus, a country on Russia's western border. Authorities in Minsk on Saturday arrested as many as 400 people protesting a tax on the unemployed. In response, the US Embassy in Minsk issued a statement of "deep concern" for the arrests.

"The authorities' large-scale detention of peaceful protesters, human rights observers and journalists infringes upon basic democratic values," the statement said, and called on authorities to "immediately release all remaining peaceful protesters, human rights advocates, and journalists."
UPDATE
The State Department provided this statement from Acting Spokesman Mark Toner on Sunday night, roughly 12 hours after reports began emerging that a crackdown was underway in Moscow.
"The United States strongly condemns the detention of hundreds of peaceful protesters throughout Russia on Sunday. Detaining peaceful protesters, human rights observers, and journalists is an affront to core democratic values. We were troubled to hear of the arrest of opposition figure Alexei Navalny upon arrival at the demonstration, as well as the police raids on the anti-corruption organization he heads.
"The United States will monitor this situation, and we call on the government of Russia to immediately release all peaceful protesters. The Russian people, like people everywhere, deserve a government that supports an open marketplace of ideas, transparent and accountable governance, equal treatment under the law, and the ability to exercise their rights without fear of retribution."
Outside Your Bubble is a BuzzFeed News effort to bring you a diversity of thought and opinion from around the internet. If you don't see your viewpoint represented, contact the curator at bubble@buzzfeed.com. Click here for more on Outside Your Bubble.