Trump's Long-Desired Military Parade In DC Has Been Postponed To At Least 2019
Trump has been vocal about wanting the parade since attending France's 2017 Bastille Day alongside French President Emmanuel Macron.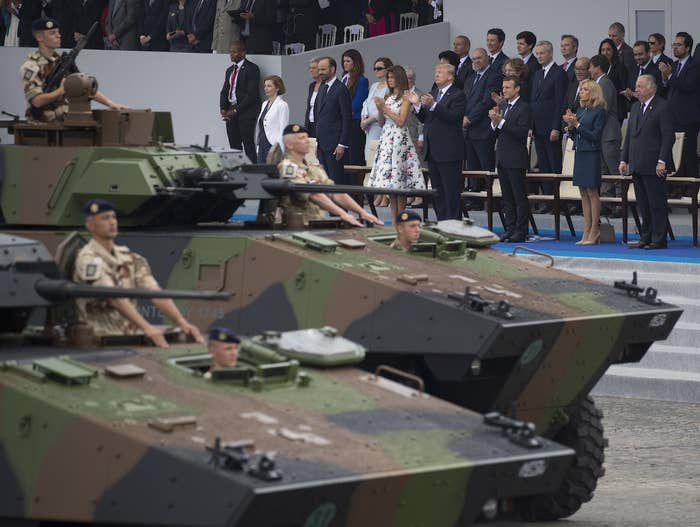 President Donald Trump's long-desired military parade down Pennsylvania Avenue in Washington, DC, has been postponed to at least 2019, the Pentagon announced Thursday.
Trump had asked the Defense Department to start looking into the schematics of putting on the event back in February, one with tanks and other military hardware slowly rolling down the streets of the nation's capital.
The president said he envisioned the parade happening on the 4th of July or Veteran's Day, but military officials said in a statement Thursday it would not be happening this year.
"The Department of Defense and the White House have been planning a parade to honor America's military veterans and commemorate the centennial of World War I," the Department of Defense said in a statement. "We originally targeted November 10, 2018, for this event, but have now agreed to explore opportunities in 2019."
Pentagon officials did not immediately detail the reasons behind the decision.

Trump has been vocal about wanting a parade in DC ever since attending France's 2017 Bastille Day alongside French President Emmanuel Macron.
That parade included a display of French military equipment down Paris's Avenue des Champs-Élysées.
In the US, however, a similar military parade has not occurred on American streets since 1991, at the end of the Gulf War, and the idea faced widespread criticism.
Current and former military officials told BuzzFeed News their main concerns surrounding a parade involved not just cost and logistics, but the time it would take troops away from training.
One US official told the Washington Post that the cost could be up to $92 million, depending what shape the parade ultimately took.
Some people, including Denise Rohan, the national commander for the American Legion, the largest nonprofit veterans organization, believe that money could be better spent.
"The American Legion appreciates that our president wants to show in a dramatic fashion our nation's support for our troops," Rohan has said previously in a statement. "However, until such time as we can celebrate victory in the War on Terrorism and bring our military home, we think the parade money would be better spent fully funding the Department of Veterans Affairs and giving our troops and their families the best care possible."
Others, including critics of the president, have said a military parade would appear to put "authoritarian" tendencies of the president on grand display.