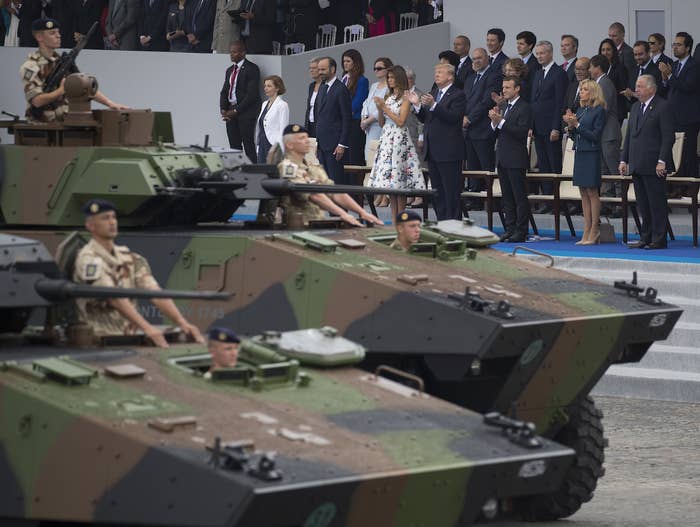 President Trump has asked the Pentagon to plan a military parade to publicly showcase America's armed forces, the White House and Defense Department officials said Tuesday, a spectacle not seen in the US in nearly three decades.
According to the Washington Post, which first reported the news, officials are in the beginning phase of planning a military parade this year, in what could turn out to be a costly endeavor prompted entirely by the president's request.
"We are aware of the request and are in the process of determining specific details," a Defense Department spokesman told BuzzFeed News.
Trump has been outspoken in his desire to march the country's military might in the US capital. His captivation with the show of force apparently came after his visit to France, where he was a guest for the nation's Bastille Day celebrations, which included a grand display of France's military equipment.
Speaking to reporters alongside French President Emmanuel Macron in September, Trump called the French display "one of the greatest parades I've ever seen."
"It was two hours on the button and it was military might and, I think, a tremendous thing for France and for the spirit of France," Trump said. "To a large extent because of what I witnessed we may do something like that on July 4 in Washington down Pennsylvania Avenue."
"We're going to have to try to top it," Trump said.
According to the Post, the Pentagon began planning a parade after Trump met with high-ranking military officials on Jan. 18.
"The marching orders were: I want a parade like the one in France," a military official told the Post.
White House spokeswoman Sarah Sanders confirmed a request was made by the president.
"President Trump is incredibly supportive of America's great service members who risk their lives every day to keep our country safe," she said. "He has asked the Department of Defense to explore a celebration at which all Americans can show their appreciation."
According to the Post, no date has been selected, but officials are considering July 4, Memorial Day on May 28, and Veterans Day on Nov. 11.
Current and former military officials told BuzzFeed News that their main concerns about putting on such a parade are the cost and the time it would take away from real training for troops who have to participate and manage the logistics.
Some said they were concerned it was a display of Trump's "authoritarian tendencies" without actually taking the military's needs into consideration.
"It is clear that a military parade isn't about saluting the military — it is about making a display of the military saluting him," retired Major Gen. Paul Eaton, a former commander in Iraq, said in a statement sent out by progressive veterans group VoteVets.
"The military is not Donald Trump's to use and abuse this way," Eaton said. "Our military is the very best in the world, they are not to be reduced to stagecraft to prop up Donald Trump's image."
In the past, the US military has only put on large-scale parades to celebrate a victory. The US is currently still mired in the longest war in its history as the Afghanistan war enters its 17th year, and US troops are currently engaged in combat operations in several countries. The last time a military parade took place was in 1991, when a "national victory celebration" marked the end of the Gulf War with troops and hardware rolling down Constitution Avenue in Washington, D.C.
Even before he was inspired by the Bastille Day parade in Paris, the president was set on having a display of US military might. His transition team actually asked the Pentagon if they could include tanks or other hardware in his inauguration parade in January 2017, but the military turned down the request, citing concerns about the damage that the heavy tanks would do to downtown Washington's roads.
The victory display organized by former President George H.W. Bush cost an estimated $12 million. Military officials on Tuesday could not say how much Trump's request would cost, or how it would be paid for.
Officials are also concerned about the optics of such a display of force, considering increased tensions with North Korea, and the connection between military parades and political despots in other nations.
News that the Pentagon was planning a large scale military parade came hours after Secretary of Defense Jim Mattis had been on Capitol Hill, sharply criticizing lawmakers for failing their "constitutional responsibility" to provide the military with stable funding.

If Congress doesn't pass a long-term budget, he said, "your military will not be able to provide pay for our troops by the end of the fiscal year."