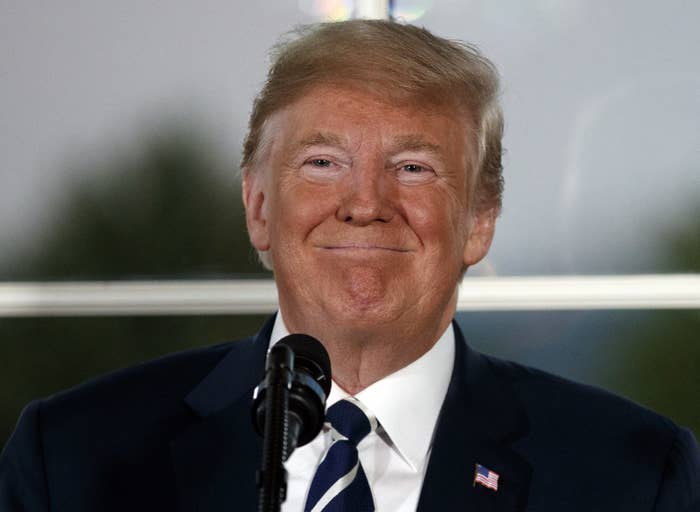 President Donald Trump spoke out Monday against allegations that he used the n-word during his time on NBC's The Apprentice, saying the accusations made by former White House aide Omarosa Manigault Newman have "zero credibility."
The president tweeted about the accusations late Monday night, shortly after Manigault Newman, a former Apprentice contestant, appeared on MSNBC and said she had heard audio recordings of Trump saying the n-word "multiple times."
In his tweets, Trump said Apprentice producer Mark Burnett had called to tell him "there are NO TAPES."
Neither Burnett nor the White House immediately responded to a request for comment from BuzzFeed News Monday night.
This isn't the first time that Trump has denied the existence of tapes on which he can be heard uttering the racial epithet. In 2016, two producers of the Apprentice suggested the then-presidential candidate had made embarrassing comments during the show's tapings, saying the remarks were "far worse" than the Access Hollywood tape that revealed Trump's now-infamous "grab them by the pussy" comments.
Following the release of that tape in October 2016, a source close to Burnett told BuzzFeed News that the producer had warned staff on the reality show against leaking any unaired footage, including any damaging outtakes of Trump.

Manigault Newman was fired from her White House post in December. This week, in advance of the release of her explosive Trump administration tell-all Unhinged Tuesday, she has released recordings of her firing and of her conversation with the president immediately afterwards.
In her book, Manigault Newman called the president a "racist" and wrote that he repeatedly used the n-word, saying that she did not learn of that side of his character until his presidential campaign in 2016.
On MSNBC Monday, she claimed to have heard tapes recorded during filming of the Apprentice, in which she said Trump could be heard repeatedly using the n-word in reference to Kwame Jackson, a black contestant who, like Manigault Newman, appeared in the show's first season.
"My first reaction, it was 'This can't be true,'" she told MSNBC's Chris Matthews Monday. "This is someone I have known since 2003, always been kind to me."
"It sounded as if [Trump] used it every day," she said. "It rolled off his mouth kind of when you first heard the Access Hollywood tapes."

Manigault Newman said that she informed Eric and Lara Trump of the recording, prompting the president's son and daughter-in-law to jump into "damage control." The recordings, Manigault Newman said, had been played for her by someone who had worked on the reality show's production staff, who she said was planning to use them "for political purposes."
Jackson declined to comment on Manigault Newman's allegations saying in an email to BuzzFeed News, "by me commenting or you covering the story, it simply adds fuel and attention to tomfoolery."
In a statement late Monday, Lynne Patton — a longtime Trump company aide who is now a top official at the US Department of Housing and Urban Development — said that Manigault Newman informed her of the existence of the alleged recordings and identified their source as former Apprentice producer Bill Pruitt.
Pruitt, one of the two producers who warned of the existence of such recordings in October 2016, claimed in interviews at the time that Trump repeatedly made racist and anti-Semitic remarks while filming his reality show. But Pruitt has denied being in possession of any such recordings — a denial Patton claimed he repeated in a conversation Monday.
Pruitt did not immediately respond to a request for comment from BuzzFeed News.