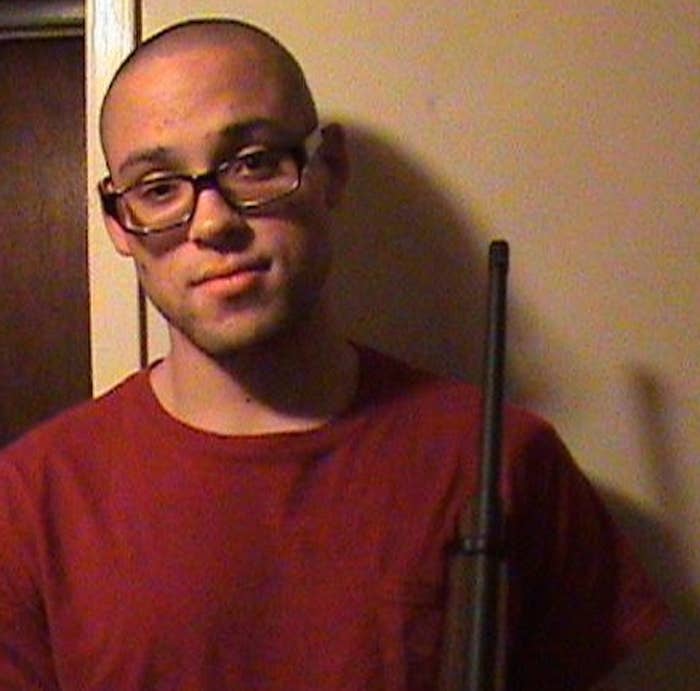 The gunman behind the shooting massacre at a community college in Oregon that left 10 people dead and seven others injured left a meandering trail of personal insights on a number of obscure websites and message boards, providing some possible insight into his motives.
Authorities officially identified 26-year-old Christopher Sean Harper-Mercer on Friday as the gunman who opened fire at Umpqua Community College in Roseburg, Oregon, on the fourth day of class. Harper-Mercer was enrolled in the class where the shooting took place, the Douglas County Sheriff's Office said.
The shooter was among those killed while exchanging gunfire with two officers who responded within minutes of getting a call for help around 10:38 a.m., Douglas County Sheriff John Hanlin said during a news conference. It was unclear if the shooter was killed by police gunfire or took his own life.
No officers were hurt.
Federal agencies told the Associated Press that Harper-Mercer was wearing steel-plated body armor, and was carrying five handguns, a rifle, and five extra magazines at the scene of the shooting.
Roseburg Mayor Larry Rich told MSNBC that authorities found a note full of "hateful philosophy" at the scene.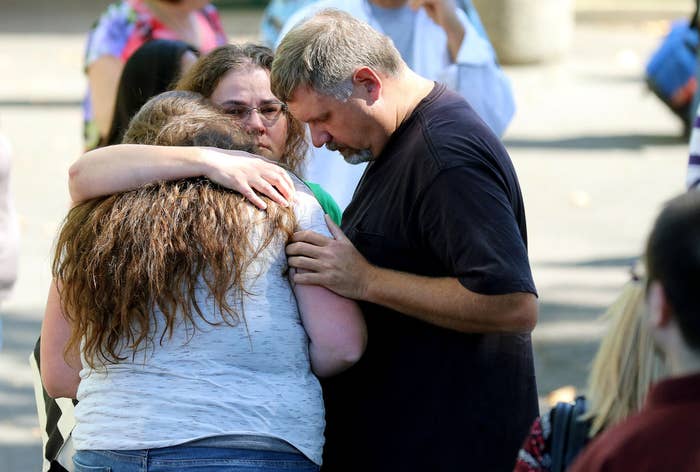 Local and federal authorities were looking into the shooter's past, though little was known about him as of Thursday evening.
Federal law enforcement officials told the New York Times they were looking into postings on the web site 4chan, where an anonymous poster wrote "don't go to school tomorrow if you are in the northwest" hours before the shooting. It is unclear if that message is related to the incident. Some other anonymous posters encouraged the original poster to go through the plan.
According to public records, Harper-Mercer lived in Torrance, California, before moving to Winchester, Oregon, several years ago.
Harper-Mercer also served a short stint in the Army.
A representative of the U.S. Army told BuzzFeed News that a "review of Army records indicate that Christopher Sean Harper-Mercer was in service at Ft Jackson, S.C, from 5 November-11 December 2008 but discharged for failing to meet the minimum administrative standards to serve in the U.S. Army."
Harper-Mercer's stepsister, Carmen Nesnick, who lives in Los Angeles, told the local NBC affiliate she was shocked by the shooting, particularly because it seemed so far outside the person she knew.
"I don't know what to say," she told NBC4. "I'm shaking right now. He was a nice guy."
Neswick told CBS Los Angeles that Mercer was born in the United Kingdom, but moved to the U.S. at a young age.
"I'm actually still shaking and my mom is in there crying," she said. "I don't know what to do. ... All he ever did was put everybody before himself. He wanted everyone to be happy. No matter if he was sad or mad, he would always try to cheer up everybody."
Ian Mercer, who identified himself as the shooter's father, told reporters outside his home in Tarzana, California, that he was "shocked" by events on Thursday.
Mercer senior, who spoke with a northern English accent, said: "I'm just as shocked as everybody at what happened today. I've just been talking to the police and the FBI. That's all the details I have right now, is what you know already.
"Obviously, it's been a devastating day. Devastating for me and my family."
People who knew Harper-Mercer when he lived in Southern California told the New York Times that the 26-year-old "always seemed anxious," and wore the same "military get-up," a white T-shirt, green Army pants and combat boots, every day.
Harper-Mercer's California neighbors also spoke of his relationship with his mother, Laurel Harper. The two lived together in Torrance, California, and several of their neighbors interviewed by the Times said they were very close.
Julia Winstead recalled a day where Harper appealed to their neighbors to sign a petition to urge her landlord to exterminate their one-bedroom apartment for cockroaches.
"She said, 'My son is dealing with some mental issues, and the roaches are really irritating him,'" Winstead said.
A Winchester, Oregon neighbor told the Times that Mercer was someone who appeared to prefer his solitude, but could be abrasive if he was bothered.
Bronte Hart said that Harper-Mercer regularly yelled at her for smoking on the balcony. She lived in an apartment below him.
"He yelled at us, me and my husband," she said, adding that Mercer "was not a friendly type of guy. He did not want anything to do with anyone."
Harper-Mercer also expressed an interest in firearms, according to neighbors interviewed by the Los Angeles Times.
After several people in the Torrance apartment complex saw Harper-Mercer and his mother carrying black cases they believed held guns, they approached him about it at a community gathering.
David Westly told the Times that Harper-Mercer did not directly answer the question, but said that he enjoyed target practice.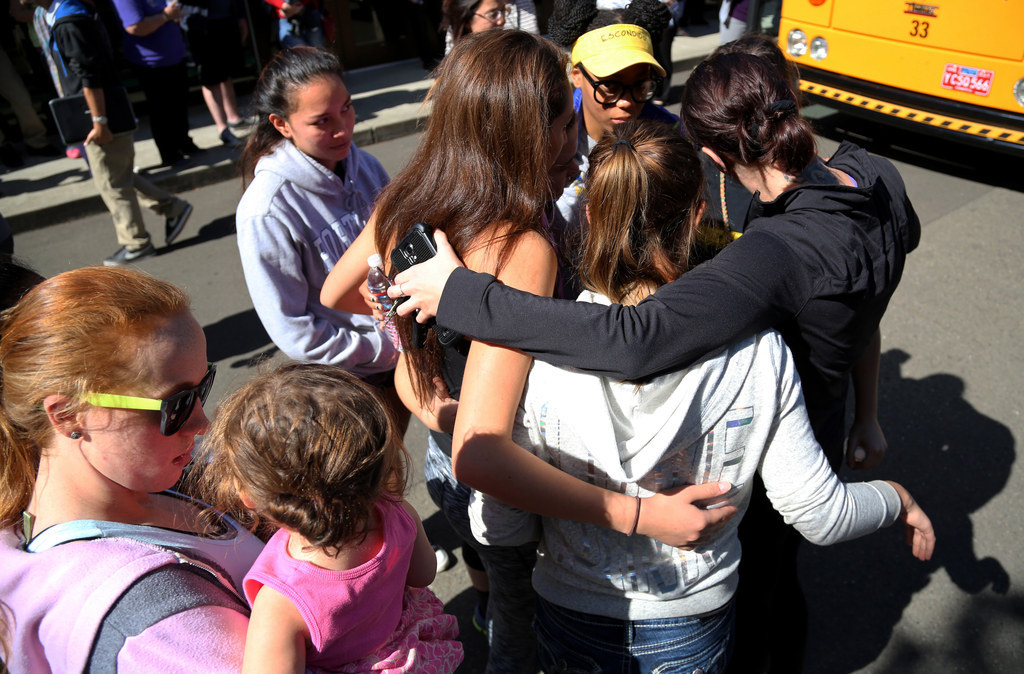 Harper-Mercer's digital footprint revealed some of his interests and personal thoughts.
At some point, Harper-Mercer apparently reached out to people online on several pen pal pairing websites, including spiritualpassions.com and Morgue Penpals, describing himself as a college student living with his parents. He also said he was "shy at first but warm[s] up quickly, better in small groups."
Harper-Mercer also described himself as "not religious, but spiritual."
Some of his posts to MySpace.com show Mercer took an interest in the Irish Republican Army, an armed movement that at various points used terrorist tactics to fight for full independence from the United Kingdom.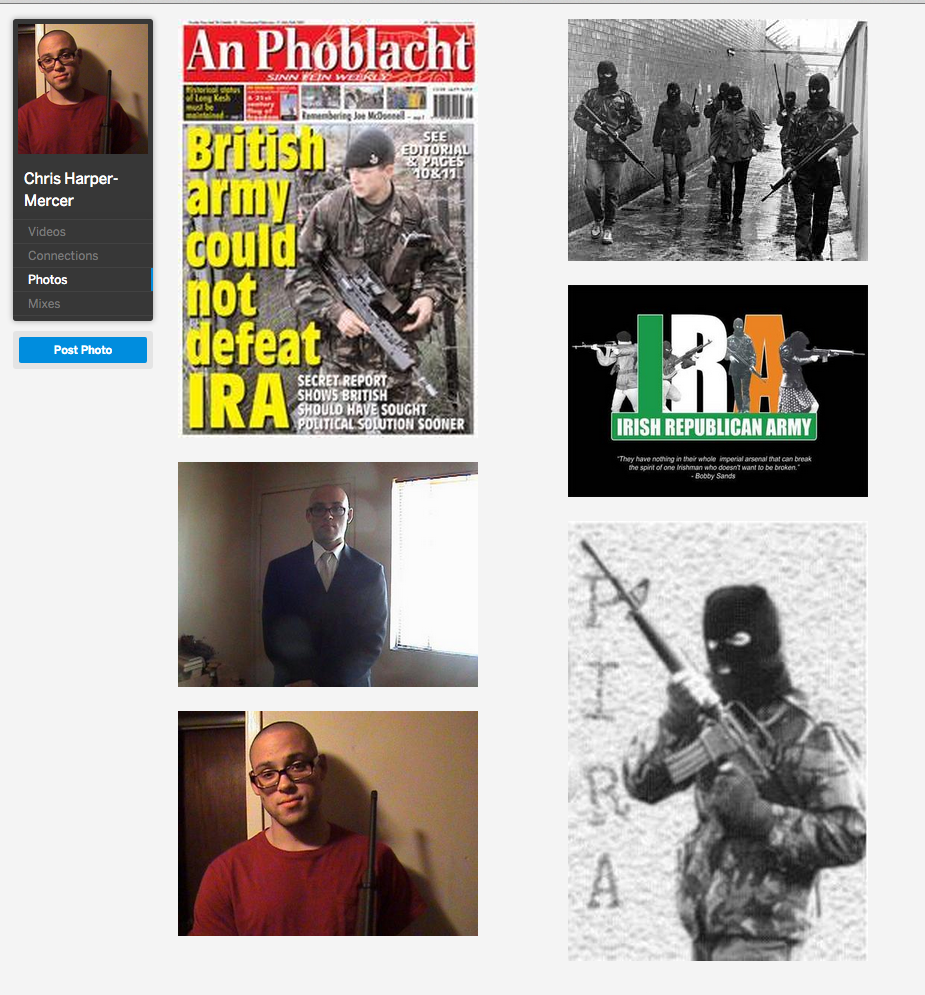 Harper-Mercer also appeared to have an account with the username "lithium_love" on the video sharing community site, Kickass Torrents, where he most recently uploaded the BBC documentary, This World, Surviving Sandy Hook on the 2012 mass shooting in Newton, Connecticut. Other uploads to the account ranged from PDFs of of Phenomena magazine to soft pornography. The account was removed from the site.
He also appeared to have a blog on the site, which included posts about shootings and the Black Lives Matter protests.
One post referred to Vester Flanagan, the disgruntled television news employee who shot two of his colleagues to death on-air in Virginia:
I have noticed that so many people like him are all alone and unknown, yet when they spill a little blood, the whole world knows who they are. A man who was known by no one, is now known by everyone. His face splashed across every screen, his name across the lips of every person on the planet, all in the course of one day. Seems the more people you kill, the more your're in the limelight.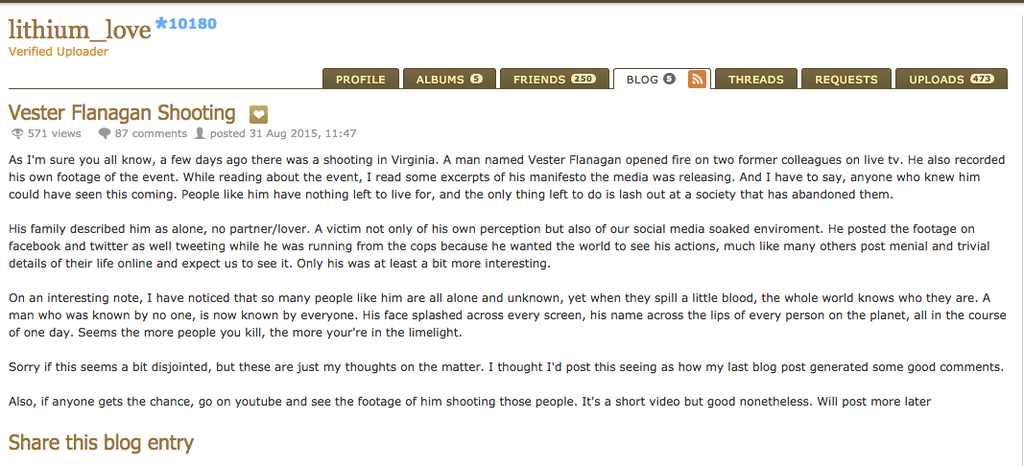 Another post referred to police shootings and the Black Lives Matter movement, the latter of which he wrote he "generally didn't agree with."
I don't disagree that police brutality and excessive use of force is a problem, but killing an officer that never did anything to you is not the answer.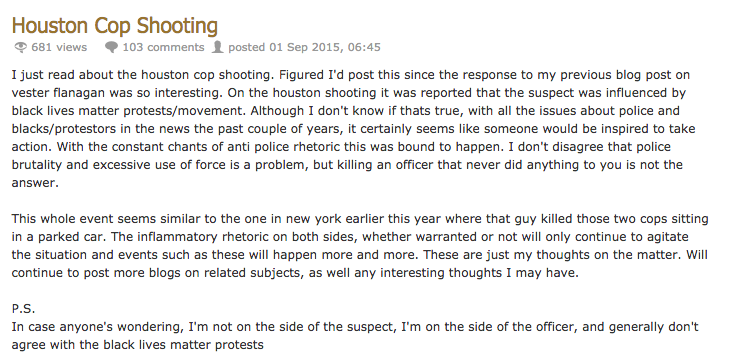 In response to a comment thread on Kickass Torrents, which asked, "How many girlfriends have you had?" ithim_love wrote: "Never had anyone," adding, "Involuntarily so."
Harper-Mercer also created a profile on Mashable. The profile displayed very little information, but Mashable reported that it was linked to an email address connected to some of Mercer's other online profiles, including a Facebook page that has since been taken down. Before the page went down, however, it displayed a quote: "When all the pleasures of the world have diluted, the only thing left that is pure is power."
As the FBI and other federal officials descended on the small town of Roseburg Thursday it remained unclear what may have motivated Harper-Mercer.
One unnamed official told the New York Times that investigators were poring over "hateful" writings posted by Harper-Mercer.
And Anastasia Boylan, who was injured in the shooting, reportedly told her family that the gunman ordered students to stand up if they were Christians.
"And they would stand up and he said, 'Good, because you're a Christian, you're going to see God in just about one second,'" Boylan's father, Stacy, told CNN. "And then he shot and killed them."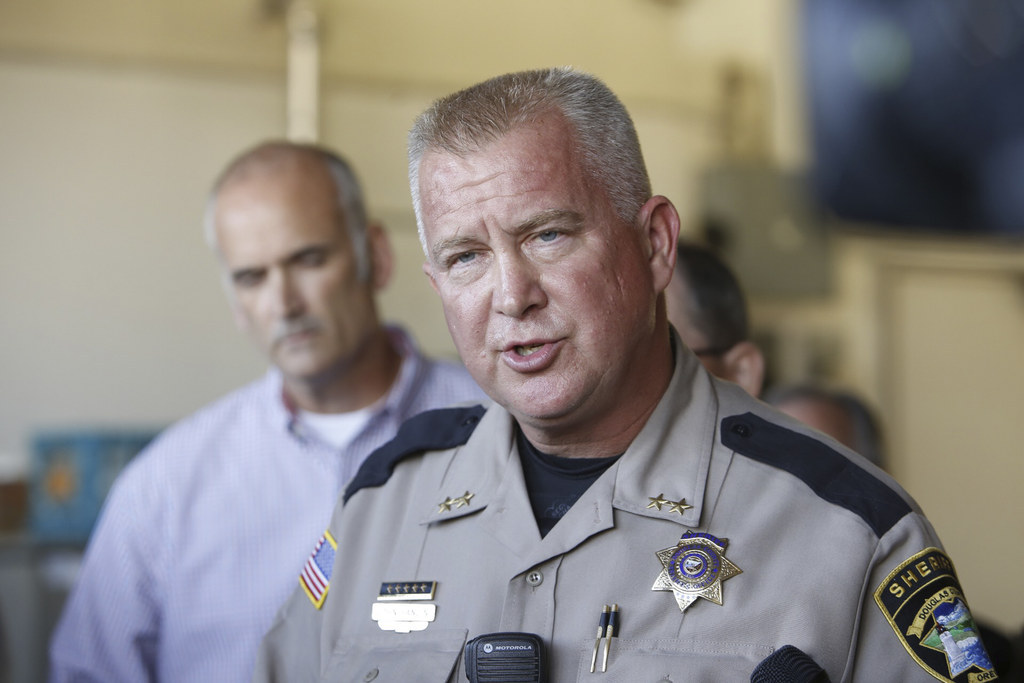 Even as identities of the victims started to percolate via social media Thursday evening, officials said they would hold off on naming the deceased for at least 24 hours. They also said they would refrain from naming the shooter, even once the medical examiner releases the identity.
"I will not give him the credit he probably sought prior to this horrific and cowardly act," Hanlin told reporters.