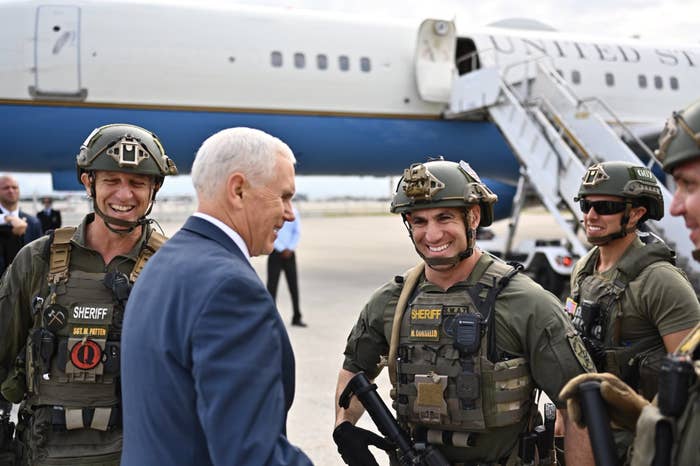 Vice President Mike Pence on Friday tweeted, and then quickly deleted, a picture of himself and a Florida sheriff's deputy wearing a QAnon conspiracy patch on his uniform.
The picture was similar to other posts when Pence travels across the country, but one of the deputies greeting the vice president just outside of Air Force Two could be seen wearing a prominent red patch on his chest with the letter "Q."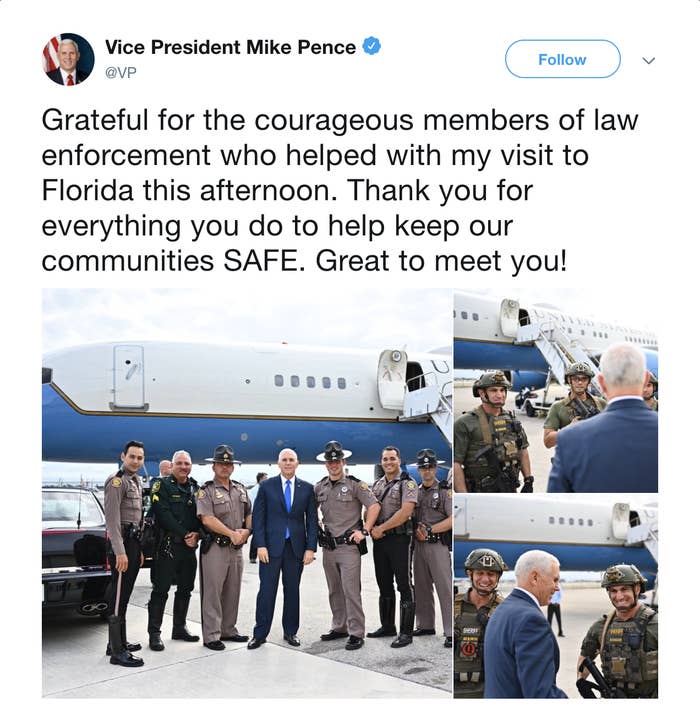 Minutes after BuzzFeed News reached out to the White House and Pence's office regarding the picture, the tweet was deleted and reposted, but this time without the image with the QAnon patch.
QAnon is a conspiracy theory that sprung from 4chan, claiming that, among other things, President Trump is trying to save the world from a global pedophile human trafficking ring that involves high-ranking politicians and Hollywood figures. The conspiracy, which has evolved and encompassed a wide range of baseless theories, circles around a figure identified as "Q," who claims to be a high-ranking US official and who posts obscure statements that followers try to interpret as some sort of information drop to the president's supporters.
An official at the Vice President's Office told BuzzFeed News the image was deleted from Pence's account after the patch was pointed out to staff. The official added that the image was taken down so as not to draw attention to the baseless conspiracy theory.
The deputy in the picture was identified as Sgt. Matt Patten, a decorated 27-year veteran in the Broward County Sheriff's Office in Florida.
Local law enforcement officials assigned to high-profile duties, such as visits from the president and vice president, are vetted for security reasons, and the assignments are often seen as a reward and honor for officials with distinguished and lengthy careers.

Previous social media posts by the Broward County Sheriff's Office show that Patten was a member of the department's Office of Homeland Security in 2015. He was also awarded a Sheriff's Foundation Medallion the same year for providing anti-terrorism training to the SWAT team.
Neither Patten nor the sheriff's office immediately responded to BuzzFeed News' requests for comment.