This week's intense news cycle might have been a bit much for CNN's Anderson Cooper, who told a Trump surrogate Friday that he'd probably defend the president even if he "took a dump on his desk."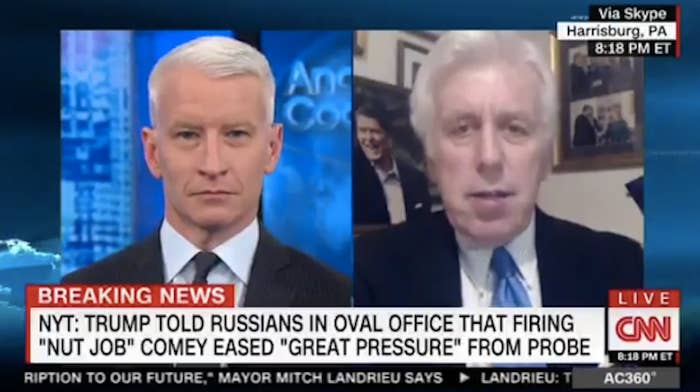 Cooper was talking to Jeffrey Lord, a CNN contributor and fervent supporter of President Trump.
Cooper was asking Lord whether it was smart for Trump to have reportedly told the Russians during a White House meeting that firing former FBI Director James Comey had eased some of the pressure he was feeling regarding the ongoing investigation into Russian interference in the election.
Lord tried to sidestep the question, prompting Cooper to interject: "I believe that's called a 'punt.'"
"I don't care what he says to the Russians," Lord responded. "I mean, he's the president of the United States. If he wants to say that, Barack Obama wants to say it, if George Bush says, I looked in his eyes..."
And then a very frustrated Cooper did it.
💩 💩 💩
People thought the quip was pretty hilarious.
And some even applauded Cooper's straight talk.
However, some thought it was a tad unprofessional for a CNN host.
But many took it as a comical moment between Cooper and Lord, who often spar on air.
Even Lord appeared shook, but in a good natured way. 😂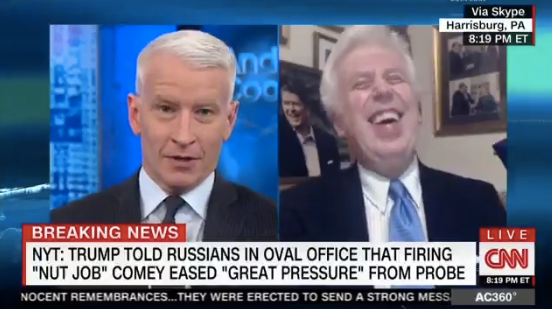 Cooper later apologized on air and Twitter for the comment.
But even after apologizing to Lord in a later segment for being "a little crude," the contributor was still having a laugh about it. So apparently it's all good between these two.