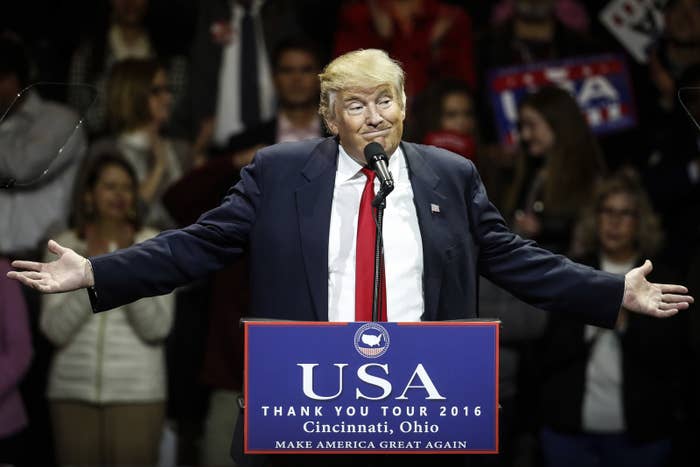 President-elect Donald Trump took the highly unusual step Friday of speaking directly with the president of Taiwan in a phone call, a move that prompted reassurances from the White House because it is likely to anger China.

According to a readout of the call provided by Trump's transition team, the president-elect spoke with Taiwanese President Tsai Ing-wen and noted the two nation's "close economic, political and security ties."
"President-elect Trump also congratulated President Tsai on becoming President of Taiwan earlier this year," the statement added.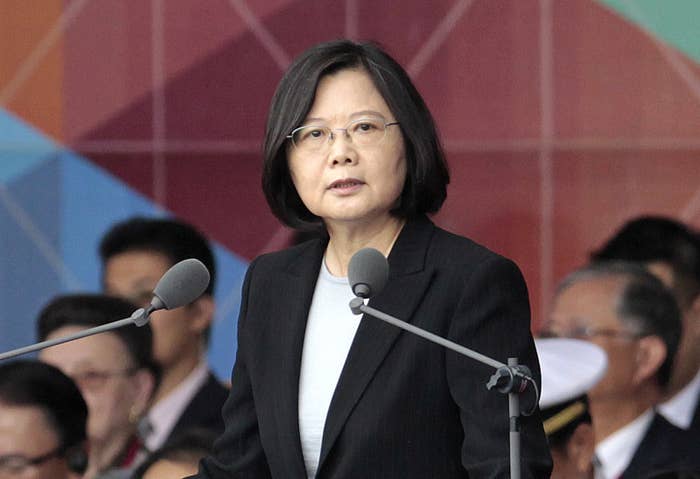 The US cut diplomatic ties with Taiwan in 1979, adopting a "one China" policy, which gave recognition instead to communist Beijing. However, China-US relations have remained strained since the United States maintains a close, albeit unofficial, relationship with the self-governing island.

Since then, it's been a complicated international relationship that has been traversed for more than three decades by six US presidents.
Last year, for example, the US sold nearly $2 billion-worth of weapons to Taiwan despite strong opposition from the Chinese government.
That controversial sale of weapons was quickly pointed out by Trump on Twitter, who pushed back against criticism about taking the call from the Taiwan leader.
The South China Sea, where the Chinese government has laid claim to waters also claimed by Vietnam, Philippines, Korea, Taiwan, Malaysia and Brunei, has also been a point of contention.
The region has seen a flurry of military action, with China increasing naval patrols and building islands there to strengthen their claims. The US has also sent military ships for what it calls "freedom of navigation" operations, the BBC reported.
A readout of the Trump call issued by the Taiwan president's office stated the call was about 10 minutes long, during which developing closer economic and "national defense" ties was discussed.

China's Foreign Minister Wang Yi said in a statement that the phone call between Trump and Taiwan's president was "only a small move by the Taiwan side."
"It is impossible to change the one-China pattern already formed by the international community," he said. "The one-China principle is the cornerstone of the healthy development of the Sino-US relations, and we do not want any interference or destruction of this political foundation."
China "firmly" opposes any interaction between the US and Taiwan, the ministry of foreign affairs office said.
Wang went further in remarks to Hong Kong-based Phoenix Television, saying it was "just the Taiwan side engaging in a little trick."
The US has no embassy in Taipei, but Taiwan keeps government representatives in Washington, DC, and other cities.

Still, there hasn't been direct contact between the leaders of Taiwan and the US since 1979 for fear that it could be seen as legitimizing the political leadership of an island that China has said it would take back by force.
Taiwan split from the mainland during a civil war in 1949.
The call was first reported by the Financial Times, which noted that it was not clear whether the phone call was part of a broader strategy and change the US policy toward Taiwan and China, or if the call was made without consideration of the possible political blowback.
In a tweet Friday, Trump insisted that Tsai was the one who made the call.
Trump has repeatedly blasted China on the campaign trail, accusing it of currency manipulation and criticizing the Obama administration for not being "tough enough" in dealing with the country.
The President-elect was criticized by several lawmakers for the call, including the Democratic National Committee, which said Trump was "either too incompetent to understand that his foolish phone call threatens our national security, or he's doing it deliberately because he reportedly wants to build hotels in Taiwan."
"Given that Donald Trump didn't release his tax returns and hasn't divested from his business, it appears Trump is prioritizing his personal fortune over the security interests of the nation," DNC Spokesman Eric Walker said in a statement to BuzzFeed News.
Speaking to CNN's Anderson Cooper, Trump senior advisor Kellyanne Conway defended the call as one of dozens he's taken from world leaders since his election victory.

"He's having these private conversations, giving a read-out here and there about them, but he's not trying to make policy and not trying to make waves until he's actually the president in six-and-a-half weeks," Conway said.
She also pushed back on questions on whether Trump had been briefed on US relations with China and Taiwan before the call. And she would not confirm whether Trump and his advisors had consulted with the State Department.
"I can't imagine if (President Obama) was asked here or elsewhere if he had been property or fully briefed considering he had very little experience himself," Conway said.
China regularly reacts with anger to any official recognition of Taiwan's government, especially from the US. In Beijing, where any discussion of Taiwanese independence is considered a political third rail, the foreign policy community was swift to condemn the call.
"(It) stepped on a diplomatic red line," said an researcher on China-US relations at a top government think tank via a private social media account. "Before he even takes office, this person, who doesn't play cards according to the rules, has set up obstacles for China-US relations."

"The coming four years of Sino-US relations will be like treading on thin ice," added the researcher, who asked BuzzFeed News not to use his name because he is not authorized to speak publicly on the issue.
Wang Wen, an executive dean at Renmin University, one of the country's top schools, said via his microblog late on Friday he had dispatched a warning to Trump's team during a recent dinner in Washington.
"In order to make America great again, China's help is a must," he said he told them. "Don't offend China, otherwise there is no 'great again.' They noted it with seriousness."
After the phone call, the White House National Security Council released a statement to several news outlets stating that there was no change to its "one China" policy, which recognizes the mainland government.

"There is no change to our longstanding policy to cross-Strait issues," National Security Council spokesman Ned Price said in the statement. "Our fundamental interest is in peaceful and stable cross-Strait relations."
The Los Angeles Times reported that despite Trump's continuous contact with foreign leaders, the White House has not been getting direct reports from his team about the details of the communications. At times, the paper reported, the White House has learned about the contact from statements made by the foreign governments.
The phone call was lauded, however, both within Taiwan and by some in the defense policy community in the US as a signal the incoming administration will take a tougher stance on China.
"This is a small but positive step forward in giving Taiwan's democracy the legitimacy it deserves," said Mark Stokes, a former Pentagon official and the executive director of the Project 2049 Institute said.