These Nurses Kept Helping People After Narrowly Escaping California's Deadliest Fire
"I was just thinking, I'm going to die in melting plastic," one nurse said.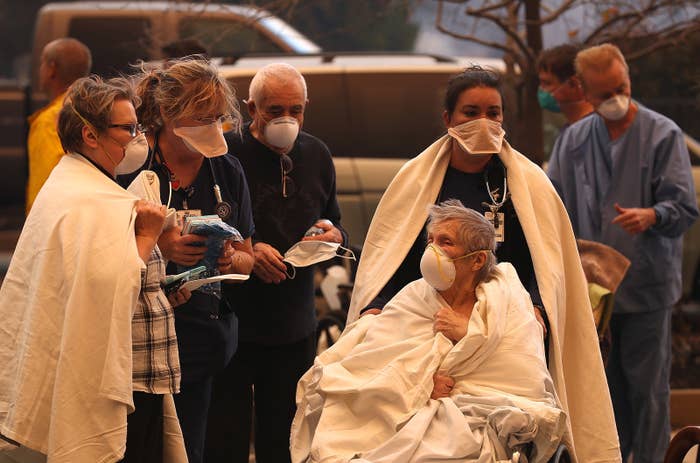 As flames from a fast-moving wildfire closed in on town, Allyn Pierce and his staff at the Adventist Health Feather River Hospital knew they had to get all of their patients out.
The ferocious Camp fire had just been sparked in the dry brush above Paradise, a popular retirement community in Northern California's foothills, and winds were quickly spreading hot embers into the town's streets.

Pierce, a nurse at the hospital, had just received a text message from his wife warning of the blaze when he went outside to see smoke looming over the facility from miles away. He knew there wasn't much time before the flames would reach the medical center and its many patients.
Over the next 20 minutes, Pierce and the hospital staff sprang into action, evacuating all of the sick and injured inside before the Camp fire could devour the facility.
On the road, fleeing the blaze with a caravan of other vehicles escaping the hospital, Pierce quickly found himself on a narrow forest road and surrounded by flames in a bottleneck of vehicles trying to get out of the fire's way.
As the flames closed in on his white pickup truck, he could see his side mirror beginning to melt.
"I was just thinking, I'm going to die in melting plastic," Pierce told BuzzFeed News. "I saw cars trying to sneak past me on the shoulder of the road and they would catch fire."
Pierce was one of several nurses and other medical staff who narrowly escaped the flames. Yet despite their harrowing ordeal, many like Pierce returned to the hospital and continued to treat the injured outside the facility, setting up a makeshift triage on the hospital's helipad while flames continued to surround them.
At least 20 people were treated outside the hospital on Thursday, Pierce said, with the help of anyone and everyone — including police, firefighters, paramedics, and doctors — who returned to the scene while the fire raged.
But for Pierce himself, he was barely able to make the trip back.
"We live in a forest, and distance doesn't mean much for a fire when the wind is going," he said.
Pierce had sent a text message to staff at the ICU to get gurneys, beds, and patient information ready. By 8:30 a.m., the hospital staff and patients were squeezing down a two-lane road trying to get out.
Then the fire caught up to them.
With the road jammed with fleeing cars and fire burning on both sides of the road, Pierce tried to stay calm for the two colleagues who were riding with him.
A car was blocking the road ahead and, all around him, vehicles were starting to burst into flames. With no options, some people got out and started running.
Pierce tried to maneuver his truck where he could, which meant sometimes driving through fire and seeing flames lapping the side of the truck.
"I was trying to keep the tires from melting," he said. "As long as I had tires I could keep moving."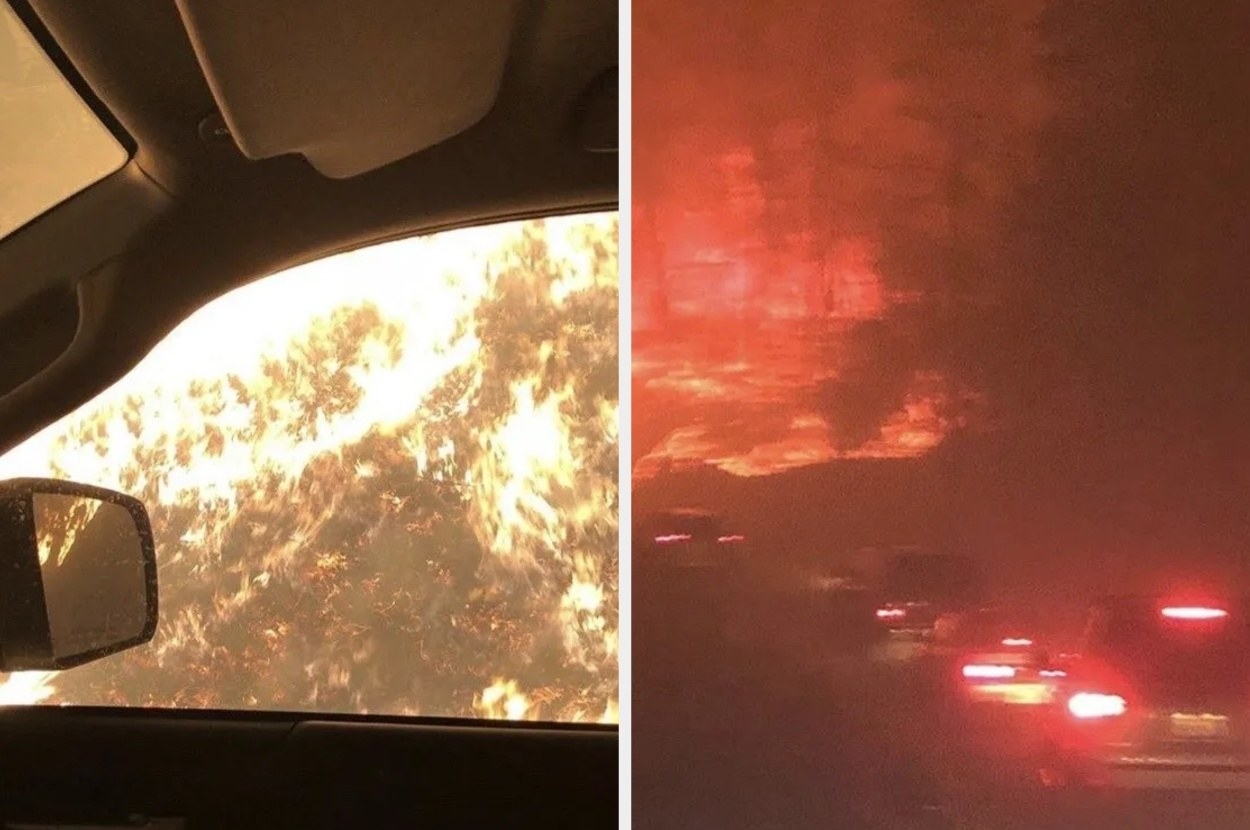 Eventually, Pierce and the rest of the caravan became trapped by a disabled car on the road. A vehicle next to him was ablaze, and a fire truck on the other side was blocked. His two colleagues, in a panic, jumped out of his cab and into the fire truck. When he saw the firefighters put heat-resistant blankets against the windows, he thought it might all be over.
"Heat, heat and fear — those are the two feelings that I remember," Pierce recalled. "Lots of heat."
He put his jacket against the window and recorded a message on his cellphone for his wife and two kids, just in case.
Moments later, he said, a bulldozer appeared and pushed the disabled car out of the way, letting vehicles through.
"I see a clear spot in the forest, no road, and I drive into the forest," Pierce said. "I was glad I had my truck and not my wife's Prius."
It was then that he decided to go back to the hospital. With flames at his sides and in front of him, he reasoned the safest place for him was back at the medical center.
Tamara Ferguson, another nurse from Adventist Health Feather River, was also caught in the gridlock trying to escape the flames after an ambulance caught fire on the road, blocking residents trying to flee.
"We were told we can't go any further right now," she wrote in a lengthy Facebook post. "I looked around as fire surrounded us."
As flames encircled the caravan of cars, she and her colleagues decided to move their patients to a nearby home garage and driveway that had been spared from the fire.
Ferguson said she called family members and her boyfriend expecting to die as the fire ravaged the area, but she and her colleagues were able to clear brush around the home and keep the group safe.
"Chrissy and I were clearing brush by handfuls," she wrote. "If we were going to die today we would at least do it protecting others and do everything we can to live and we did!"
Ferguson said that she and other nurses who had set up the triage in the neighborhood were later escorted back to the hospital.
Back at the medical center, Pierce arrived to witness trees around the facility ablaze and some two dozen people with injuries in need of treatment. He and a colleague broke into the hospital to get supplies and set up a triage area near the helipad, where fire seemed to have already burned through.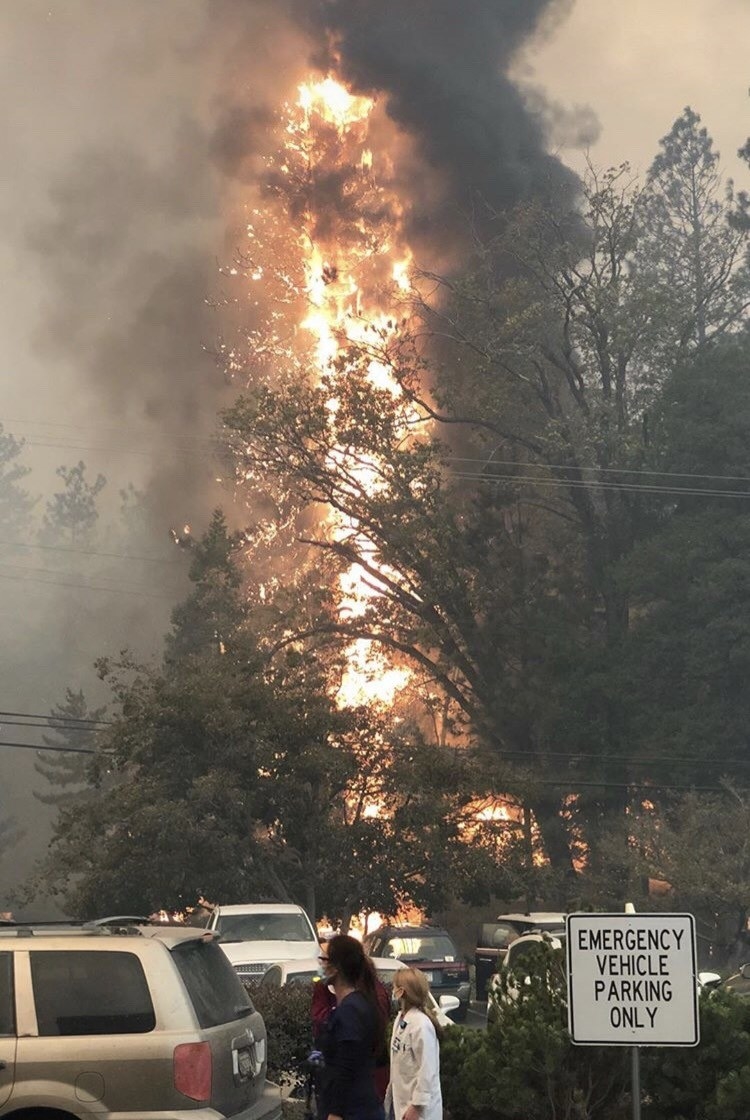 "It was one of those things that was really scary, except that I had a job to do, and I'm good at taking care of people," he said.
About 25 police officers, firefighters, and paramedics later reached the hospital and started setting up an outdoor treatment area, aiding anyone who could make it to the facility.
Getting back to work assisting others helped ease Pierce's nerves, he said.
"When you're in a bad situation, just having a job is way better than being the guy in the middle of the room not knowing what to do," he said.