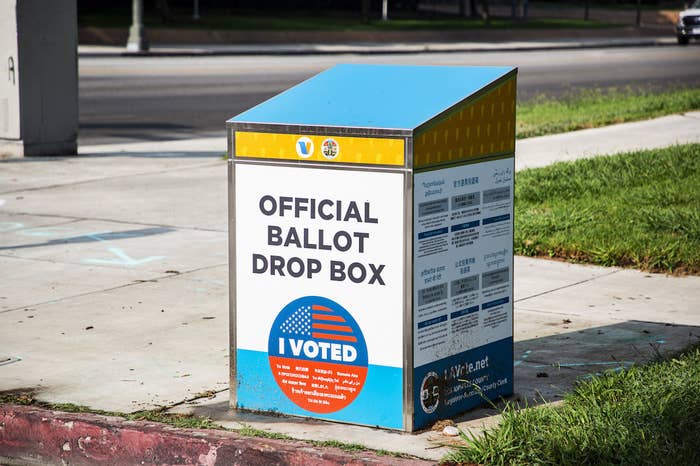 California's Republican Party placed "unauthorized" ballot collection boxes at churches, local party offices, and candidate headquarters throughout the state, officials said Monday.
Republican officials have not said how many boxes were placed, how many ballots were collected, or what they did with the ballots, as state officials said they are reviewing their legal actions to remove them.

"We are here to announce without equivocation that these drop boxes are not part of the county's official election collection process," state Attorney General Xavier Becerra said at a news conference Monday. "I hope the message goes out loud and clear to anyone who is trying to improperly solicit, obtain, and manage a citizen's vote that they are subject to prosecution for engaging in activities that are against the law."
Becerra sent cease-and-desist letters to GOP officials in Los Angeles, Fresno, and Orange counties on Monday, one day after California's secretary of state issued a letter stating the Republican-placed boxes are illegal.
"Providing unauthorized, non-official vote-by-mail ballot drop boxes is prohibited by state law," the letter states. "County elections officials alone have the authority to designate the location, hours of operation, and number of drop boxes in the county, and have the responsibility for ensuring compliance with all applicable statutes and regulations that guarantee security and chain of custody of vote-by-mail ballots deposited."
In a statement, the California Republican Party admitted it owned the boxes but attacked Democrats, saying it was their party who authorized "ballot harvesting" into law.
"In California, where you can have convicted felons and individuals with a criminal history go door to door and collect ballots from voters, Democrats are now upset because organizations, individuals and groups are offering an opportunity for their friends, family, and patrons to drop off their ballot with someone they know and trust," Hector Barajas, spokesperson for the state's Republican Party, said in a statement. "California Republicans would be happy to do away with ballot harvesting."
Asked if party officials would adhere by the attorney general's order to remove the boxes, Barajas told BuzzFeed News in an email: "No."
California law allows for voters to designate someone else to turn in their ballots and, in an email, Barajas described the unauthorized boxes as a container being used to return the ballots.
"Where in the law is any particular type of 'container' prohibited from being used by someone collecting ballots pursuant to 3017?" Barajas wrote. "Can they use a bag? Crate? Cardboard box? Must it have a lid? Any security riles what-so-ever? Can I use my Santa bag?"
State officials said the boxes placed by GOP officials have misidentified themselves as "official" drop-off locations, and warned that anyone participating in placing the boxes, or hosting them, could face legal consequences.
"Please don't rely on the representations made by people who may be telling you you're engaging activity that this is lawful, or convince you or persuade you this activity falls within the law," Becerra said. "If you participate in those activities you are knowingly engaging in an activity that is against the law."
In Santa Clarita on Sunday, Rev. Jerry Cook of Freedom's Way Baptist Church took time from his sermon to tell his congregation about one of the boxes outside the building.

"They are suggesting that something nefarious is happening with the ballots here, that perhaps the pastor of the church is counting the ballots and looking through and saying, 'Oh, that's a Biden voter; we're going to throw that away,' and then we're going to go ahead with the Trump votes," Cook told his congregation. "That isn't the case. Not only are we a safe and secure place, but we are also an honest place."
He also assured worshippers that "everything was on the up and up."
The Orange County Register first reported the existence of the boxes after a regional field director for the California Republican Party, Jordan Tygh, posted a picture of a ballot in front of one of them.
However, in the state attorney general's memo, officials noted the unauthorized boxes did not meet the state's requirements for ballot collection, which mandate that the person who is given the ballot to sign the return envelope.
One of the boxes was placed inside the Svensk Butik Gift Shop in Kingsburg, where the owner told BuzzFeed News that the chair of the Fresno County Republican Party, Fred Vanderhoof, stopped by to collect the box on Monday.

The box was placed about a week ago, June Olsson Hess added.
"They figure this is a safe place," she said.
She also said she trusted Vanderhoof, whom she knows personally, and that the ballots that were placed in the box, including hers, would be counted.
"He takes it to the election center, or whatever it's called," she said.
Barajas did not respond to questions about how many boxes were placed throughout the state, how many ballots have been collected, and if they had been delivered to be counted in the upcoming election.
News of the Republican ballot collection boxes comes as President Donald Trump continues to sow distrust in the election process as states rely on mail-in ballots due to the coronavirus pandemic.
Speaking to his congregation, Cook tried to reassure worshippers that their ballots would be safe.
"I'm not really worried about who you're going to vote for," he said. "You just need to vote right, and biblically, and you need to vote American and biblical values."