A British man, who Elon Musk called a "pedo" on Twitter, has retained legal counsel and is "preparing a civil complaint for libel" against the Tesla CEO, according to a letter viewed by BuzzFeed News. The letter appears to contradict a claim Musk made on Twitter on Tuesday that he had yet to see any legal repercussions from his allegations, and deepens the problems for the already embattled technology billionaire.
A lawyer for Vernon Unsworth, a UK citizen who was instrumental in the rescue of 12 children trapped in a cave in Thailand, sent Musk a letter earlier this month notifying him of a possible lawsuit, after the Tesla chief's outburst against his client in July. Musk previously made the allegations against Unsworth without any evidence, before issuing an apology and deleting the offending tweets.
On Tuesday, the Tesla and SpaceX founder reignited the controversy on the social network by suggesting that Unsworth's lack of legal action against him constituted something suspicious and that his original allegation of pedophilia should be investigated. BuzzFeed News, however, confirmed that Unsworth retained legal representation and sent Musk a letter dated Aug. 6 detailing a possible lawsuit for the "false and defamatory statements."
"You published through three different tweets to your twenty-two million followers that Mr. Unsworth engages in the sexual exploitation of Thai children, and you did so at a time when he was working to save the lives of twelve Thai children," writes Unsworth's lawyer L. Lin Wood, an Atlanta-based defamation expert. "You did so without any basis. According to a subsequent Twitter post, you did so out of anger."
The possible lawsuit highlights the dangers that Musk could face for his increasingly erratic behavior on Twitter, which has landed him in hot water on multiple occasions in 2018. Earlier this month, Musk unexpectedly tweeted that he was exploring the possibility of taking Tesla private and that he had "funding secured" to do so, igniting a public market frenzy. The bid ultimately went nowhere, and the Securities and Exchange Commission is now reportedly investigating Musk and Tesla over the bizarre sequence of events.
When contacted over email by BuzzFeed News, Musk did not address the legal letter he received.
"Have you actually done any research at all?" he wrote. "For example, you incorrectly state that he is a diver, which shows that you know essentially nothing and have not even bothered to research basic facts."
BuzzFeed News confirmed with a source familiar with Unsworth that the cave rescuer has diving experience and maintains all the necessary diving equipment.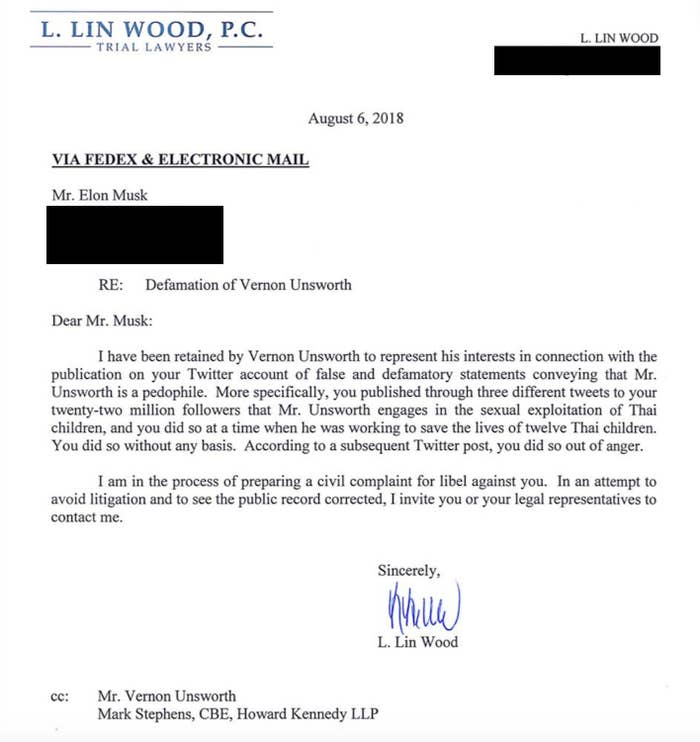 A Tesla spokesperson did not immediately respond to a request for comment. A representative for Wood also did not immediately respond to a request for comment.

Unsworth did not respond to BuzzFeed News' request for comment. Reached by Sky News on Wednesday, he told the British news outlet "it's all being dealt with, that's all I can say."
Musk's spat with Unsworth began last month, after the British diver and spelunker dismissed Musk's attempt to build a submarine to rescue Thai boys trapped in an underwater cave as a publicity stunt in an interview. Following that, Musk took to Twitter to suggest that Unsworth was in Thailand to engage in the sexual exploitation of minors and then directly called him a "pedo guy." In a third tweet, he told another Twitter user that he'd "bet a signed dollar it's true." All three of those tweets were eventually deleted, with Musk tweeting out an apology in July stating "his actions against me do not justify my actions against him."
In interviews with other outlets, Unsworth was not clear if he would pursue action against Musk. His lawyer's letter from earlier this month is the clearest indication that he is seriously considering a lawsuit if Musk does not move to "see the public record corrected."
It's unclear if Musk has seen the letter, which was sent to his Los Angeles home, but on Tuesday he wrote in an argument with another Twitter user that it was odd that Unsworth had not sued him yet, suggesting that the British man would have done so if there was an allegation worthing pursuing.
"You don't think it's strange he hasn't sued me?" he wrote. "He was offered free legal services."
"Did you investigate at all?" Musk continued in another tweet, asking the other Twitter user if he'd taken the time to investigate the previous, groundless allegations that he had made against Unsworth. "I'm guessing answer is no. Why?"
UPDATE
The story has been updated with a comment from Tesla CEO Elon Musk.