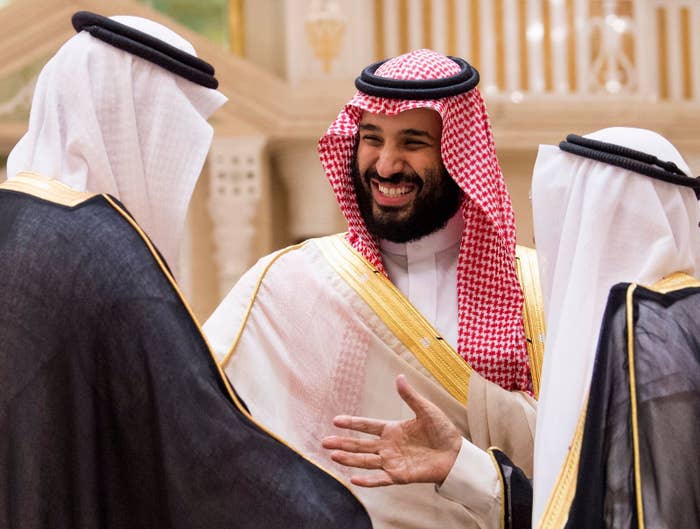 High-profile technology and business leaders are distancing themselves from a new advisory board tied to the Saudi Arabian government. The board was announced amid concerns about the disappearance and alleged murder of a Saudi dissident.
Neom, the Saudi government–backed mega-city project, said Tuesday that 19 tech and business luminaries — including Apple design chief Jony Ive, venture capitalists Marc Andreessen (a BuzzFeed investor) and Sam Altman, and former Uber CEO Travis Kalanick — had joined its advisory board. That announcement came as US government officials, among them Vice President Mike Pence, condemned the possible murder of dissident and Washington Post columnist Jamal Khashoggi by Saudi operatives at the country's Istanbul consulate.
A few hours after that announcement, individuals supposedly associated with the group began to deny their involvement. Apple told BuzzFeed News that Ive was never part of the project. Meanwhile, a source familiar with the project said that the Apple design chief's inclusion had been blamed on a translation error. Neom's press release was later revised online to remove Ive's name. On Wednesday, other leaders dropped or suspended their involvement. Sidewalk Labs CEO Dan Doctoroff denied ever being part of the project through a spokesperson. And former US energy secretary Ernest Moniz told Axios that he would not participate until more information was made available about Khashoggi's disappearance.
Following publication of this story, an IDEO spokesperson informed BuzzFeed News on Thursday that the company's CEO Tim Brown "has chosen not to participate in the advisory board at this time." Later on Thursday, Altman, the president of technology accelerator Y Combinator, also said he would be suspending his involvement with Neom's advisory board "until the facts regarding Jamal Khashoggi's disappearance are known."
"This is well out of my area of expertise, so I don't plan to comment on the case until the investigation is finished," Altman said in a statement. "I remain a huge believer in the importance of building smart cities."
The timing of Neom's board announcement and the awkward distancing of some of its alleged members puts a spotlight on the relationship between global business leaders and Saudi Arabia, a US ally that has been trying to reform its image under Crown Prince Mohammed bin Salman. As part of the revitalization, the prince courted American CEOs and billionaires, particularly those from the technology sector. He met with Amazon's Jeff Bezos, Google's Sergey Brin and Sundar Pichai, and Apple's Tim Cook in March and April.

A source familiar with those meetings said that the foundations for Neom's advisory board were laid during those much publicized events between tech execs and Bin Salman, with some being asked by associates of the prince if they would be willing to participate in a project to build a $500 billion city of the future. This person told BuzzFeed News that some of the board's announced members gave verbal agreements to participate in the project back in April.
When contacted on Wednesday, some of Neom's advisory board members, including Andreessen and Altman, who sat down with the prince in April, declined to comment on their involvement. Spokespeople for former Uber CEO Kalanick, and Boston Dynamics CEO Marc Raibert, all of whom are on the board, did not respond to requests for comment.
A spokesperson for Masayoshi Son, the billionaire CEO of Japanese telecoms giant SoftBank and another Neom advisory board member, did not immediately return a request for comment. Last Friday, bin Salman told Bloomberg News that his country's sovereign fund would invest $45 billion in SoftBank's Vision Fund, after previously investing the same amount in another SoftBank fund.
On Wednesday, Moniz, the energy secretary under Barack Obama, said he would suspend his involvement because he shares "the deep concerns of many about the disappearance and possible assassination of Jamal Khashoggi at the Saudi Consulate in Istanbul."
"The recent trend in many countries of targeting journalists for doing their jobs is a fundamental threat to freedom of the press, human rights and the rule of law," he told Axios.
Khashoggi, a fierce critic of the Saudi government who went into self-imposed exile in the US last year, visited the Saudi consulate in Istanbul on Oct. 2 and has not been heard from since. A Turkish official told the New York Times that Khashoggi was murdered by a team of Saudi agents, who then allegedly dismembered his body with a bone saw and removed its traces from the consulate.
Last Wednesday, bin Salman denied his government's involvement in the possible attack in an interview with Bloomberg.
"We hear the rumors about what happened," he said. "He's a Saudi citizen and we are very keen to know what happened to him."
"We have nothing to hide," he added.
UPDATE
This story was updated to include information from IDEO that its CEO Tim Brown has chosen not to serve on the Neom board.
UPDATE
This story was updated to include information from Sam Altman that he has chosen to suspend his involvement with the Neom board.