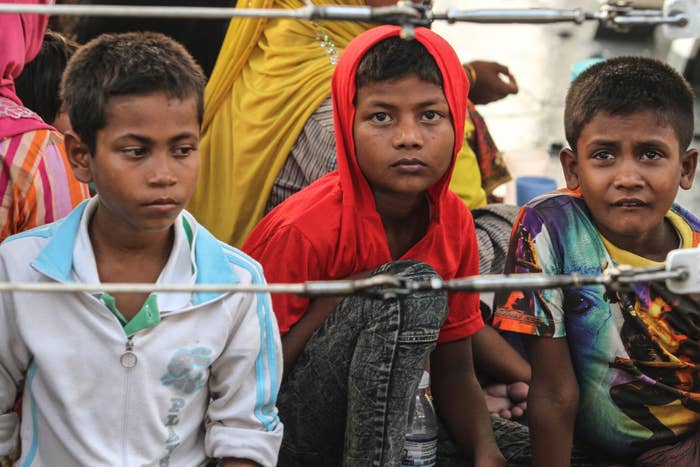 A group of six nongovernmental organizations in Myanmar said on Monday that Facebook's handling of hate speech in their country has been "grossly insufficient," after receiving a letter from CEO Mark Zuckerberg that attempted to apologize for not detecting and preventing the spread of abusive content faster.
The Myanmar NGOs sent BuzzFeed News Zuckerberg's letter a day before he is expected to testify in front of members of two US Senate committees about "privacy, safety, and democracy." The Facebook founder sent the letter in response to heavy criticism after he gave an interview earlier this month in which he credited his social network's systems for stopping messages inciting ethnic violence in Myanmar. In response, the NGOs said they, not Facebook, had been responsible for flagging many of the problematic social media posts and messages affecting their country and called the company's approach "far from systematic."
"Thank you for writing it and I apologize for not being sufficiently clear about the important role that your organizations play in helping us understand and respond to Myanmar-related issues," Zuckerberg wrote to the groups. "In making my remarks, my intention was to highlight how we're building artificial intelligence to help us better identify abusive, hateful or false content even before it is flagged by our community."
The groups, which include Equality Myanmar and the Center for Social Integrity, which is based in Yangon, Myanmar, did not mince words in their response.
"This is grossly insufficient and only reinforces our belief that Facebook is not doing anywhere near as much as they should and could do to prevent the spread of hatred in Myanmar," Victoire Rio, a social media analyst and spokesperson for the groups, told BuzzFeed News.
While Facebook bans the incitement of violence and hate speech based on a person's race or religion, its systems, which include automated programs and human moderators, do not always catch bad actors. In places like Myanmar, the company relies on users to report examples of hate speech, something that critics say is hard to do because of the volume and lack of clarity from Facebook.
Since last summer, more than 650,000 Rohingya Muslims have fled Myanmar to Bangladesh due to what the United Nations has termed "ethnic cleansing." The UN Independent International Fact-Finding Mission on Myanmar said last month that social media sites, namely Facebook, played a "determining role" in spreading misinformation and hate speech that led to violence.
In examples shared with BuzzFeed News on Monday, Rio detailed inappropriate posts that were allowed to proliferate on Facebook despite being flagged by the NGOs. In one, from December 2017, users circulated a list of Rohingya Muslim community leaders or activists "to be assassinated." Rio said there are still at least 20 public duplicates of the post that are still live on Facebook today. On Monday, BuzzFeed News was able to search for and find posts calling for the assassination of activists that back to December 2017.
Last week in an interview with Vox's Ezra Klein, Zuckerberg said that Facebook was "paying a lot of attention" to anti-Rohingya propaganda and that "our systems detect that that's going on." That prompted a response from critics in Myanmar, leading to a subsequent apology from the company on Friday.
"We should have been faster and are working hard to improve our technology and tools to detect and prevent abusive, hateful or false content," a Facebook spokesperson told BuzzFeed News last week. "We are rolling out the ability to report content in Messenger, and have added more Burmese language reviewers to handle reports from across all our services."
Zuckerberg's letter to the groups followed that. "In addition to improving our technology and tools, we have added dozens more Burmese language reviewers to handle reports from users across all our services," he wrote. "We have also increased the number of people across the company on Myanmar-related issues and we now we [sic] have a special product team working to better understand the specific local challenges and build the right tools to help keep people there safe."
His critics are asking for other meaningful solutions. The six NGOs, whose members had previously reported issues to Facebook's staff using Skype or other messaging channels, said they want a "transparent emergency escalation system" after experiencing several delays with the previous methods of communication. "When things go wrong in Myanmar, the consequences can be really serious — potentially disastrous," the groups said in a response letter. "You have yourself publicly acknowledged the risk of the platform being abused towards real harm."
A Facebook spokesperson did not immediately return a request for comment.
At least one US senator, John Kennedy of Louisiana, may ask Zuckerberg about the company's role in the Rohingya crisis when he testifies in a joint hearing with the Senate's Judiciary and Commerce committees on Tuesday.
Kennedy addressed the issue in an interview on CBS's Face the Nation on Sunday. "I do want them to stop the fake news," he said. "I do want them to stop people from running advertisements on Facebook that encourages the genocide of the Rohingya Muslims in Burma. These are deep issues. They're going to go away, and we're not going to conclude this in one hearing."
BuzzFeed News is not aware of any advertisers that have encouraged genocide on Facebook, though it's possible that the senator was referring to the spread of viral organic content, not paid posts. A spokesperson for the senator did not return a request for clarification on the matter. Facebook did not immediately respond to a request for comment on the senator's statement.
Here Is Mark Zuckerberg's full letter to the groups:
Dear Htaike Htaike, Jes, Victoire, Phyu Phyu and Thant,




I wanted to personally respond to your open letter. Thank you for writing it and I apologize for not being sufficiently clear about the important role that your organizations play in helping us understand and respond to Myanmar-related issues, including the September incident you referred to.




In making my remarks, my intention was to highlight how we're building artificial intelligence to help us better identify abusive, hateful or false content even before it is flagged by our community.




These improvements in technology and tools are the kinds of solutions that your organizations have called on us to implement and we are committed to doing even more. For example, we are rolling out improvements to our reporting mechanism in Messenger to make it easier to find and simpler for people to report conversations.




In addition to improving our technology and tools, we have added dozens more Burmese language reviewers to handle reports from users across all our services. We have also increased the number of people across the company on Myanmar-related issues and we now we [sic] have a special product team working to better understand the specific local challenges and build the right tools to help keep people there safe.

There are several other improvements we have made or are making, and I have directed my teams to ensure we are doing all we can to get your feedback and keep you informed.


We are grateful for your support as we map out our ongoing work in Myanmar, and we are committed to working with you to find more ways to be responsive to these important issues.




Mark